Thanksgiving is coming-up in a few weeks, so I thought another "The Best…" list was in order (you might also be interested in The Best Resources On "Gratitude").
As with The Best Online Resources About Christopher Columbus, pretty much all the online resources accessible to English Language Learners tell the usual and uncritical story of Europeans and Native Americans.  So the first part of this post those accessible links, while the second part lists online resources that I've found helpful to me in developing classroom lessons that try to demonstrate a Native American perspective.
Here are my picks for The Best Sites To Learn & Teach About Thanksgiving (not in a strict order of preference, but with the ones I think that are most accessible listed near the top):
Brainpop and Brainpop Jr. have two good Thanksgiving movies that provide closed-captioning. Unfortunately, both require registration — either as a free trial or as a paid subscription. Brainpop is only one of two sites on the entire Web that I think are worth paying for but, as I mentioned, you can also get a free trial.  These are the only two sites on this list that are not free.  Of course, I think they're the best, too.
Scholastic has a good feature on The First Thanksgiving that provides audio support to the text and is very engaging.
Pilgrim Village is a simple E-Book, also from Scholastic, that provides audio support for the text.
EL Civics has an ESL Thanksgiving Lesson that provides a good overview of the holiday in an accessible way.
What Really Happened At Thanksgiving? is an interactive from Plimoth Village where players become investigative "historians."
This is a nice listening exercise where students have to pick the words from a drop-down menu while listening to the text (about Thanksgiving) being read. The same site has a series of shorter Thanksgiving listening exercises.
The History Channel has a ton of online videos and other resources on The History of Thanksgiving, plus excerpts from their special presentation on the Crossing of the Mayflower.
Students can send Thanksgiving E-Cards and have links to them posted on teacher or student websites/blogs. The best ones are from Blue Mountain or American Greetings because they appear to host the card indefinitely on their sites.
The Pilgrims and the First Thanksgiving is a very accessible "web adventure" where students have to answer questions along the way.
Here's an online Thanksgiving crossword puzzle from the Internet TESL Journal.
Thanksgiving in the USA and The First Thanksgiving in America from "Many Things," the excellent resource for ESL/EFL activities. They are both multiple-choice "Fill-in-the-blank" exercises connected to Voice of America broadcasts, but very useful standing alone, too.
Time Magazine also has a slideshow on Black Friday called Shop Till You Drop.
Here's another NY Times slideshow on the famous Macy's Thanksgiving parade.
Here is a New York Times slideshow and one from MSNBC about the Macy's Day Parade.
Elizabeth Barnwell has created a nice series of online flashcards about Thanksgiving. The language is accessible, and a good number have images, too.
How Thanksgiving Works, particularly The Thanksgiving Image Gallery.
Another slideshow, this time one of U.S. Presidents and the turkeys they "pardoned" as part of a Thanksgiving tradition.
Here's a related slideshow from the Telegraph newspaper in the UK called What really Happens To The Turkey The President Pardons At Thanksgiving.
Turkey Escape is the latest addition (tongue-in-cheek) to this list.  As regular readers of this blog know, I believe using online video games with walkthroughs (the instructions on how to win the game) are good language-development tools for English Language Learners. You can read more about how I use them in this article.  In "Turkey Escape" players get to develop vocabulary, reading skills — plus rescue a turkey from being served as the main course at a Thanksgiving dinner.  Here's the Walkthrough.
Thanksgiving Room Escape is a fun online video game that provides English-language-learning opportunities. Here's its walkthrough.
Read Write Web has 7 Fun Facts For Thanksgiving.
ESL Holiday Lessons has another excellent feature on Thanksgiving.

The First Thanksgiving is a Webquest from Scholastic.
I'm going to add three more resources to this list.  The caveat is that if you are going to use the most obvious and most accessible one, I believe it's critical that at least one of the other two is also used.
The most visible engaging and accessible to English Language Learners is a new "talking story" with animation from The Weekly Reader called The Story of Squanto.  It's engaging and well-done.  Unfortunately, it also doesn't make any attempt at communicating anything other than the whitewashed version of the story.
I don't consider myself to necessarily be the most "politically correct" person around, but to leave out even a mention of his life as a slave and the destruction of his people seems pretty insulting to Native Americans and to the student audience of the story.  Jeez, I know Brainpop gets criticized, but even their Thanksgiving movie refers to the damage caused to Native Americans.
But I do think the Weekly Reader movie could be an excellent learning opportunity for students, one that I will be using next week with my students.
It could be a great lesson combining that movie with a lesson from Squanto Worksheet from EL Civics, along with questions like:  What are the differences between the stories?  Why do you think they are different?  Are there examples in your own life or culture where the "public" story is different from what really happened?
I've also found two resources helpful in developing lessons that give a little more of a critical perspective  to Thanksgiving.  One is from Education World and is called Are You Teaching The Real Story of Thanksgiving? The other is an older blog post from Education Week titled Rethinking Thanksgiving (the post itself is thought-provoking, though the link within it is no longer active).
Of course, the most helpful resource is a book you can buy from Rethinking Schools (which is on The Best Teacher Resource Sites For Social Justice Issues). It's called Rethinking Columbus.
The Smithsonian's National Museum of the American Indian has two classroom lessons on Thanksgiving from the Native American perspective.
Rethinking Schools also published a good article, Rethinking Thanksgiving, that some lessons that include critical thinking.
Let's Celebrate Thanksgiving is a brand-new online activity by Renee Manfroid.
President Obama pardons a turkey in this video.
Laurence Haquet creates great interactive books that are exceptional learning tools, including her book on Thanksgiving,
US presidents and Thanksgiving turkeys is a Guardian slideshow.
Presidential Thanksgivings Through The Years is a slideshow from the Washington Post.
Students can learn about the shopping craziness of Black Friday through a Wall Street Journal slideshow and a series of photos from the Sacramento Bee.
The Top Ten Things You Didn't Know About Thanksgiving is a slideshow from TIME Magazine.
Farmer Feeds Families For Thanksgiving is a CNN video.
Thanksgiving In Iraq is a video from ABC News.
Marine Thanksgiving is another ABC News video.
Myth and Truth: The "First Thanksgiving" seems like a nice lesson plan. It's from Read Write Think.
What Really Happened? Comparing Stories of the First Thanksgiving is a great feature from The New York Times Learning Network. It has links to a lot of useful resources.
Here are some interactive online Thanksgiving quizzes that I'm adding to this list:
The CNN Challenge is probably the best one.
Thanksgiving Trivia Quiz from The Huffington Post.
The BBC has a quiz, too.
President Obama pardons a turkey in this Wall Street Journal video.
MSNBC has a similar Presidential Pardon video.
Presidents And Their Turkey is a LIFE slideshow.
What really happens to the turkey that the president pardons at Thanksgiving is a Telegraph slideshow.
Slate has a fun slideshow titled "Happy Thanksgiving!"
The Wednesday before Thanksgiving is the busiest travel day of the year. Here's a slideshow from the LA Times showing how and why it is so crazy.
Ten Thanksgiving Myths Dispelled is a useful infographic.
Thanksgiving travel: Trains, planes, automobiles is a Washington Post slideshow.
Thanksgiving in Washington through the years is another Wash Post slideshow.
This Thanksgiving, measured success for a dedicated cook is one more Post slideshow.
A History Of Presidential Pardons is an ABC News video.
10 Larger-Than-Life Thanksgiving Staples
Reader Photos: The Thanksgiving Countdown comes from The New York Times.
CNN has several Macy's Thanksgiving Day Parade videos.
Macy's Thanksgiving Day parade 2010 is a slideshow from The Guardian.
The Sacramento Bee has a series of images of the Parade, too.
The Telegraph has a slideshow on the Parade, also.
Thanksgiving from the home front to the war zone is a slideshow from The Los Angeles Times.
Black Friday shoppers hit the stores is another LA Times slideshow.
Parade Floats By In New York is a Wall Street Journal slideshow.
The Wall Street Journal has a slideshow on troops celebrating Thanksgiving in Afghanistan
10 Things You Didn't (Need to) Know About Turkeys comes from TIME Magazine.
Top 10 Feasts is a slideshow from TIME.
Why I'm Not Thankful For Thanksgiving is the title of a Rethinking Schools article written by a Native American.
"Rethinking Thanksgiving: Myths & Misgivings" is also from Rethinking Schools.
Thanksgiving and Immigrant Cultures
Tracing The History Of The Pilgrims is a New York Times slideshow.
Macy's shows off new balloons for parade is a CNN video.
Thanksgiving In Space is another CNN video.
Waiting hours for free Thanksgiving turkeys is a CBS News video and article.
Thanksgiving for the troops is a CBS News slideshow.
Thanksgiving a newcomer to celebrations of Earth's bounty is from MSNBC.
5 myths about Thanksgiving is from The Washington Post.
Free bird: Thanksgiving turkey pardons is a slideshow from The Mother Nature Network.
A Visual History of The Macy's Thanksgiving Parade is a TIME slideshow.
Check out the Lemur Thanksgiving at the San Francisco Zoo.
Here's a CNN video about the Traditions of Thanksgiving (it might not show in an RSS Reader)
Researchers are working hard to build a better turkey is from MSNBC. If you scroll to the bottom of that page, you'll see a slideshow on the "Science of Thanksgiving."
Millions Savor Macy's Thanksgiving Parade is a video from MSNBC:
Visit msnbc.com for breaking news, world news, and news about the economy
Macy's Thanksgiving Day Parade: A Look Back is a slideshow from ABC News.
Thanksgiving during tough times is a CBS News slideshow.
Classic Thanksgivings is a Newsweek slideshow.
Top 10 Things You Didn't Know About Thanksgiving is a slideshow from TIME.
In Pictures: Thanksgiving in America is from The BBC.
Top 10 Thanksgiving Movie Scenes is a great slideshow, with video clips, from TIME.
Macy's Thanksgiving Day Parade is a NY Times slideshow.
At The Helm Of The Parade is a Wall Street Journal slideshow.
Black Friday is a TIME slideshow.
Here's a video of the Macy's Thanksgiving Day Parade from The Telegraph:
This new viral hit "It's Thanksgiving" by Nicole Westbrook could be a fun song to play and sing with English Language Learners. It's pretty fast, but students could just focus on certain lines. The song highlights other holidays, too, which is a nice bonus. It's not like there are that many pop songs about Turkey Day.
I couldn't find a closed-captioned version, but the lyrics are here. You can read about specific music-related instructional strategies at The Best Music Websites For Learning English.
Thinking Critically About Food in a Season of Plenty is from The New York Times Learning Network.
Here are all of English Central's Thanksgiving-related videos.
What Was on the Menu at the First Thanksgiving? is from Smithsonian Magazine.
Black and white photos show Thanksgiving feasts through the years
Here are videos of President Obama pardoning turkeys.
A Visual History of Presidents Petting Turkeys is from The Atlantic.
The Perfect Thanksgiving Music, Sung by One Human … and 300 Turkeys is also from The Atlantic.
Lincoln's historic Thanksgiving Proclamation of 1863
The 8 most awkward Thanksgiving dinner scenes in movie history is from The Week.
A Thanksgiving Feast For The Ears And Eyes is from NPR.
6 Thanksgiving celebrations around the world is from The Week.

The Number On Thanksgiving is an interactive infographic from The Wall Street Journal.
Here's a Thanksgiving vocabulary quiz from Rene Maufroid.
Five myths about the Pilgrims is from The Washington Post.

Thanksgiving By The Numbers is an infographic from The History Channel. I've embedded below, but I don't think it will come on an RSS Reader:

Provided by Nationwide Bank
Here are all the Thanksgiving resources from The New York Times Learning Network in one place.
Thanksgiving created by 'Mary Had a Little Lamb' author — not the Pilgrims is by Valerie Strauss at The Washington Post.
Thanksgiving, or how to eat American politics:The democratic ideals behind turkey, pie, and the rest of our holiday feast is a great interactive at The Boston Globe. It shows how each traditional food got its start on Thanksgiving.
Here's an impressive Thanksgiving chart that's based on an even more impressive interactive:
This Google Doodle would be a great video to show English Language Learners and have them describe what happens in it:
The Mother Of All Thanksgivings
Abraham Lincoln, father of the Thanksgiving holiday is from USA Today.
The New York Times has published a great interactive called "The United States Of Thanksgiving."
It shows a recipe (and an image) representative of the culture of each state for a dish prepared there for the holiday.
Food is the topic of my New York Times Learning Network post for English Language Learners, and it's chock full of some pretty unique lessons. In addition, it discusses how to apply Mihaly Csikszentmihalyi's concept of "flow" to those lessons and, in fact, to just about any other lesson, too.
What was actually in the first Thanksgiving dinner? is a video from The Guardian.
A side of Picasso? Thanksgiving meals as art
When Thanksgiving Was Weird is from NPR.
Thanksgiving: A Very Brief Political History is from NPR.
This tone-deaf cartoonist forgets that Thanksgiving is about immigration is from Vox.
American Indian Perspectives On Thanksgiving is from the National Museum of the American Indian.
Thanksgiving Mourning is a lesson from Teaching Tolerance.
The first Thanksgiving: A cold-blooded political alliance born of necessity is from Vox.
The Thanksgiving Recipes Googled in Every State is a great interactive from The New York Times.
Why do Turkey the country and turkey the bird have the same name? is from Vox.
Thanksgiving, or how to eat American politics: The democratic ideals behind turkey, pie, and the rest of our holiday feast is from The Boston Globe.
Look How Much Bigger Thanksgiving Turkeys Are Today Than in the 1930s is from Mother Jones.
6 Science Experiments You Can Do With Thanksgiving Foods is from We Are Teachers.
26 charts and maps to be thankful for is from Vox.
Why we celebrate Thanksgiving every year. It isn't what you think. is from The Washington Post.
Map: Where your Thanksgiving dinner comes from is also from The Washington Post.
Seven global trends to be really, really thankful for is from The Wash. Post.
Thanksgiving Used to Look a Lot Like Halloween, Except More Racist is from The Atlantic.
Where Did You Thanksgiving Dinner come from? is a nice interactive.
Songs For Stuffing: A Thanksgiving Mix is from NPR.
Ten Of The Greatest Thanksgiving Sitcom Episodes Of All Time
Why Thanksgiving Is A 'National Day Of Mourning' For Some Americans is from The Huffington Post.
Rethinking the Way We Teach Thanksgiving is the headline of a New York Times "Room For Debate" feature.
It shares five different perspectives, primarily from educators.
Here's an excerpt from the piece written by Yatibaey Evans of the National Indian Education Association: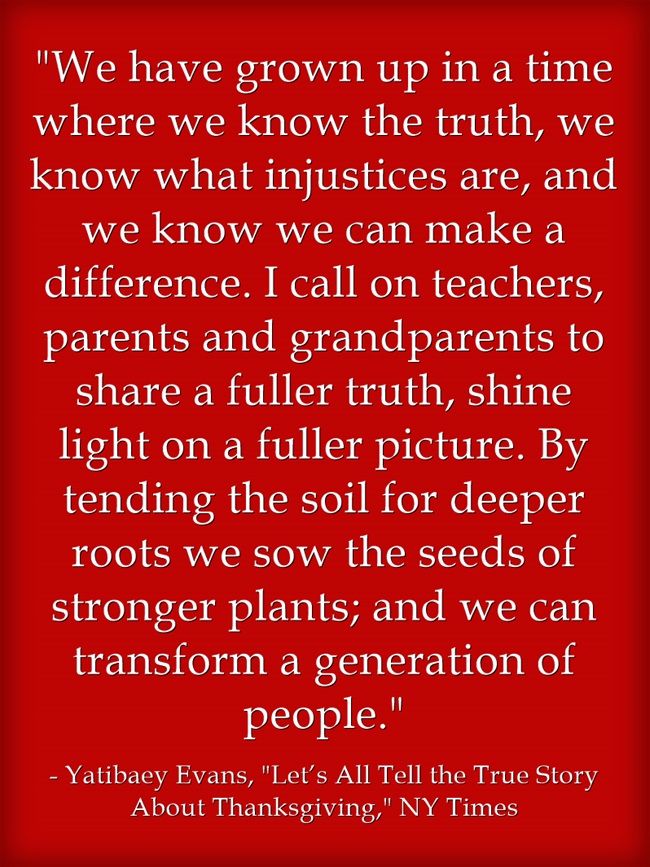 5 countries besides America where people celebrate Thanksgiving is from Vox.
Essay: My Muslim-American Thanksgiving is from NBC News.
How To Talk To Kids About Thanksgiving is from NPR.
Feel free to offer additional suggestions.
If you found this post useful, you might want to check out my other "The Best…" lists.
In addition, you can also subscribe to this blog for free.