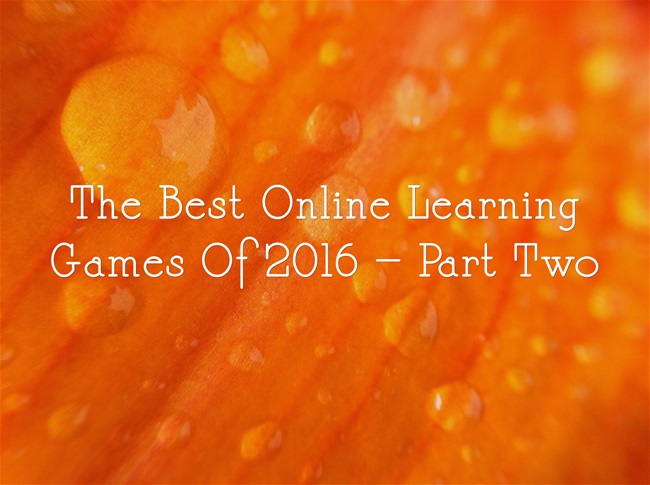 Time for another end-of-year "The Best…" list.
As usual, In order to make it on this list, games had to:
* be accessible to English Language Learners.
* provide exceptionally engaging content.
* not provide access to other non-educational games on their site, though there is one on this list that doesn't quite meet this particular criteria.
* be seen by me during the last six months of 2016. So they might have been around prior to this time, but I'm still counting them in this year's list.
You might also be interested in:
The Best Online Learning Games Of 2016 – So Far
The Best Websites For Creating Online Learning Games
The Best Online Learning Games Of 2015 – So Far
The Best Online Learning Games Of 2014
The "All-Time" Best Online Learning Games
The Best Online Learning Games Of 2013 – Part Two
The Best Online Learning Games Of 2013 — So Far
The Best Online Learning Games Of 2012 — So Far
The Best Online Learning Games — 2011
The Best Online Learning Games — 2010
The Best Online Learning Games — 2009
The Best Online Learning Games — 2008
The Best Online Learning Games — 2007
Here are my choices for The Best Online Learning Games Of 2016- Part Two:
The Fiscal Ship was just named of one the top games at the Serious Play Conference. It's a surprisingly accessible and engaging interactive about (yawn) fiscal policy and the federal budget. Though the majority of its backers appear to be conservative groups, the sponsoring group includes a few others, too. I didn't play the game all the way through; however, what I did get through seemed to be relatively even-handed without pushing a particular agenda.
Pairprep is a free site that has a number of "courses" (a series of multiple choice questions on a particular topic – like "ESL") where students can compete against a friend, a random opponent, or themselves as they choose answers. Teachers can monitor student progress through a virtual classroom.
National Geographic has created a page with links to their most engaging and educational games.
Guess What! is the name of a "new" game from Cambridge University Press. I have "new" in parenthesis because it's a version of a game used with English Language Learners for decades – Taboo – where players have to describe a word without using the word, and others have to guess what is being described. The great twist in "Guess What!" is that students can create videos of them describing a word, upload it, and then have other classes use them as part of their own game (they provide simple instructions).
Pioneers of Flight has several interactive games, and comes from the Smithsonian.
Mission U.S. has created some excellent interactives and some bad ones.  Their newest one is on the Depression.  I haven't played it, but they seemed to learn some lessons in on how their created their last one on immigration, so I'm going to give them the benefit of the doubt.
GlassLab Games lets educators create virtual classrooms where students can play educational games and have their progress monitored. You can create a free classroom, but only have access to one-or-two of the games, and you can also create a free one with access to all of them for sixty days. For a longer period of time, you need to pay, but the price is not astronomical. I'm not that impressed with the games they have now. However, the well-known game Civilization is creating a specific education version that was supposed to be available on the site in October.
Thanks to Sara-E. Cottrell, I recently learned about Sugarcane, a free web tool that lets you easily create lots of different kinds of learning games, as well as access ones that others have created. It's owned by IXL Learning, but your school doesn't have to be subscribed to it in order to use Sugarcane.
Reader Gabrielle Klingelhöfer shared the site Learning Apps with me, and I'm sure glad she did! It's a free site that lets teachers create virtual classrooms where students can uses lots of different kinds of online exercises and games to learn many subjects. There are tons of already-created exercises divided by subject, and it seems super-easy – and I really mean easy – for teachers to create their own.
A bunch of groups, including museums and the city of London, have cooperated to create The Great Fire of London interactive, which includes what they call a "children's game," a Minecraft resource, and a lot of other features.
Brainpop has pulled together a nice collection of online games.
Smithsonian Science has put all their games in one place.
Save