This is going to be a very short "The Best…" list of online maps that show the geographical locations of what language is spoken where.
These accessible maps can be used as an engaging way to also promote learning about geography. I'm sure there are other ways to utilize them in the classroom. Please your ideas in the comments section of this post.
There are really only two "language maps" that I'm including in this list (I've since added several more to bottom of this post). I'm also adding two other supportive resources.
THE BEST INFOGRAPHICS HIGHLIGHTING THE WORLD'S MOST POPULAR LANGUAGES
The Modern Language Association Language Map: A Map of Languages in the United States is an incredible site. That link will lead you to the map itself, while this link will take you to an explanation of everything that can be done with it.
The Cyberjournalist site wrote a good and short description of the the MLA site, and I'm just going to quote it here:
"Want to know how many people speak Yiddish or Creole in your neighborhood? The Modern Language Association's new Language Map displays the locations and numbers of speakers of the 30 languages most commonly spoken in the United States. You can search by language and state and the tool produces a map of how many people speak that language by county or zip code."
The second site on this short list is an excellent world map of languages created by the language-learning site Bab.la.
As I mentioned, I'm also including two other language map "related" resources here.
One is a Voice of America report (that includes audio support for the text) on the MLA language map of the United States.
The other is a simple chart representation showing the actual number of people who speak specific languages worldwide.
Here are some new additions:
The UNESCO Interactive Atlas of the World's Languages in Danger very quickly and easily shows you the numerous language in danger of disappearing, along with details about each one.
This world map shows which countries have English as their official language.
The Lexicalist is a "demographic dictionary." It shows you who is using which words, including slang. It's pretty intriguing. Thanks to Katherine Schulten for the tip.
The Linguistic Diversity Index is an interactive map showing the diversity of languages in each country.
The Language Olympics is a neat infographic showing the languages spoken on each of the continents. Once you go to the link, you have to scroll down to get to it. You'll pass another infographic related to world languages that I personally find rather incomprehensible, but it might just be me.
"Language Families:Their Popularity, Spread and Longevity" is the title of an interesting infographic.
Planet English is an infographic from Voxy.
Here's a map of North American English Dialects, Based on Pronunciation Patterns
Disappearing Languages is an interactive map from National Geographic showing endangered languages around the world.
Here's a map that shows the Number of Endangered Languages by Country.
The World Atlas of Language Structures looks pretty intriguing.
Languages of Europe is an interesting color-coded map.
The Speech Accent Archive is pretty amazing — just check it out.
The Yale Grammatical Diversity Project: English In North America looks intriguing.
World Languages Mapped by Twitter comes from The Atlantic.
The world of Wikipedia's languages mapped comes from The Guardian.
Our Mother Tongues is a very impressive site that's designed to support and preserve Native American languages. It's very engaging, and includes a "language map," videos and more. One of its very neat features is that it allows you choose a virtual audio postcard with a Native American greeting that you can send to someone. You can also write a personalized message on it. You're given a unique url address, and it can be posted on a student/teacher website or blog.
22 Maps That Show How Americans Speak English Totally Differently From Each Other is a fun and informative sampling from an extensive new series of visualizations that have just been published (here's another sampling from The Wall Street Journal). And if that sample isn't enough for you, then you can find all the rest of them here.
From The U.S. Census:
The U.S. Census Bureau released an interactive, online map pinpointing the wide array of languages spoken in homes across the nation, along with a detailed report on rates of English proficiency and the growing number of speakers of other languages.
The 2011 Language Mapper shows where people speaking specific languages other than English live, with dots representing how many people speak each of 15 different languages. For each language, the mapper shows the concentration of those who report that they speak English less than "very well," a measure of English proficiency. The tool uses data collected through the American Community Survey from 2007 to 2011.
Mapping where English is not the language at home is a somewhat similar map from The Washington Post.
Feel free to additional suggestions.
If you found this post useful, you might want to look at previous "The Best…" lists and also consider subscribing to this blog for free.
How Y'all, Youse and You Guys Talk is a cool interactive from The New York Times. Here's the subtitle:
What does the way you speak say about where you're from? Answer all the questions below to see your personal dialect map.
Soda vs. Pop vs. Coke: Mapping How Americans Talk is from The Atlantic.
There is not a red America and a blue America. There is a "y'all" America and a "you guys" America. is from The Washington Post.
Dan Pink shared this cool translator map on Twitter. It uses Google Translate to translate English into any major European language and then shows the word on the geographical location where the language is primarily spoken.
You can read more about it at Business Insider.
What We Mean When We Say Hello: The curious geography of American greetings is from The Atlantic.
Slate has created some maps showing the first and second most common languages of immigrants in each state. I'm adding it to The Best "Language Maps."
Slate has also created maps showing the first and second most common language other than English spoken in each of the states.
Please include attribution FreePeopleSearch.org with graphic.
, an infographic from FreePeopleSearch.org
Researchers Discover "Superdialects" Through Twitter Study is from Read Write.
The "You Say Potato" accent language map has people all over the world saying the word…"potato."
You can easily add your own voice to it.
23 maps and charts on language is from Vox
Type any word into Word Map and it will tell you how that word is spoken in many other languages and show you where those languages are spoken.
The audio worked fine for me in Google Chrome, but not in Firefox.
The amazing diversity of languages around the world, in one map is from Vox.
25 maps that explain the English language is from Vox.
Check Out 6400 Languages With This Interactive Map
23 maps and charts on language is from Vox.
The Washington Post has just published a very interest series of infographics titled The world's languages, in 7 maps and charts.
Yale has created the Grammatical Diversity Project to document varieties of grammar usage across the United States. You can explore it with an interactive map on its site.
You can also learn more about it at this Slate article: Documenting the Diversity of American English.
Bansi Kara shared a Guardian story headlined Metaphor map charts the images that structure our thinking. It's about a wild-looking Glasgow University project that has mapped "metaphoric connections" over the past 1,300 years (yes, that's one thousand three hundred years). I haven't quite figured out how to use it, and nor have I figured out its practical purpose, but I suspect the former might have something to do with the latter.
Did The Language You Speak Evolve Because Of The Heat? is an interesting map from NPR.
Writing Systems and Scripts of the World shows a map of the world and displays the writing systems practiced in those areas.
22 fascinating maps that show how Americans speak English differently across the US is from Business Insider.
The Quartz website has developed The great American word mapper.
Type in words and, based on their usage on Twitter, you'll be shown a map highlighting where that particular word is used most and least in The United States.
How Well is English Spoken Worldwide? is from Voice Of America.
Local Lingual is a cool interactive language map. Click on any location in the world, and it plays recordings of the local language, along with the national anthem and other info. You can read more about it at Google Maps Mania.
Say These 9 Words, and We'll Tell You Where You Grew Up is from Readers Digest.
The Slang Map Of The USA shows what are supposed to be the most common slang terms in each state.
Interesting New Video Series: "American English Regional Vocabulary Differences"
Ethnologue's Living Languages interactive map shows where "every" known language is spoken – 7,111 of them. I suspect they probably missed a few, but that number is, nonetheless, impressive.
You can find more information about this infographic at Ranked: The Countries with the Most Linguistic Diversity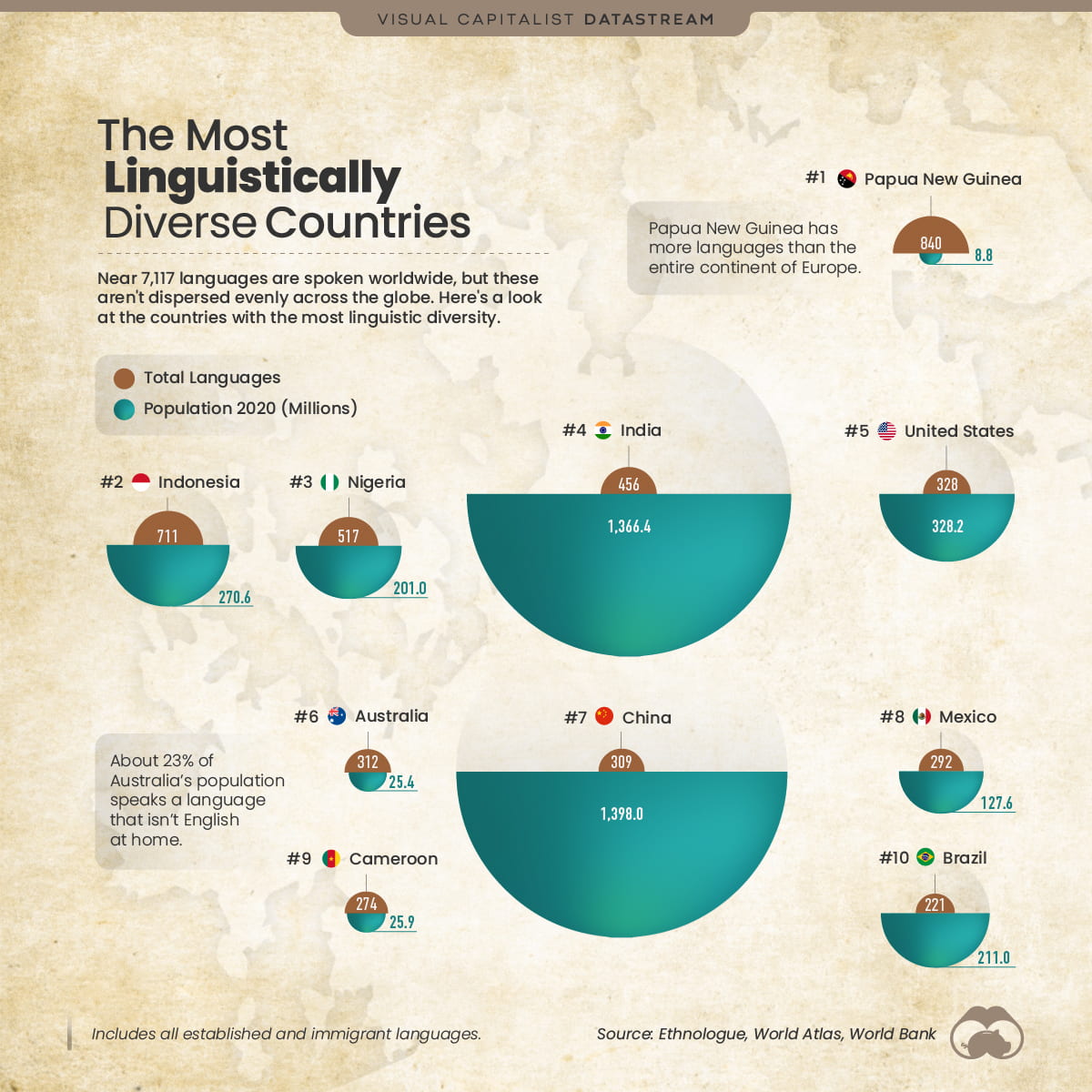 And you can find more information about this next one at The World's Top 10 Most Spoken Languages
Infographic Of The Week: "The Most Commonly Spoken Language in Every U.S. State (Besides English and Spanish)"
Infographic Of The Week: "Mapped: Second Primary Languages Around the World"
Language Player "is an interactive map of 6,000 languages of the world, including 4,000 living languages, 2,000 historic languages, and 6 constructed languages."
The Endangered Language Alliance offers interesting language maps of languages spoken in New York.
GUESS WHERE THE LANGUAGE IS SPOKEN IN THE LANGUAGEGUESSR GAME
Language World Map lets you see where different languages are spoken around the world, and also lets you compare different ones.