The Art and Science of Happiness is the headline of one of my interactives for English Language Learners at the New York Times Learning Network. Students learn about a world happiness survey, choose the correct prepositions to complete blanks, and write about moments in their life when they felt happy.
I use one of my previous "The Best…" lists, The Best Lists Of "Best Places To Live," in our Intermediate English unit on neighborhoods (see A Lesson Highlighting Community Assets — Not Deficits). Students compare the criteria they've used to determine what is a good place to live with the criteria other studies have used.
In a similar vein, I've been collecting links related to measuring happiness. My plan is not necessarily to create a lengthy unit plan but, instead, to make it a more fun (and learning) activity where students explore what makes them happy and again see the criteria used by others. In addition, I think this list can be useful in my International Baccalaureate Theory of Knowledge class when we explore the role of emotions in determining true knowledge.
Here are my choices for The Best Sites To Learn About Happiness:
Mean Happiness is an infographic from GOOD showing how happy people in different countries have been over the years.
Does Being Happy Make You Healthy? is a short article from GOOD that would need to be modified in order for it to be accessible to English Language Learners.
Here's the World Happiness Map, along with an article describing how it was developed.
Here's a downloadable PDF of a poster from Yes Magazine: 10 Things Sciences Says Will Make You Happy
Facebook measures how happy we are — and when — in this infographic.
Look at the World's Happiest Places. Here's a map showing the results.
David Brooks explores what makes us happy in this recent New York Times column.
Animated Infographic: Which Countries Are Happiest? comes from GOOD Magazine.
The Greater Good Science Center is based at the University of California, Berkeley, and "promotes the study and development of human happiness." It doesn't have much that's accessible to ELL's, but their resources could certainly be modified.
The New York Times has published a very interesting interactive map charting people's happiness across the United States, a good graphic, and an article titled Discovered: The Happiest Man in America.
The Atlantic has a fascinating interview with Dr. Daniel Gilbert, an author and researcher who has just completed a study on how to be happy. Ezra Klein in The Washington Post has a good summary of the interview. Here are a couple of the main pieces of advice:
….consider forgoing whatever it is you want to do most:
Imagine making love to the person of your dreams. That will be a good day. But the day after will not. The good thing about peak experiences is that they make us happy while we are having them, but the bad thing is that they then serve as a standard of comparison for all the experiences that follow. When researchers looked at lottery winners, they weren't happier than a control group, but they did take less pleasure in everyday events. The big happiness rush you get when you receive the big check is gone pretty soon, and then when good things happen you find yourself saying, "That was nice but it wasn't like the day I won the lottery."
….buy lots of fun small things, not a few big ones:
If you asked people if they'd prefer an ice cream cone every Monday for the next few weeks or a great meal at a French restaurant, most would probably take the great meal gift certificate. But it turns out that the frequency of positive events is a better predictor of happiness than intensity of those positive events. Let's say that you had five good experiences and each had an intensity of 10 out of 10. And I had 10 good experiences each with an intensity of 5. Simple math suggests we should be equally happy. But the odds are that I will be happier than you because happiness is affected less by how good your good experience was and more by how many good experiences you had.
Create A Better Life Index lets you, without having to register, create an infographic emphasizing the qualities that you believe are key for a "better life" and showing how different countries in the world are doing in those areas. You can then share your infographic with others. It's from the Organisation for Economic Co-operation and Development (OECD).
Top 15 happiest nations: Who's #1? is a slideshow from CBS News.
The 10 Things Economics Can Tell Us About Happiness is from The Atlantic.
The Geography of Happiness According to 10 Million Tweets is from The Atlantic.
Map: The happiest places in America comes from Vox.
The world's happiest nations, in one map is from Vox.

Get happy in the world's happiest countries is from CNN.
Who's The Happiest Of Them All? And What's Their Music Like? is from NPR.
The happiest countries in the world is from The Washington Post.
WHERE ARE THE WORLD'S HAPPIEST COUNTRIES? is from The National Geographic.
Since 2013, the United Nations has celebrated the International Day of Happiness as a way to recognise the importance of happiness in the lives of people around the world. In 2015 the UN launched 17 Sustainable Development Goals that seek to end poverty, reduce inequality, and protect our planet – three key aspects that lead to well-being and happiness.
Who's happy, who's not: Norway tops list, US falls
The Science of Happiness is an infographic.
This Is How To Find Joy: 4 Simple Secrets To The Good Life is from Barking Up The Wrong Tree.
Here's a lesson plan from the British Council for ELLs.
You will find more infographics at Statista
Mapped: Global Happiness Levels in 2021, from Visual Capitalist. You can find more information on it – and a bigger version – at the link.  The info there, I think, is particularly interesting, including an explanation of how happiness is measured.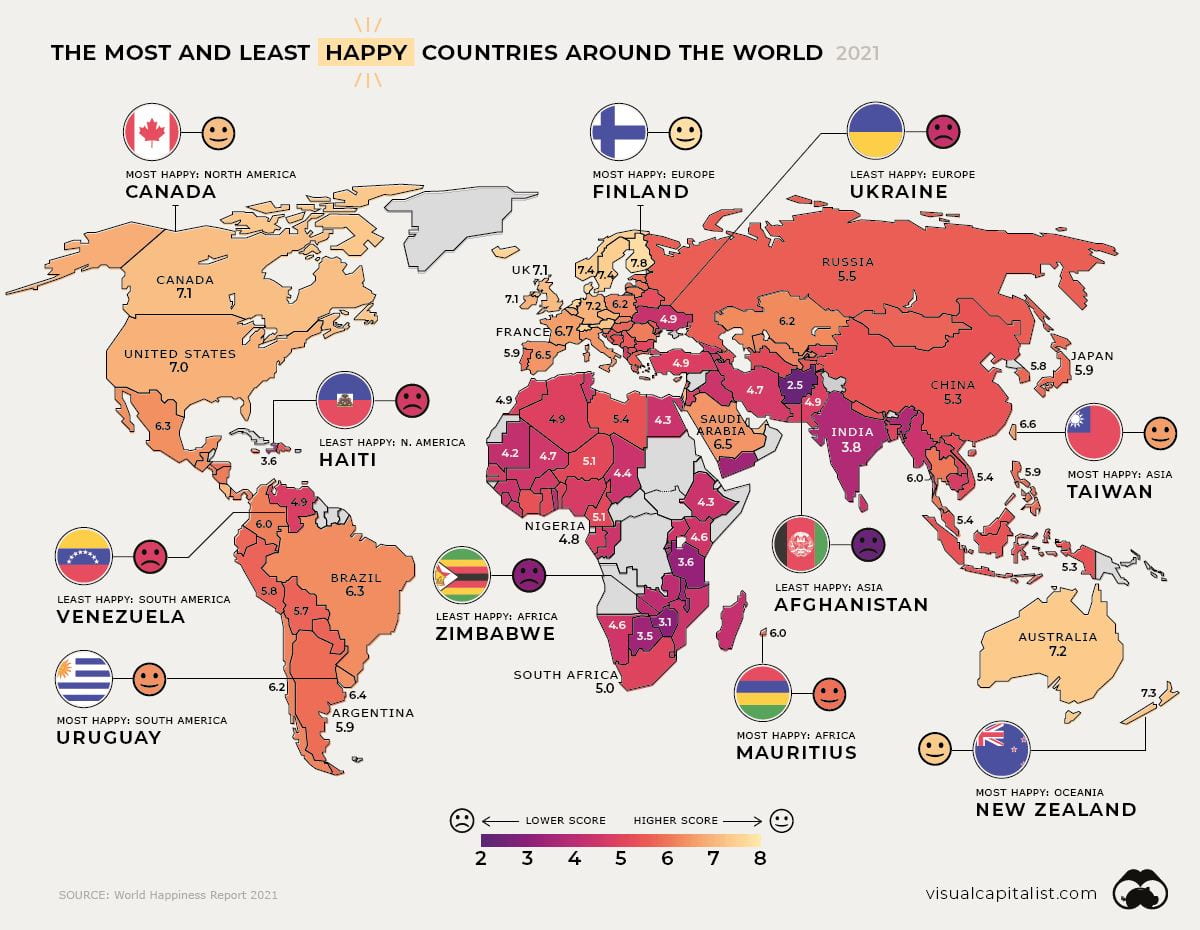 We're Learning the Wrong Lessons From the World's Happiest Countries is from The Atlantic.
You can see a bigger version of this infographic, along with additional information, at Visual Capitalist.
Infographic: "Mapped: The World's Happiest Countries in 2023"
Feedback and suggestions are welcome!
If you found this post useful, you might want to consider subscribing to this blog for free.
You might also want to explore the 400 other "The Best…" lists I've compiled.