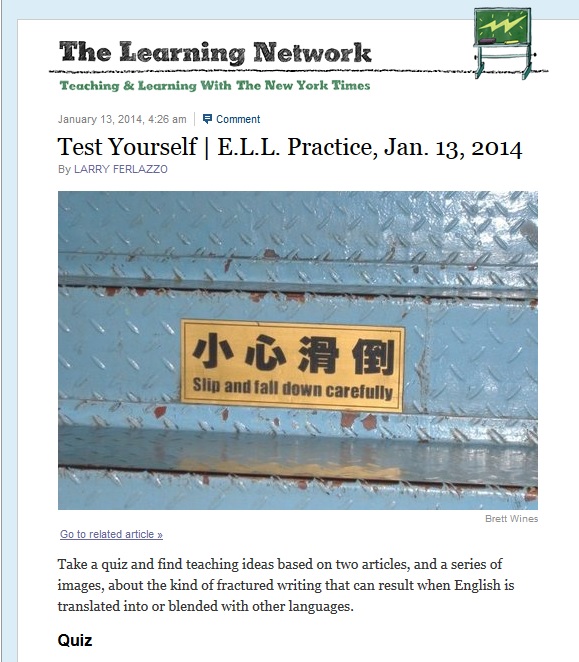 Check out my New York Times post for English Language Learners is on prepositions AND language-learning with badly translated signs. It includes a student interactive and teaching ideas.
The New York Times has just published some humorous pictures of signs, and that got me thinking how they could be used with English Language Learners.
I already use mistranslated signs in a lesson looking at the meanings of language in my International Baccalaureate Theory of Knowledge class, but I haven't used them with my English Language Learners.
I've also always had mixed feelings about laughing at weirdly-translated signs in English. I sure can mangle the Spanish language, and I can't blame people for trying. And I certainly don't want to discourage my ELL students from trying their best to communicate — I don't want to feel that people will laugh at them. At the same time, I've got to admit that some of these types of signs can be pretty funny.
So I've been trying to think of some kind of balance. I think funny signs can be useful in class — it would be a good lesson to show the signs to students and have them try to figure out why they're considered humorous. And there are plenty of signs out there that are funny and their humor has nothing to do with translation — they were probably written by native English speakers.
Most of the sign collections on the Web include ones that are either not appropriate for classroom use or limit themselves to traffic signs that have little language content So this list is pretty small.
I'd love to hear other ideas how teachers have used these kinds of signs in their classroom.
Here are my choices for The Best Collections of Funny Signs (For Use In English Classes):
Strange Signs is a large collection of reader-contributed photos published by The New York Times.
A Sampling of Chinglish is a slideshow from The New York Times.
The Most Ironic Signs Of All Time is a slideshow from The Huffington Post.
Funny Signs – Spot The Mistakes is an online lesson from ESL Courses.
Sign Language is an ongoing collection of "of strange signs and bizarre translations from around the world" from The Telegraph.
Misspelt and misleading road signs is a BBC slideshow.
Lost in translation: The hilarious foreign signs that don't get their English quite right is from The Mail Online.
Feedback is welcome.
If you found this post useful, you might want to consider subscribing to this blog for free.
You might also want to explore the 450 other "The Best…" lists I've compiled.