Check out my three-part series in Education Week teacher including first day advice from many of the top thinkers and teachers around
And check out Answers To "What Do You Do On The First Day Of School?"
Classroom Activities to Start Your Online or Hybrid New Year Strong
The Best Lists Of "Icebreaker" Prompts – Please Share Your Own
The summer always feels so long at the beginning and so short at the end….
It's getting that time again — a new school year.
I have an extensive chapter in my book, Helping Students Motivate Themselves, on getting the school year off to a good start, and I thought I'd also share here some free online resources.
Here are my choices for The Best Resources For Planning The First Day Of School:
I've got to start off with a previous post titled Answers To "What Do You Do On The First Day Of School?" There, I shared what I do on the first day, and many other teachers shared their strategies, too.
My Teachers Leaders Network colleague Jane Fung wrote a two-part article on this topic for Education Week Teacher. See "Teaching Secrets: The First Days of School (Part 1)" and Teaching Secrets: The First Days of School (Part 2).
Another talented TLN colleague, Elena Aguilar, wrote Teaching Secrets: First Days in the Elementary Classroom.
Peter Pappas, as always, has some very creative and useful ideas at First Day of School? Here's How to Get Students Thinking.
Education.com shares a number of first day ideas, and I can't endorse all of them. But I particularly like one — having students share their high points from the previous year. Not only could that be energizing, but a teacher could learn a whole lot about their students based on what they say.
Over the past few months, I've recommended several posts from Gary Rubenstein's blog, and here's another one — this time, about the first day of school. His book, Beyond Survival, also has many more hints — about the first day and beyond.
30 Interesting Ways To Get To Know Your New Class comes from Tom Barrett.
Eva Buyuksimkesyan published a fabulous 24th Edition of EFL/ESL/ELL Blog Carnival chock full of "Warmers, Fillers and 1st Week Activities." This is a Blog Carnival that teachers will be referring to for years to come!
And here's a ESL Carnival on a similar topic, hosted by David Deubelbeiss.
What Is Your Technique For Memorizing Student Names?
Getting To Know You comes from the Learning Is Messy blog.
Shelly Terrell has created another very useful Slideshare presentation, "10+ Getting to Know You Activities for Teens & Adults":
The Best TV/Movie Clips On The First Day Of School — Help Me Find More
I did a three-part series at Education Week on starting the new year off well…..
Back-to-School in the ELL Classroom is from Colorin Colorado.
Listening to Students is an excellent post by Elena Aguilar.

First Chance to Make a Learning Impression is by Will Richardson.
Making a Good Impression on Your First Day of Class is the title of a short new "BAM! Radio Network" episode where you can hear John Spencer, Joe Martin and me share what little wisdom we have…
Response: Ways To Start Off The New Year On A Positive Note – Part One is another one of my posts at Education Week Teacher.
Life is the most difficult test… is by Paul Bogush.
A Kinder, Slower, More Receptive Approach to the Start of School is by Pernille Ripp.
Alex Case has a ton of ideas on how ESL teachers can handle their first classes of the year.
Check-out First Day Reflections: Why You Should Be Jealous of Teachers from Those Who Can.
Q & A Collections: Best Ways To Begin & End The School Year brings together all my Ed Week posts on how to start a new school year well.
Here's an excerpt from one of them: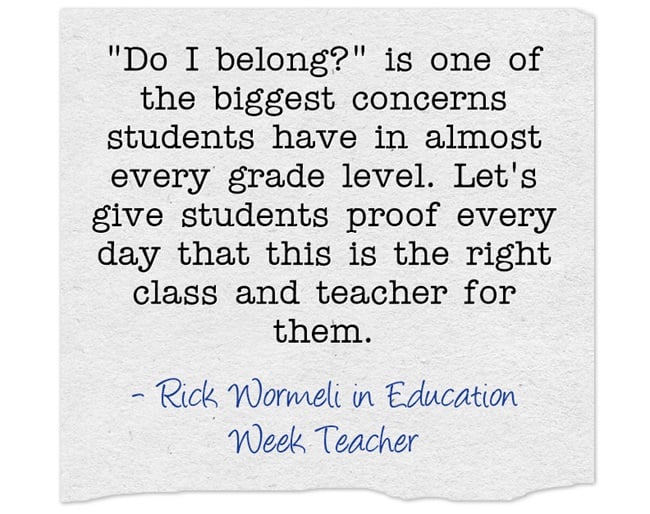 David Deubelbeiss has published the 42nd edition of the ELT Blog Carnival (formerly known as the ESL/EFL/ELL Blog Carnival) and it's a great one on back-to-school activities.
First Lesson: Student generated ID card Swap is from TEFL Geek.
Passing the Barriers: First Meeting is from ELT cation, and has some good ideas for the first day of class.
Yep!!! #cpchat #ptchat #TMSHawkChat pic.twitter.com/oh5BOYNS3Y

— Carrie Jackson (@jackson_carrie) May 20, 2015
Fantastic Ice-Breakers To Help Your Students Get to Know Each Other Quicker is from Busy Teacher (I learned about it from Todd Finley on Twitter).
4 New First Week Activities and Some Oldies is from Eva Buyuksimkesyan.
A First Day of School Activity that Teaches Argument, Which Teaches Thinking (Updated) is from Dave Stuart Jr.
What to Do the First Day of School (and Why) is by Justin Minkel.
Getting to Know Each Other Through a Single Word is from TESOL.
BACK TO SCHOOL! is from Svetlana Kandybovich.
Here's A Cloze (Gap-Fill) Essay My ELL Students Will Complete On The First Day Of School
First Day of School: Six Word Stories with a Twist is by Maria Bartz.
Cool Back to School activity! Student Interest Surveys (PDF) https://t.co/i7yz0nqqUh #edchat #Back2School #Back2School2017 #education pic.twitter.com/KkupIFP9em

— Shelly Sanchez (@ShellTerrell) July 28, 2017
Back to School: Fun ELL reading and writing game! is from the Language Learning and Teaching blog.
Dan Meyer has suggestions on how to begin the new school year in Math class.
Important Questions to Ask Your Students is from Edutopia.
5 Questions to Ask Your Students To Start the School Year is by George Couros.
I asked students to respond to: If I'm angry, please…If you're proud of me, I hope you…When I'm not in school, my responsibilities include…I hope this class is a place where…I hope we don't…I respect teachers who…

Their responses provided valuable insight. #1st5days

— Erin Olson (@eolsonteacher) August 20, 2018
WE HAD OUR FIRST STAFF MEETING OF THE YEAR TODAY & HEARD GREAT ADVICE FROM AN EXCELLENT TEACHER
RESPONDING TO STUDENT LETTERS FROM THE FIRST DAY OF SCHOOL
Breaking the Ice With Student-Made Videos is from Edutopia.
Back-to-School TOOLKIT is from Facing History.
First Week of School Activities with ELs at the Heart is by Valentina Gonzalez.
🏖️ It's time! 📚Here's a list of back-to-school resources that @irina_mcgrath and I ❤️ for a strong and 😃 start with ELs. Tools from @Larryferlazzo, @MsSalvac, @ValentinaESL, @emilyfranESL, @TanELLclassroom, @ShakeUpLearning @Toppel_ELD, and us. https://t.co/CvMxZt0HpI pic.twitter.com/MUE2Rrg3Xi

— Michelle Makus Shory (@michelleshory) August 6, 2019
I made a #Culture wheel for the my class tomorrow as a "beginning of the year" get to you know type activity for my Grade One class. Students can draw or write (in any language) what each piece of the chart means to them. Feel free to use it! #ellchat #queer_educhat #equity pic.twitter.com/P28w0ecET2

— Justin Garcia 👬 (@kruu_justin) August 5, 2019
Also, anyone reading/RT-ing this, please see earlier thread and discussion about ?d we ask kids & in what context. Here☝🏽, I only included ?s that I felt would be low stakes enough for Ss to ask each other but also some ?s to inspire some deeper thinking. https://t.co/443mgRB4H9

— Tricia Ebarvia (@triciaebarvia) July 28, 2019
Thanks for your patience, all!

Here are the ?s I used: https://t.co/t73qNBhWMp

No matter what ?s you end up with, pls see thread immediately above this one.

And TY to all who suggested numbering the blocks & corresponding list of questions for Ss for greatest flexibility. 🙂

— Tricia Ebarvia (@triciaebarvia) July 30, 2019
Getting to Know Our Students is by Rick Wormeli.
🌈Are you looking for ways to get to know your students ✅ spark conversation 💡 and promote writing 📙✏️ ? Check out the All About Me ABC activity @michelleshory & I created for all teachers of ELs. #JCPSESL @TanELLclassroom @emilyfranESL @Larryferlazzohttps://t.co/PMm1uJ0Qkk pic.twitter.com/Sj1t40lA9o

— Irina McGrath, Ph.D. (@irina_mcgrath) August 13, 2019
Back to school activities for the EFL/ESL classroom is from English For Asia.
HERE'S THE QUESTIONNAIRE MY STUDENTS COMPLETE ON THE FIRST DAY OF SCHOOL
My Favorite First-Day Activity is from Blue Book Diaries.
Bonding with Students Right From the Start is from Middleweb.
Using Questions on the First Day of School is from Right Question.
Back to school – my top tips for the new academic year is by DR GIANFRANCO CONTI.
Here is the super simple First Day of Class postcard activity I'll be doing with my students. Click the button for the template; you can even do it digitally!https://t.co/EpCXdIrBqM

— Chanea (shuh-Nay) (@heymrsbond) August 1, 2021
These are very good introduction questions for students https://t.co/Qv0pVL8PpD

— Larry Ferlazzo (@Larryferlazzo) August 9, 2021
Vision Boards: Start the Year with a Visual Goal Setting Exercise is from Catlin Tucker.
Listen Before You Leap (One Thing You Might Try . . .) is by Neema Avashia.
We Belong: The First Week of School I Wish I Had is from ASCD.
I've updated my beginning of the year student intro form. You're welcome to steal whatever you want! Updates include specifically asking about who I'm talking to if I call home and how students can update preferred names in our LMS. #pronouns #teacher https://t.co/a4J881dcn4

— Johanna Br⌬wn (@johannabrown) August 19, 2021
Relationship Building From Day 1 is from Edutopia.
"HUMAN SCAVENGER HUNT" WORKSHEETS TO HELP BEGIN THE YEAR
5 activities for the first days of school. https://t.co/ZggELBWwz1 pic.twitter.com/PkeG2FFIjP

— Miguel Míguez (@onthesamepagelt) August 29, 2022
5 Get-To-Know-You Activities For Building Community and Connection This Fall is from Learners Edge.
The Have Fun With English blog has a post about a nice activity called The Compass.
Creating a Sense of Community in High School From Day 1 is from Edutopia.
Before you do that beginning of the year survey or sharing activity, take some time to reflect on trust, disclosure, and trauma: https://t.co/gox7tj46X2

— Alex Shevrin Venet (@AlexSVenet) August 3, 2023
23 Ways to Build and Sustain Classroom Relationships is from Edutopia.
Powerful, Evidence-Backed Ways to Connect with Students in the First Week of School is from Edutopia.
Managed to collect all of my favorite start-of-year resources in one place finally!

⭐️ Top Values Activity slides
⭐️ Intro Poem Activity slides
⭐️ Year-long Assessment Reflection tracker
⭐️ "Read Like an Octopus" slides
⭐️ #TQE Close-Read templatehttps://t.co/c3qqw775Ai

— Marcus Luther (@MarcusLuther6) August 16, 2023
Feel free to share what has worked for you…
If you found this post useful, you might want to consider subscribing to this blog for free.
You might also want to explore the over 700 other "The Best…" lists I've compiled.