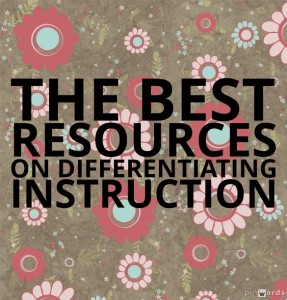 Our Three Video Series On Differentiation, Including Two NEW Ones!
My colleague Katie Hull-Sypnieski is leading a February 1st Education Week Webinar on differentiating instruction, and I would strongly encourage people to participate. Katie's the best teacher I've ever seen….
In addition, Katie and I have co-authored a piece for Education Week Teacher on the topic that will be appearing there soon (it's appeared: The Five By Five Approach To Differentiation Success), and an upcoming post in my blog there will be talking about it, too (that two part series has also appeared). I also did a second two-part series in Ed Week on differentiation.
Also, check out The Best "Fair Isn't Equal" Visualizations.
Also, see THE BEST STRATEGIES FOR "ENGINEERING" TEXT SO THAT IT'S MORE ACCESSIBLE TO ELLS.
Given all that, a "The Best…" post was inevitable, and here it is.
Here are my choices for The Best Resources On Differentiating Instruction:

The Best Places To Get The "Same" Text Written For Different "Levels"
Busting Myths about Differentiated Instruction is by Rick Wormeli.
Reconcilable Differences? Standards-Based Teaching and Differentiation is by Carol Ann Tomlinson.
Deciding to Teach Them All is by Carol Ann Tomlinson.
Making a Difference: Carol Ann Tomlinson explains how differentiated instruction works and why we need it now is an Ed Week Teacher interview.
From Differentiated Instruction to Differentiated Assessment is by Douglas B. Reeves.
Mapping a Route Toward Differentiated Instruction is by Carol Ann Tomlinson.
Using Digital Tools for Differentiation is a wiki created by Bill Ferriter.
Differentiated Instruction: Setting the Pedagogy Straight is by Rick Wormeli.
Here's a slide from a Rick Wormeli presentation:
@RickWormeli Refusing do-overs for kids does not "teach responsibility" – just reinforces failure. @FultonSchoolsPL pic.twitter.com/sO2EBdk4Bl

— Karen Cox (@FultonCLC) June 27, 2013
Leadership for Grading Practices in the Differentiated Classroom is by Rick Wormeli.

Six Scaffolding Strategies to Use with Your Students is by Rebecca Alber.
This is a short video on scaffolding from Beyond The Bubble, a history site about which I've previously posted.
Thought it talks about history, its scaffolding recommendations can be helpful in any subject.
Video: "What Does A Yellow Light Mean?"
Setting the Stage for Change Toward Differentiation contains a very useful chart that was developed by Carol Tomlinson and others.
Student-Created Prompts As A Differentiation Strategy
Simple ways to differentiate materials for mixed level classes is an excellent post by Rachael Roberts. It's focused on language teaching, but the ideas can be applied to any class.
Carol Tomlinson participated in an @ASCD chat on Twitter and shared a great infographic.
Here are a couple of tweets with it, followed by a few tweets I was invited to send about differentiation and ELLs.
RT @ASCD: We love this from @cat3y's new book. Super informative. #ASCDL2L pic.twitter.com/Bf8pnffsyD

— Larry Ferlazzo (@Larryferlazzo) July 2, 2014
RT @ASCD: Love the differentiation infographic from @cat3y's book? Find printable version here http://t.co/d2E4weFBj5 pic.twitter.com/IfaT53Bu02

— Larry Ferlazzo (@Larryferlazzo) July 2, 2014
I think tchr modeling,sentence "frames," front-loading vocab r all good differentiation strategies that ELLs can benefit from #ASCDL2L

— Larry Ferlazzo (@Larryferlazzo) July 2, 2014
Using the jigsaw method is particularly good differentiating strategy 4 ELLs, with different text complexities for different groups #ASCDL2L

— Larry Ferlazzo (@Larryferlazzo) July 2, 2014
The best differentiation strategy for ELLs is building relationships with students to learn the assets they bring to the table #ASCDL2L

— Larry Ferlazzo (@Larryferlazzo) July 2, 2014
Great Post: "Inventing Differentiation"
Differentiated Instruction Strategies: Using Learning Stations is from Teach Hub.
On-the-Spot Scaffolding for Students is from Edutopia.
Five Tips for Getting Started With Differentiation in a Secondary Classroom is from ASCD.
There's No Time to Differentiate: Myth-Busting DI, Part 2 is from Edutopia.
Scaffolding for Success: Best Practices for Secondary ELLs is from TESOL. I'm adding it to The Best Resources On Differentiating Instruction.
Ways to differentiate texts is by Carissa Peck.

To Differentiate Or Not To Differentiate Really Isn't The Question
Rick Wormeli On Differentiation
On differentiation: a reply to a rant and a posing of questions is by Grant Wiggins.
Quote Of The Day: "Differentiation Does, in Fact, Work"
Differentiation Is Important 'Because We Teach Students Not Standards' is my latest Ed Week Teacher post on the topic.
Differentiation Isn't Perfect — But It Can Work is from Edudemic.
3 Simple Ways to Differentiate Instruction in Any Class is by A. J. Juliani.
What Are The School Implications Of New Chetty Study On Geographical Mobility?
Great Lessons 4: Differentiation is by Tom Sherrington.
How I Learned Differentiation appeared in Teach Thought, and is excellent.
"Don't put a scaffold in place without a plan to take it away." @sfrazintcrwp quoting @colleen_cruz. #TCRWP

— Stacey Shubitz (@raisealithuman) August 5, 2015
Q & A Collections: Differentiating Instruction is the title of one of my Education Week Teacher columns.
It includes link to all my posts on differentiating instruction from the past four years – in one place!
10 Questioning Strategies to Differentiate Instruction is from Minds in Bloom.
An Easy Yet Powerful Method for Differentiating Instruction is by Pernille Ripp
Differentiating With Learning Menus is very good video from The Teaching Channel. It's embedded below.

Feedback and/or Additional suggestions are always welcome.
#vsra2016 Scaffolding vs. Rescuing @TerryTreads pic.twitter.com/b2D2JgnSNY

— Donalyn Miller (@donalynbooks) March 4, 2016
Meeting The Needs of Diverse Learners looks like a useful video series from The Teaching Channel.
Inclusion in the 21st-century classroom: Differentiating with technology is from Learn NC.
Yes, Differentiation Is Hard. So, Let's Get It Right. appeared in Ed Week.
In this video, some ducklings were able to get over the curb on their own. However, several found that it was just too high. Look at how someone provides assistance to those having trouble, and how he doesn't tell them what to do. Instead, he offers it as an option, as a choice they can make. It's an example of an old community organizing axiom, "If you don't give people the opportunity to say no, you don't give them the opportunity to say yes, either."
Too Many Students and Not Enough Time is good post from Edutopia on differentiated instruction.
Beautiful Differentiation Map 📜📌 (by @cat3y) #edchat #education #elearning #edtech #engchat #mathchat #learning #pblchat pic.twitter.com/bi67BvJe4I

— Alex Corbitt (@Alex_Corbitt) January 26, 2017
Teaching a Class With Big Ability Differences is by Todd Finley.
Is Differentiation Really Doable in Math Class? is from Middleweb.
"The Platinum Rule" Is A Key To Effective Differentiation
Using Playlists to Differentiate Instruction is from Jennifer Gonzalez.
One Size Does Not Fit All: Differentiating for English Learners is by Jana Echevarria.
I Want to Get Better at… Differentiation is from The Teaching Channel.
'Embracing Technology' as a Tool for Differentiation is the headline of one of my Education Week Teacher columns.
I LIKE THIS FRAME FOR DIFFERENTIATION: "SUPPORTS, SCAFFOLDS, EXTENSIONS"
Here's a video I did with Ed Week:
Trying to make math meaningful. is a nice post by Joe Schwartz on differentiating instruction.
GUEST POST: DIFFERENTIATED INSTRUCTION IN MATH CLASS
Wendi Pillars has created a great infographic on differentiated instruction for ELLs.
New Meta-Analysis Finds Something That Is No Surprise To Teachers: Differentiation Works
5 Pro Tips for Easy Differentiation in Google Classroom is from Learners Edge.
"Equity is not giving all students the same thing. Equity is hearing somebody's voice about what they need and providing them with that. It is creating the opportunity for young people in front of you to share with you about what they need." –@chrisemdin #maslowbeforeblooms

— Anabel Gonzalez (@amgonza) January 14, 2022
I'm designing this assessment. Offering student choices in which questions to answer is an example of student-driven differentiation. pic.twitter.com/Tf99lMP5Ng

— Tan K Huynh (he/his) 🇱🇦🇺🇸🇹🇭🏳️‍🌈 (@TanKHuynh) February 14, 2022
USING BINARY QUESTIONS IN THE ELL (OR ANY) CLASSROOM
✨Differentiation✨is a great way to achieve #equity in the classroom. @michelleshory & I believe that when teachers differentiate assignments & assessments 📚💻 #ELs #MLs are able to showcase their knowledge & feel successful #ELL2point0
📌https://t.co/2lFIRb1CbA@WIDA_UW pic.twitter.com/08LicP11OG

— Irina McGrath, Ph.D. (@irina_mcgrath) April 19, 2022
Supports vs. Modifications: What's the Difference? is from UnboundED.
5 TIPS FOR DIFFERENTIATING INSTRUCTION WITH TECHNOLOGY is from Class Tech Tips.
Differentiate your instruction by using Google Docs. Here are some tried and tested ways to differentiate in your classroom.https://t.co/mL2yNMvP6P @diben#edtech #gsuite #teachertwitter pic.twitter.com/Sbq82fGZ74

— 𝗧𝗖𝗘𝗔 (@TCEA) October 1, 2022
11th Anniversary – Personalization vs. Differentiation vs. Individualization Chart https://t.co/DfzKigZ6Q8

— Kathleen McClaskey (@khmmc) February 16, 2023
Teach Up for Equity and Excellence is by Carol Ann Tomlinson.
Differentiation of content, process, and product alter what kids get, do, and/or create. READ ON for differentiation examples and ideas👇👇👇https://t.co/ldiD7c2Dk6 via @BKovich#teaching #pedagogy #teachertwitter pic.twitter.com/kbfxW7kVht

— 𝗧𝗖𝗘𝗔 (@TCEA) May 19, 2023
If you found this post useful, you might want to consider subscribing to this blog for free.
You might also want to explore the over 800 other "The Best…" lists I've compiled.