Analysis: Trayvon Martin's Death Still Fuels a Movement Five Years Later at NBC News
I thought it would be useful for readers, and for me, if I began collecting teaching resources on the tragic Trayvon Martin case. I hope people will contribute additional resources.
Here are my picks for The Best Resources For Lessons On Trayvon Martin:
On Trayvon Martin: A Guest Post From a Teenager, and Some Teaching Suggestions is an excellent collection from The New York Times Learning Network.
Teaching about the TRAYVON MARTIN case is from African American History.
NY Core has a downloadable lesson.
After Trayvon Martin's Death, We're All Having 'The Talk' is from NPR.
Prosecutor Files Charge of 2nd-Degree Murder in Shooting of Martin is from The New York Times.
Trayvon Martin's Death Sparks National Outrage, Mourning is a slideshow from TIME.
Teacher Stephen Lazar has posted some suggestions.
Teaching About Trayvon Martin with Young Children is from Teaching For Change.
Teaching about the Trayvon Martin Case is from "What Kids Can Do."
Talk With Your Students About Trayvon Martin is from Education Week.

Justice for Trayvon is a good column by New York Times writer Charles Blow.
Young, Black, Male, and Stalked by Bias is from The New York Times.
Faces of Protest for Trayvon Martin is a photo gallery from TIME.

Trayvon Martin killing: what if George Zimmerman were black? is from The Telegraph.
Thank You, Rachel Jeantel is from The Nation.
One of the Saddest Stories Ever: I Am Rachel Jeantel
I Don't Feel Your Pain is from Slate.
Trayvon Martin In Death: Whose Story Is It? is from NPR.
Fear of a Black President is from The Atlantic.
The Zimmerman Jury Told Young Black Men What We Already Knew is from Gawker.
On The Killing Of Trayvon Martin By George Zimmerman is from The Atlantic.
What Should Trayvon Martin Have Done? is an excellent piece in The New Yorker by Amy Davidson. I'm adding it to The Best Resources For Lessons On Trayvon Martin.
Here's an excerpt:
When I asked on Twitter, there were two sorts of answers about what Martin should have done at this stage of the night: variations on "run straight home" and "not be black." Those options are themselves mirror images. The idea that Martin, when he saw a light-skinned man looking at him strangely, should have realized his mistake and cleared out is a way of saying that he ought to have been exquisitely conscious of his blackness, of how he looked. Zimmerman's lawyers argued that Zimmerman was properly scared; more subtly, they made the case that it was perverse of Martin not to recognize and manage his own scariness. And yet there are complications in instructing a black teen-ager to start running: Martin seems to have alarmed Zimmerman and the police dispatcher both when he moved too quickly and when he was slow. As Charles Blow wrote in the Times, "So what do I tell my boys now? At what precise pace should a black man walk to avoid suspicion?"
And here's another must-read piece — Is It Time To See Each Other's Tears? — from NPR
President Obama gave a speech on the Trayvon Martin verdict. I wouldn't say it was his best, but he did make some important points.
You can read the transcript here, and I've embedded the video below. I've also included an excerpt from his speech.
I'm adding this to The Best Resources For Lessons On Trayvon Martin.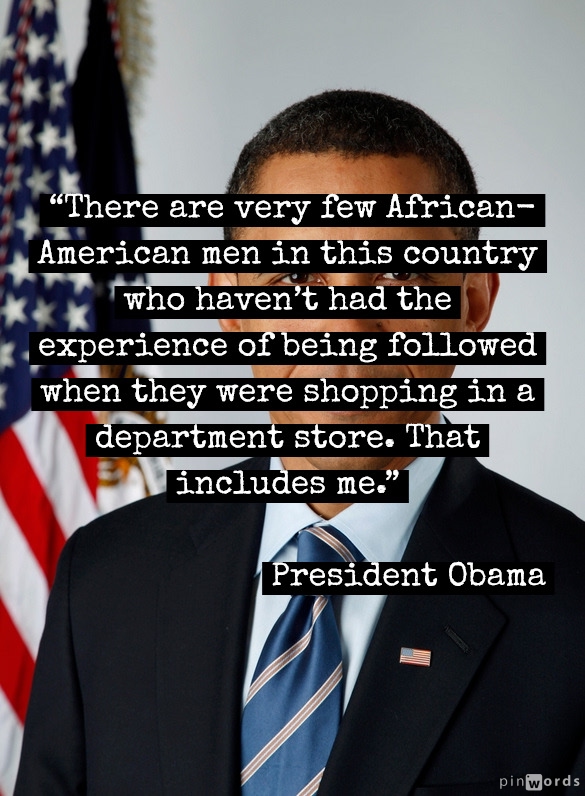 Florida Case Spurs Painful Talks Between Black Parents and Their Children is from The New York Times.
Black boys denied the right to be young is by Eugene Robinson at The Washington Post.
Trayvon Martin was killed 6 years ago today. Here is the guest post by a teenager we published at the time. https://t.co/oWk3qvG9Hx

— NYT Learning Network (@NYTimesLearning) February 26, 2018
Additional suggestions are welcome.
You might also be interested in the 860 other "The Best…" lists, and you might want to consider subscribing to this blog.