Mihály Csíkszentmihályi, who originated the concept of "flow," died yesterday.
Middleweb has just published an excerpt from the chapter on developing "flow" that's in my new book on student motivation. They've titled it Help Your Students Get Into the Learning Flow.
I've recently been spending some time thinking about what I can do to help my students enter into a "state of flow" — completely absorbed in a learning task. The idea of "flow" has been developed by psychologist Mihaly Csikszentmihalyi. I hope readers will point me in the direction of additional resources.
Here are my choices for The Best Resources For Learning About "Flow":

Beyond Student Engagement: Achieving a State of Flow is by Elena Aguilar at Edutopia.
Mihaly Csikszentmihalyi: Motivating People to Learn is an interview at Edutopia.
How to Get into Your Zone is from The Harvard Business Review.
Here is a TED Talk from Csikszentmihalyi:
Adam Simpson posted the 27th Edition of the ESL/EFL/ELL Blog Carnival. It's filled with excellent posts where teachers are describes lessons when their students were in the state of "flow" — when they were completely absorbed in what they were doing.
The Compelling (not just interesting) Input Hypothesis is a new paper by Stephen Krashen. Here's an excerpt: "Compelling means that the input is so interesting you forget that it is in another language. It means you are in a state of "flow" (Csikszentmihalyi, 1990). In flow, the concerns of everyday life and even the sense of self disappear – our sense of time is altered and nothing but the activity itself seems to matter. Flow occurs during reading when readers are "lost in the book" (Nell, 1988) or in the "Reading Zone" (Atwell, 2007). Compelling input appears to eliminate the need for motivation, a conscious desire to improve. When you get compelling input, you acquire whether you are interested in improving or not."
Make Standards Engaging is from ASCD Educational Leadership.
Who Enters Flow? is from Psychology Today.
When Are Teenagers In The "Flow"?
Can Schools Help Students Find Flow? is from Greater Good.
Eight Tips for Fostering Flow in the Classroom is also from Greater Good.
Education professor writes prescription for teachers to succeed: motivate, motivate, motivate

Help Your Employees Find Flow is from The Harvard Business Review.
How To Get Into The 'Flow' In Your Classroom is from Edudemic.
"Flow" In The Classroom is my Ed Week post on the topic.

Flow – A Measure of Student Engagement is by Jackie Gerstein.
What Mel Brooks Can Teach Us about "Group Flow"
Thoughts About Education: Mihaly Csikszentmihalyi is from the John Hopkins School of Education.
Here's an excellent video interview with Mihaly Csikszentmihalyi. I preferred, though, to read the transcript….
This last video isn't great, but it's short and provides a good overview of flow:
In re-looking at Mihaly Csikszentmihalyi's TED Talk (which is in the first part of the post, and I've also embedded the YouTube version below), three of his slides stood out to me, so I took screenshots to share here.
Here they are: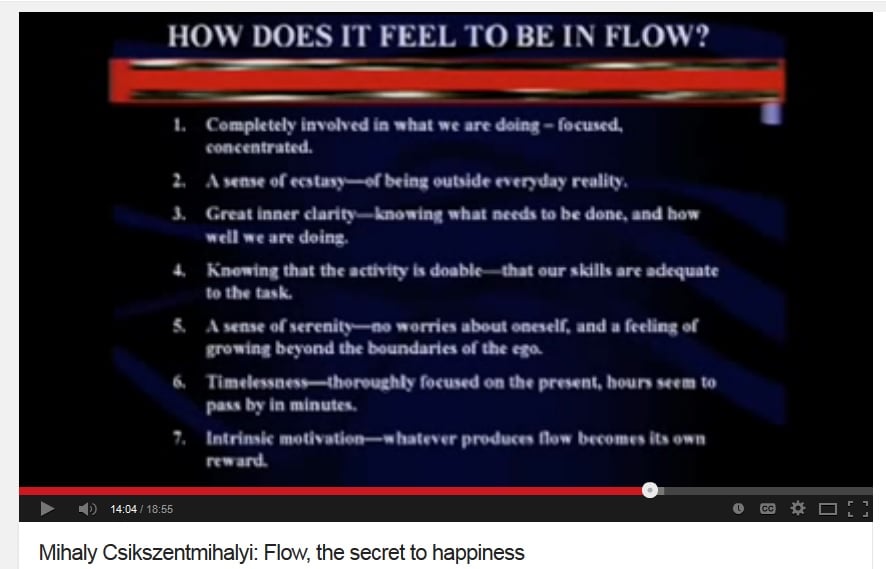 Here are several videos that I think show people exhibiting "flow."
As I mentioned earlier, I hope you'll recommend more!
If you search "Mihaly Csikszentmihalyi flow chart" images, you'll find many versions. Here are four I especially like:
Finding Flow, Psychology Today
Here is a collection of short videos where people discuss their own experience of flow.
Flow States and Student Engagement in the Classroom
Flow Makes Life Better—So Go with It (Here's How)
Quote Of The Day: Albert Einstein On "Flow"
Against flow is from Aeon, and offers some intriguing points.
The Scientific Reason Flow Obliterates Time is from The Big Think.
We all know how good it is to 'get in the zone'. But how do tennis 🎾 players find their flow? 🤔 Made in partnership with @OpenUniversity #Wimbledon

Immerse yourself in sport: https://t.co/7dt3CMz209 pic.twitter.com/t6chRw0CG1

— BBC Ideas💡 (@bbcideas) July 14, 2018
The Washington Post has just published a useful article on flow: It's great to be 'in the zone' — while working, exercising and creating art. Here's how to get there.
Mihály Csíkszentmihályi, who originated the concept of "flow," died in 2021.
Interesting Perspective On What It Takes To Get Into "Flow"
Here's a new TED-Ed lesson and video:
Sandy Millin sharing some interesting ideas about how to create ELL learning materials that promote "flow."
Forward Flow is from Character Lab.
If you found this post useful, you might want to consider subscribing to this blog for free.
You might also want to explore the 900 other "The Best…" lists I've compiled.