Students can 'own Their Learning Through Creating Questions' is the headline of one of my latest Education Week Teacher columns.  It's the final post in a five-part series on using questions in the classroom.
Students' Questions Can 'Drive Their Learning' is another four-part series I did on the same topic.
Asking the right questions is an essential part of effective teaching and learning. A reader recently asked me if I had a specific "The Best…" list on the topic, so I thought it would be a good idea to bring together several of my related posts and other articles together.
You might also be interested in:
The Best Videos Showing The Importance Of Asking Good Questions.
The Best Resources For Helping Teachers Use Bloom's Taxonomy In The Classroom
The Best Resources On Teaching & Learning Critical Thinking In The Classroom

The Best Resources For Teaching "What If?" History Lessons
The Best Resources On The Idea Of "Wait Time"
Here are my choices for The Best Posts & Articles About Asking Questions:
Asking Effective Questions is from the Ontario Education Ministry.
To Have the Most Impact, Ask the Right Questions is from The Harvard Business Review.
Questions from the French Bac in Philosophy is by Grant Wiggins.
I hope readers will offer additional suggestions.
Are we asking the right questions? is from The Boston Globe.
Making Thinking Visible is from John Hopkins University.
Several Ways To Teach Critical Thinking Skills is one of my Education Week columns.
Here are a few of my past posts on the topic:
"Are Harder Questions Better Than Easy Questions?" — A New Activity
"The Hook, Curiosity, and the Brain"
More Info On Asking If You Can Achieve Your Goals (Instead of Just Setting Them)
Asking Questions Improves Your Memory
163 Questions to Write or Talk About is from The New York Times Learning Network.
6th Grade Student Reflections useful questions at a 6th grade graduation.
Three Steps for Improving Teacher Questions is from Edutopia.
101 Questions is a site created by Dan Meyer which is designed to get people to…ask questions. Check it out.
Connect Extend Challenge is from Visible Thinking.
Question Formulation Technique is from Facing History and Ourselves.
Teaching Students to Ask Their Own Questions is from The Harvard Education Letter.
The Right Question Institute has many resources.
A math quote I love is from Epsilon Delta.
For Students, Why the Question is More Important Than the Answer is from Mind Shift.
What's the most important question you should be asking? is from Barking Up The Wrong Tree.
The Case for Curiosity is by Susan Engel.

Asking Questions—At Four Different Levels is by Robert Marzano.
Any Questions? is a good post from Dan Meyer, with even better comments.
On genuine vs. bogus inquiry – using EQs properly is from Grant Wiggins.
Andrew Sobel, on the power of asking questions is from Smart Blog on Leadership.
Design Thinking For Students: The Question Formulation Technique is from The ASIDE blog.
Agree or disagree? is by Alfie Kohn.
Make Sure Your Questions Are "Juicy" is from Annie Murphy Paul.
Learners Should Be Developing Their Own Essential Questions is by Jackie Gerstein.
The Power of Questions – #ELTchat summary
Revising the questions that shape learning is by Jason Flom.
Rethinking Whole Class Discussion is from Edutopia.
Quote Of The Day: Asking Genuine Questions
Questions is by David Wees.
The One Conversational Tool That Will Make You Better At Absolutely Everything is from Fast Company.
5 Powerful Questions Teachers Can Ask Students is from Edutopia.
Great Questions is an excellent site from Story Corps.
I really like This Post Will Make You A More Effective Communicator In 90 Seconds by Shane Snow.
Asking Better Questions: 6 Ways to Improve Classroom Discussions is from ASCD.
For Students, Why the Question is More Important Than the Answer is from MindShift.
5 Simple Questions Lead to #StudentEngagement | info from @edutopia & Rebecca Adler art & graphics from @LanceFuhrer pic.twitter.com/GtbRZ3Mc9S

— Mark Kolkman (@mkolkman) November 24, 2013
Unfortunately, too often ask "any questions?" "@Larryferlazzo: MT Questions Teachers Can Ask http://t.co/Tg4iC2xiSM pic.twitter.com/4K6kxBsj8o"

— Karen Kusiak (@k_kusiak) February 3, 2014
Excellent (& I Mean EXCELLENT!) Post On Asking Questions
Welcome To Question Day 2014 has a lot of useful resources.
Asking Questions is from The British Council.
The Importance of Asking Questions to Promote Higher-Order Competencies is a very good post by Maurice Elias (who has often contributed to my Ed Week column) over at Edutopia.
'A More Beautiful Question': An Interview With Warren Berger
How Questions Promote Cognitive, Social, and Emotional Learning Across Subject Areas is from Edutopia.
The AMBQ (A More Beautiful Question) playlist—50+ "question" songs was developed by Warren Berger.
Love it! Good questions to keep on hand. MT "@Primary_Ed: 20 Reflective Qs to Help Ss Respond pic.twitter.com/C8Q2vEsaUM"#edchat #sunchat"

— Kelley Kolpitcke (@Kelley123063) August 3, 2014
5 Ways to Help Your Students Become Better Questioners is a nice piece by Warren Berger that appeared in Edutopia.
Encouraging student questioning is by Warren Berger.
"We're hooked on easy answers and undervalue asking good questions"
This is a list of "Core Routines" from Visible Thinking.
The ASCD Express newsletter's theme this month was on asking questions, and it's very good.
The power of questions with QFT in @juhenry04 & @MsMerteFourth #novipbl @RightQuestion pic.twitter.com/YKYdD0sNnG

— Myla Lee (@MyTLee3) January 16, 2015
Einstein's 55 Minutes is from ASCD.
Four Types of Questions That Increase Rigor is from The Marzano Center.
Lesson On Importance Of Asking Good Questions
Historical thinking chart provides Ss w/ Qs to ask as they analyze docs @SHEG_Stanford #edchat http://t.co/wuGHvPHder pic.twitter.com/5KDjAddmQK

— Ashley Hurley (@ashleyhhurley) March 20, 2015
8 Strategies To Help Students Ask Great Questions is from Teach Thought.
Grant Wiggins shared on Twitter an exceptional older post by UK educator/blogger Alex Quigley. It's titled Questioning – Top Ten Strategies and, as you'll see, it has to be one of the best and most practical list of recommendations out there. I suspect that many educators, including me, are going to be referring to it often.
The Question-Asking Exercises I Did With My Students Last Week (Hand-Outs Included)
How to Ask Better Questions is from Fast Company.
"There's no dumb questions, just better ways to ask them." – @octaviaspencer #ILA15 pic.twitter.com/bzSi5IUgMY

— Ekuwah Moses (@ekuwah) July 20, 2015
Quote Of The Day: "Relearning the Art of Asking Questions"

Let's Switch Questioning Around is a nice article by Cris Tovani. Here's an excerpt from it: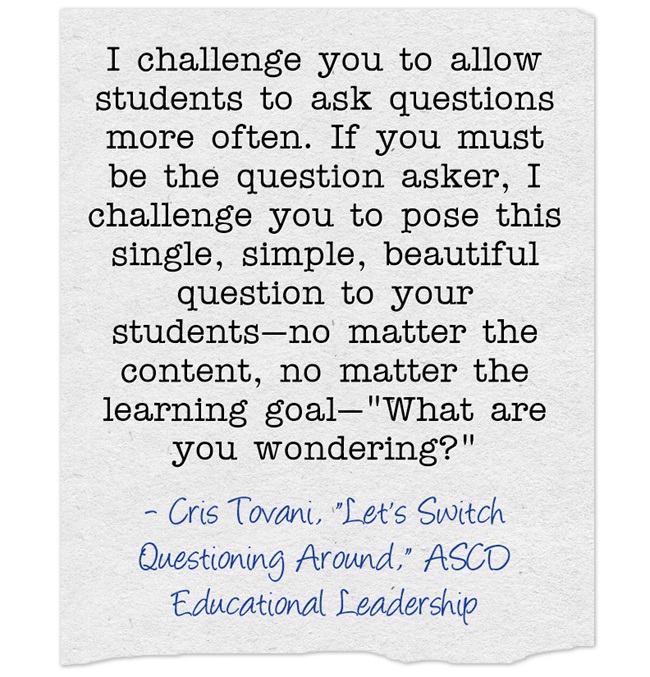 I Think This Column On Asking Questions Is One Of The Best Piece's Alfie Kohn Has Ever Written

10 Questioning Strategies to Differentiate Instruction is from Minds in Bloom.
Students' questions are much more effective reading assessments.@PDavidPearson @Stephharvey49 @millerread @smokeylit pic.twitter.com/fbrUKDLgGP

— Bodo Heiliger (@BodoHeiliger) October 15, 2015
Effective Questioning is by Shaun Allison.
Lincoln, Power, and the Question Formulation Technique (QFT) is from Right Question.
Asking questions is from the British Council.
Why Ask Why? 17 Different Types of Questions to Ask. is from The Innovative Educator.
How to Plan For and Use Quality Questions is from Middleweb.
Students Learn from Inquiry, Not Interrogation is from Middleweb.
Important point by @DTWillingham on why the questions are sometimes more important than the answers. pic.twitter.com/ETbrQW1whL

— Carl Hendrick (@C_Hendrick) February 18, 2017
@Larryferlazzo @DTWillingham It's from 'Why Don't Student Like School?' I'm re-reading it and finding stuff I missed. You read it Larry?

— Carl Hendrick (@C_Hendrick) February 18, 2017
Elon Musk on the 1 Creative Skill Every Founder Needs Now is from Inc. The second part of the article makes some very interesting points about asking good questions and links to some useful similar articles. I think excerpts would be good for the classroom.
To Become a Better Problem-Solver, Try Thinking Like a Toddler is from New York Magazine.
INCLUSIVE QUESTIONING is by ALEX QUIGLEY
A Pedagogy of Questioning is from the Independent Thinking Blog.
New Study Finds That People Like You More If You Ask Questions
Generating Effective Questions is by Todd Finley.
Question Charts is from the On The Same Page blog. I think it's an interesting idea, and I'm pondering various kinds of adaptations.
Questions as Invitations, Not Inquisitions is from Russ On Reading.
Why This/Not That? A thinking routine to move kids from identification to analysis appeared in Moving Writers.
8 Strategies To Help Students Ask Great Questions is from Teach Thought.
Harvard Business Review Publishes Great Article On The Importance Of Asking Questions
USING QUESTIONS TO ENGAGE STUDENTS IN LEARNING AND ASSESSMENT is from Scott Reed (Thanks to Cara Jackson for the tip).
Our Students' Questions Should Be a Top Priority is from Middleweb.
The Importance Of Follow-Up Questions
GUEST POST: SOCRATIC SEMINAR WITH ELS? CAN DO!
Great Teaching: The Power of Questioning is from Tom Sherrington.
Two years ago, I was saying "do you have any questions?". Last year I switched to "what questions do you have?" It made a difference. Today I tried "ask me two questions". And they did! And those ?s led to more ?s. It amazes me that the littlest things have such a big impact!

— Andre Sasser (@MrsSasser) August 27, 2018
STUDY FINDS ASKING QUESTIONS LEADS TO MORE SECOND DATES – PERFECT RESEARCH TO PROMOTE THE ART OF…ASKING QUESTIONS
3 Tips to Have Better Conversations is from The NY Times.
Unleashing the Potential of Classroom Questioning is from Corwin.
Sparking Joy in the Classroom with Student-Formulated Questions is from The Teaching Channel.
Don't Let Questioning Be Like a Ping Pong Game is from Middleweb and offers lots of suggestions for how using tech can support the use of questions in the classroom.
How to Improve Your Questioning Techniques appeared in Middleweb.
Changemaker Questions Spark Student Learning is by Sarah Cooper at Middleweb.
How to Get Your Students to Ask More Questions appeared in Middleweb.
Teaching Channel Publishes Series on the Question Formulation Technique has a number of useful links.
Quick Guide to Using the Question Formulation Technique is from The Right Question Institute.
Honing Our Questions to Deepen History Learning appeared in Middleweb.
How to Lead Students to Engage in Higher Order Thinking is from Edutopia.
What does the evidence say about questioning? is from The Durrington Research School.
Harvard Researchers Say This Mindset Matters Most: Follow the Rule of 3 Questions to Be More Likable is from INC.
USING BINARY QUESTIONS IN THE ELL (OR ANY) CLASSROOM
Critical Thinking Is About Asking Better Questions is from The Harvard Business Review.
4 QUESTIONS TO USE WHEN CHECKING STUDENTS' KNOWLEDGE AND UNDERSTANDING is from InnerDrive.
GETTING ALL STUDENTS TO THINK HARDER WITH GOOD QUESTION DESIGN is from InnerDrive.
The Art of Questioning is from Evidence Based Education.
Statements as an alternative to questioning is from Evidence Based Education.
Here is the PD I presented with @trulybradford to our colleagues yesterday on effective questioning in the classroom. You can see inspiration from @Jennifer_Manly and @MsPhanLearns here! They're both INCREDIBLE. https://t.co/mbVUWiexP5 https://t.co/7mlzHdbqHR

— The Madwoman in the Classroom (@heymrsbond) August 8, 2023
Additional suggestions are welcome.
If you found this post useful, you might want to consider subscribing to this blog for free.
You might also want to explore the nearly 900 other "The Best…" lists I've compiled.