I was saddened to hear about the recent death of Neil Armstrong. I have a vivid memory of watching him walk on the moon on our black-and-white TV. I was ten, and we were living in a duplex in New York City.
Teachers might want to do a lesson on his life this week….
You might also be interested in The Best Sites To Learn About The Apollo 11 Moon Landing.
Here are my choices for The Best Resources For Learning About Neil Armstrong:
Neil Armstrong, First Man on Moon, Dies at 82 is from The New York Times.
Neil Armstrong is from The Economist.
Here's the transcript for the first video listed here….
Rest in Peace, Rocket Man is from The Atlantic, and shares the eulogy President Nixon was going to give if the Apollo 11 astronauts died in the moon landing.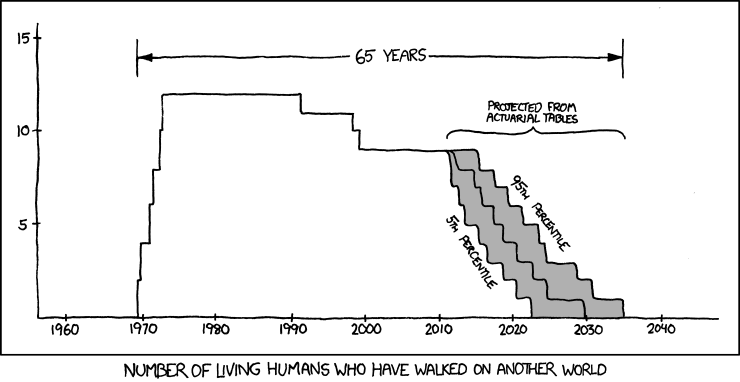 Via xkcd
Remembering Neil Armstrong is a NY Times slideshow.
Neil Armstrong Talks About The First Moon Walk is from NPR.
First Man on Moon Dies Aged 82 is a lesson for ELL's from Breaking News English.
From The Los Angeles Times obituary:
VIDEO TRAILER: "FIRST MAN" MOVE ABOUT NEIL ARMSTRONG LOOKS IMPRESSIVE
Feel free to share additional suggestions.