One of the chapters in my upcoming book shares ideas and lesson plans on how to deal with rudeness in class, and I thought readers might appreciate a compilation of my previous posts on the topic:
How Do We Contribute To Students Being Rude In Class?
A study has found that when you gossip about someone, the people listening tend to attribute those same negative characteristics to….you.
Help Me Develop A Simple Lesson On Rudeness
Study: Rudeness Spreads Like A Disease
How incivility spreads in the workplace is the headline of a Science Daily report on a new study.
How Rudeness Stops People from Working Together is by Christine Porath at the Harvard Business Review. Here's an excerpt: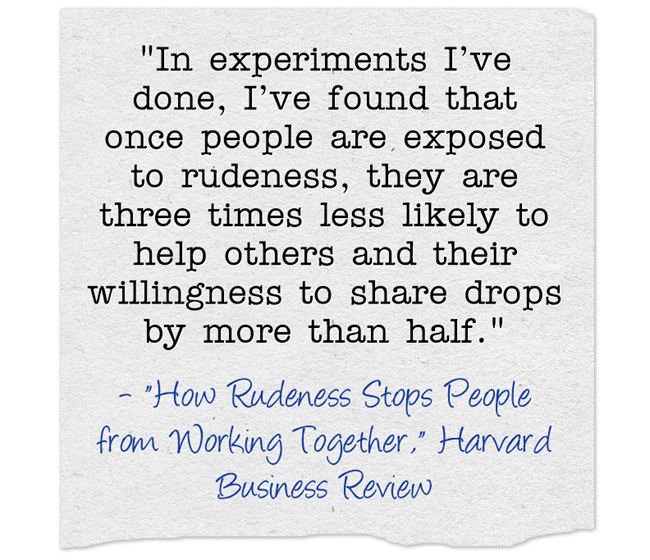 Rude awakening: Witnessing morning incivility darkens your experience of the whole day is from Research Digest.
The Impact Of Rudeness On A Class
When we fight fire with fire: Rudeness can be as contagious as the common cold, research shows is from The Washington Post.
NEW TED TALK VIDEO: "WHY BEING NICE TO YOUR COWORKERS IS GOOD FOR BUSINESS" (& THE CLASSROOM)
Feedback, including suggestions of additional resources, is welcome.
If you found this post useful, you might want to consider subscribing to this blog for free.
You might also want to explore the 1000 other "The Best…" lists I've compiled.