One of the ways I try to help students motivate themselves in our life skills lessons and when we push as much as possible into higher-order thinking skill activities is to share information about what employers are looking for in job-seekers. And they're looking for those Social Emotional Learning (SEL) skills and those higher-order thinking skills.
I thought it would be useful to readers and to me to begin creating a more extensive collection of this kind of information, and I hope that you will consider contributing to it.
You might also be interested in:
The Best Websites For Students Exploring Jobs and Careers
The Best Sites For Learning Economics & Practical Money Skills
The Best Websites To Teach & Learn Life Skills
The Best Sites For Students To Create Budgets
The Best Places For Students To Write Their Resumes

Here's a beginning list of The Best Info On Skills Employers Are Looking For In Job-Seekers:
Why Is It Important For Students To Learn About Bloom's Taxonomy? is a previous post of mine that includes a Read Aloud I use with students.
The 10 Skills That Will Get You Hired In 2013 is from Forbes.
The '3Gs': Mindset Over Skill Set Critical to Landing a Job, Harvard's Stoltz Says is from Yahoo Finance.
Study: Millennials should sharpen soft skills to land a job
Top Five Personality Traits Employers Hire Most is from Forbes.
Dancing with Robots: The Skills Humans Need is by Justin Reich.
Stop The Presses! Tom Friedman Writes Second Column In Four Months Related To Ed That Makes Sense…

Statistic Of The Day: Students Need More Skills in Critical Thinking, Communication & Problem-Solving
The Skills You Really Need to Get a Job is from The World Post.
Statistic Of The Day: Employers Want People With Strong Social Skills
Statistic Of The Day: Employers Want People Who Can "Recognize Patterns"
Big New Report Issued On Social Emotional Learning
Enhancing the non-cognitive skills of disconnected youth is from the international group OECD. It seems a little weird, but it also seems to have some intriguing info about what kind of non-cognitive skills employers are looking for in potential employees.
A new report from Gallup, Skills Learned in School Differ From Those Demanded at Work, again reinforces those priorities.
Here's an excerpt:
Another Study Shows Limitations Of Standardized Tests For Teacher Evaluations
The top 10 skills that will be in demand by all employers by 2020
Here's an excerpt from a Wall Street Journal article about the study, The 'Soft Skills' Employers Are Looking For: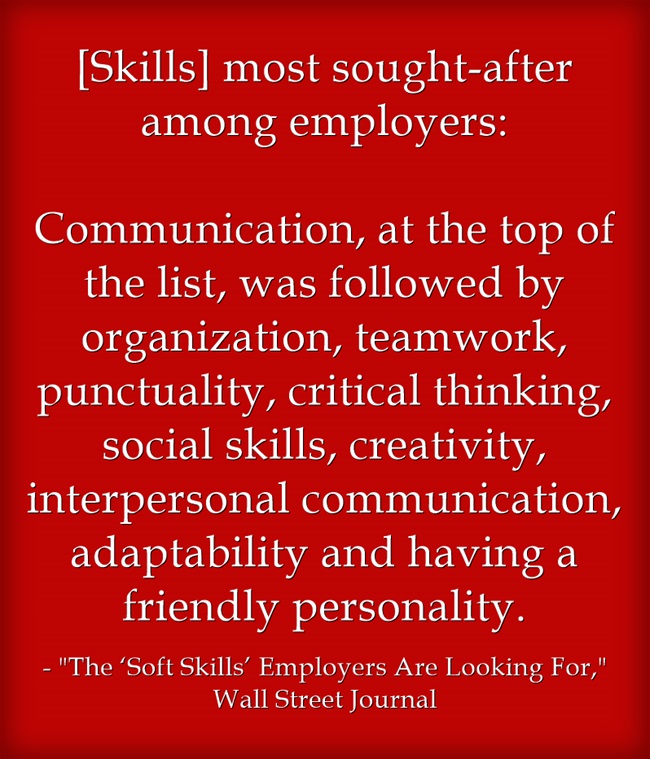 Seven Facts on Noncognitive Skills from Education to the Labor Market looks very interesting. It's from The Hamilton Project.
The most important skill for middle class workers isn't being taught in American schools is from Quartz.
Great Infographic: "You're Hired: The Skills Employers Seek in New Hires"
HERE'S WHAT EMPLOYERS ARE LOOKING FOR IN JOB APPLICANTS
The 10 Top Skills That Will Land You High-Paying Jobs by 2020, According to the World Economic Forum is from Inc.
Feedback, including suggestions of additional resources, is welcome.
If you found this post useful, you might want to consider subscribing to this blog for free.
You might also want to explore the 1000 other "The Best…" lists I've compiled.