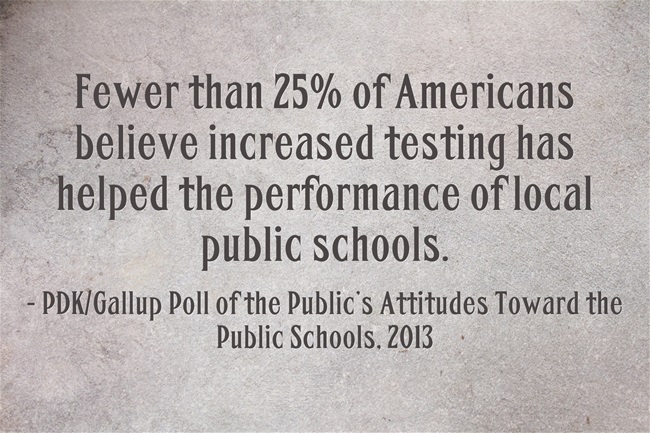 Every year for the past 45 years, Phi Delta Kappa and Gallup have done a Poll On Education issues. This year's poll results were just released.
You can read a summary and the entire poll results here.
I'll share a few pieces of information that stand-out to me but, first, here are links to my posts about the poll in previous years:
The Best Posts/Articles On This Year's Phi Delta Kappa and Gallup Education Poll — 2012
The Best Posts/Articles On This Year's Phi Delta Kappa and Gallup Education Poll (2011).
The Educated Reporter has already published their analysis of the data.
Here are quotes that I consider to be the highlights from the poll results:
Fewer than 25% of Americans believe increased testing has helped the performance of local public schools.
In just one year, Americans reversed their opinion, and now 58% oppose requiring that teacher evaluations include student scores on standardized tests.
Almost two of three Americans oppose releasing information to newspapers about how students of individual teachers perform on standardized tests.
Almost two of three Americans have never heard of the Common Core State Standards, arguably one of the most important education initiatives in decades, and most of those who say they know about the Common Core neither understand it nor embrace it….Among the third who had heard of the Common Core, only four of 10 said the standards can help make education in the United States more competitive globally; a majority said the standards will make the U.S. less competitive or have no effect.
Americans said their children are safe at school,and they reject the idea of arming teachers and principals.
A majority of Americans give the public schools in their community an A or B — the highest rating ever recorded by this poll — but fewer than one of five would give the schools nationally a B or better.
Americans value having schools teach 21st-century skills such as critical thinking, communication, collaboration, and creativity.
More than 70% of Americans have trust and confidence in the men and women who teach in public schools, and 65% have trust in public school principals. These percentages are even higher for Americans under the age of 40.
Lack of financial support continues to be the biggest problem facing public schools. Public school parents agree, and they see overcrowding as the second biggest problem. Three new concerns rose to near the top of the list of the biggest problems facing public schools: lack of parental support, difficulties in getting good teachers, and testing requirements and regulations.
About the only good news for "school reformers" is this: Americans' support for public charter schools remains high at slightly less than 70%, and two of three Americans support new public charter schools in their communities.
However, even that news is somewhat tempered with this: Seventy percent of Americans oppose private school vouchers — the highest level of opposition to vouchers ever recorded in this survey.
The question is: What will "school reformers" do in response? Will they moderate their positions and come to the table to compromise, or will they double-down in self-righteousness and zeal (and get a lot more money from Gates, Walton, Broad, etc.)?