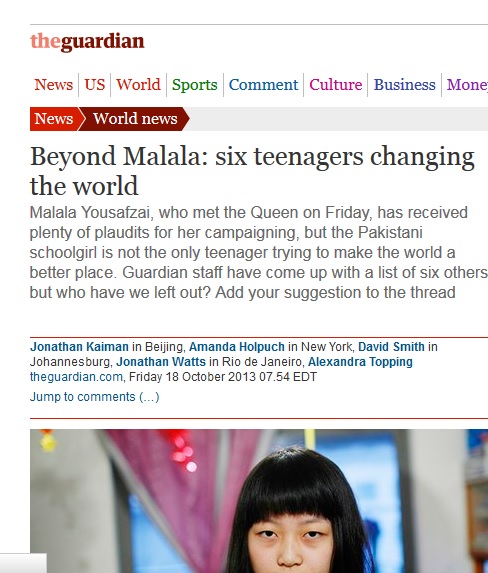 After all the attention — deserved — shown recently to Malala Yousafzai, I thought I'd quickly put together a list of resources on other potential teen role models in the news.
You might also be interested in:
The Best Resources On Malala Yousafzai
I also have a number of resources on young mountain climbers at The Best Sites For Learning About Mount Everest.
Here are some other useful materials:
The New York Times Learning Network has a regular feature called Teens In The Times. They also have a particularly useful post that can be used with any of the resources on this list — it's called Teaching With 'Teenagers in The Times' and has great lesson plan ideas.
Beyond Malala: six teenagers changing the world is from The Guardian.
The other Malalas: girl activists in the developing world – interactive is from The Guardian.
TIME Names "25 Most Influential Teens of 2018"
TIME HIGHLIGHTS YOUNG PEOPLE FROM AROUND THE WORLD AS "NEXT GENERATION LEADERS"
The Cramm is a news digest written by teens, for teens.  Learn more about it at NPR.
Next Generation Leaders is from TIME.
I hope readers will providing more suggestions!
You might also be interested in the other 1,200 "The Best…" lists.