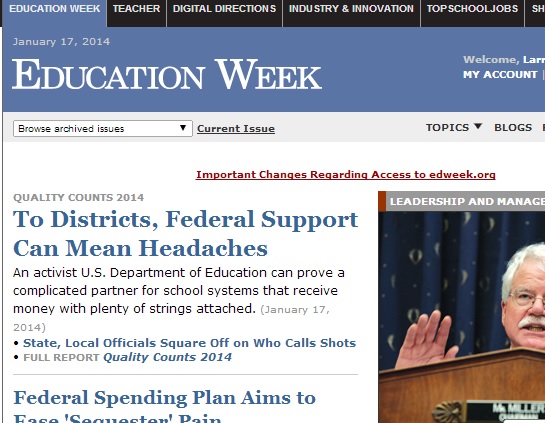 Education Week has just announced a change in their access policy for readers of articles and blog posts on their site (including my weekly teacher advice column).
Starting the last week of month, non-subscribers can view ten articles/blog posts on the site for free during each month (viewing the same article or blog post, however, will still count as "one," so you can revisit that as many times as you want and it won't add to your count). You can view the first three of those ten without registering. However, at that point you'll have to do a quick registration in order to access the remaining seven. You'll only have to register once — after that point, you'll just need to sign-in. You've always had to do kind of registration now to access a fair number of the articles on the site — though, in the past, their email newsletters have provided a link that would bypass that requirement. I don't think that will be the case any longer.
(By the way, listening to my new podcasts related to each column are not subject to restriction. And you can always leave comments on blog, email me directly, or send me a tweet when you want write an answer to one of the "questions of the week" if you decide not to purchase an Ed Week subscription and save your "ten" for the response columns).
I wish they hadn't had to do it, but it makes sense in order to develop a long-term plan for sustainability.
Of course, as with all the growing number number of sites implementing these plans, there are ways to get around that magic number of ten articles, and I assume the ones we all know will work with Ed Week, too — including accessing the site from home and school computers.
However, all those work-arounds can be inconvenient and take time.
One of the perks of writing for Ed Week is that I'll get free access. However, I can say with certainty that if I didn't, I'd pay for a subscription. The New York Times and The Washington Post are the only other two sites I pay to access an unlimited number of articles (though I'm rethinking if I want to continue it with The Post).
There are various subscription plans for Ed Week, and they're generally less than $5 per month. That's a small price to pay for access to articles that you truly can't get anywhere else, plus you support the country's preeminent journal covering education news, which also happens to be nonprofit.
You can read more about it directly at Ed Week at these links:
Important Changes Regarding Access to edweek.org
Education Week to Adopt 'Metered' Subscription Model
Changes to Access on edweek.org – Frequently Asked Questions