Thanks to a tweet from Scott McLeod, I just learned about a new study from The Department of Education titled Do Disadvantaged Students Get Less Effective Teaching?
Yes, it's a study based on the discredited science of Value-Added Measurement. It highlights VAM studies that I have specifically criticized with "Best" lists of their own (A Beginning List Of The Best Posts On Gates' Final MET "Effective Teaching" Report and the infamous Chetty study).
So, the study's conclusions have to be seen in that context. But, hey, if "reformers" are going to live by the sword, they can (figuratively) die by it, too.
And that's because the researchers conclusions are astounding.
Here's what they found: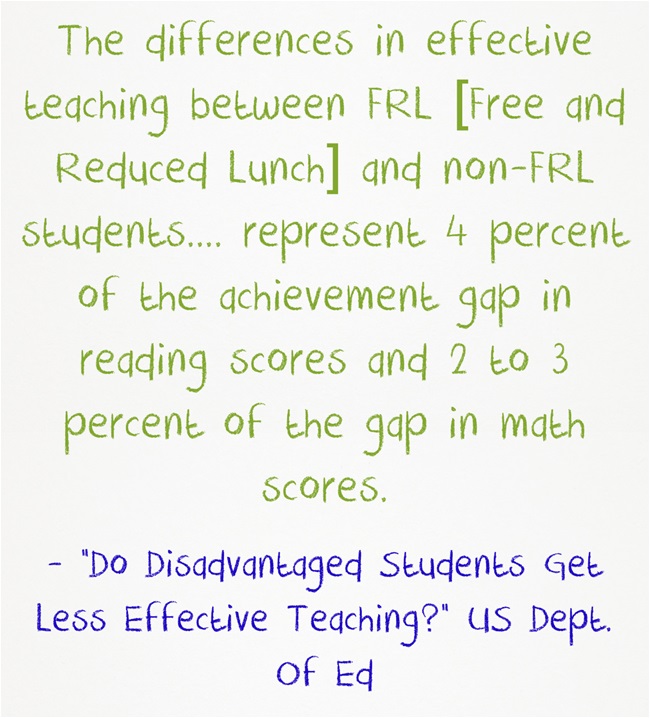 Let me get this straight.
"School reformers," including Arne Duncan, are alienating millions of teachers and hurting countless students and their families over a teacher evaluation policy that — using their own prize methodology (ignorant that we may believe it to be) — affects two-to-four percent of the achievement gap?
Of course, and unfortunately, Duncan's ignoring his own Department's research is no surprise, considering he's doing the same by pushing merit pay even though his Department  announced last September that out of three approved studies of a New York performance pay program, one showed across the board negative effects on student achievement; another showed negative effects in some areas and no effect in others; and a third one showed no effect at all.
And that his same Department has previously concluded that 90% of the elements that affect student test scores are outside the control of teachers.
If he wants to truly impact student success, perhaps he should read The Best Places To Learn What Impact A Teacher & Outside Factors Have On Student Achievement and The Best Resources For Learning About The "Achievement Gap."