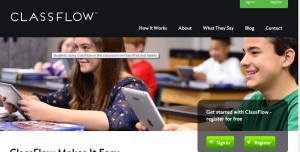 Last month, I posted about the upcoming unveiling of a new web tool called ClassFlow.
Here's what I wrote then:
ClassFlow is a new tool being unveiled by Promethean in January. They say that "Beginning in January 2014, teachers will be able to sign up for a complimentary ClassFlow account." It looks pretty interesting, though I've got to wonder what it's cost structure is going to end up being. I suspect that Promethean isn't going to make it entirely free forever, but maybe I'm just being cynical.
Today, they opened it up to the public.
I took it out for a "test drive," and have to say it seems like a pretty easy tool for teachers to use to create multimedia presentations for the classroom and, apparently, provides a way for students to respond to teacher questions (I didn't explore that feature). I also think it would a useful tool for students to use to create lessons that they would teach to their classmates.
I'm going to add it to The Best Sites That Students Can Use Independently And Let Teachers Check On Progress.
Unfortunately, it also has one of the more annoying promotional videos I've seen for an education-related web too: