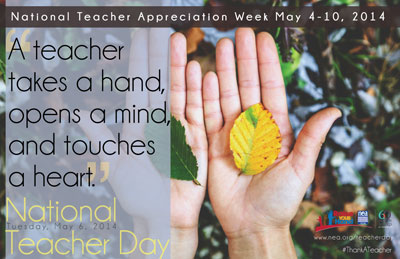 National Teacher Day in the United States is always celebrated on the Tuesday in the first full week of May. World Teachers' Dayis held annually on October 5th since 1994, celebrates teachers worldwide, and was started by UNESCO. You can find lots of related resources for both days at The Best Resources To Learn About World Teachers Day.
This year, two great groups are sponsoring ways to celebrate National Teacher Day on social media.
The National Education Association is encouraging people to "use the #ThankaTeacher hashtag and join thousands showing their support for our nation's teachers. Show some love on Facebook and Twitter or get creative and create your own six-second video thank you on Vine."
Here's a sample Vine:
And here's a project being sponsored by The Center For Teaching Quality:
In honor of Teacher Appreciation Week (May 5-9), CTQ is launching #TeachingIs, a social media effort to challenge stereotypes and recognize teaching as the complex work it is. Set the record straight. Join us!
Here's how you can participate:
Show your support by donating a Facebook post or tweet and encourage your friends, colleagues, and followers to do the same.
Tell the world what #TeachingIs. Share your definitions, stories, small (and big!) wins, and manifestos via tweet, blog post, Vine, Instagram, YouTube, shareable graphic, Six Word Memoir, you name it! Just be sure to use the hashtag #TeachingIs.
From small details to spectacular achievements, let's tell the world what #TeachingIs.
Looking for resources? Read some social media how-tos and explore our partner packet with sample tweets, logos, and avatars.