A very popular excerpt from one of my books was titled "Finishing The School Year Strong" was published both at Education Week Teacher and at Edutopia.
It's very practical, and here's an excerpt: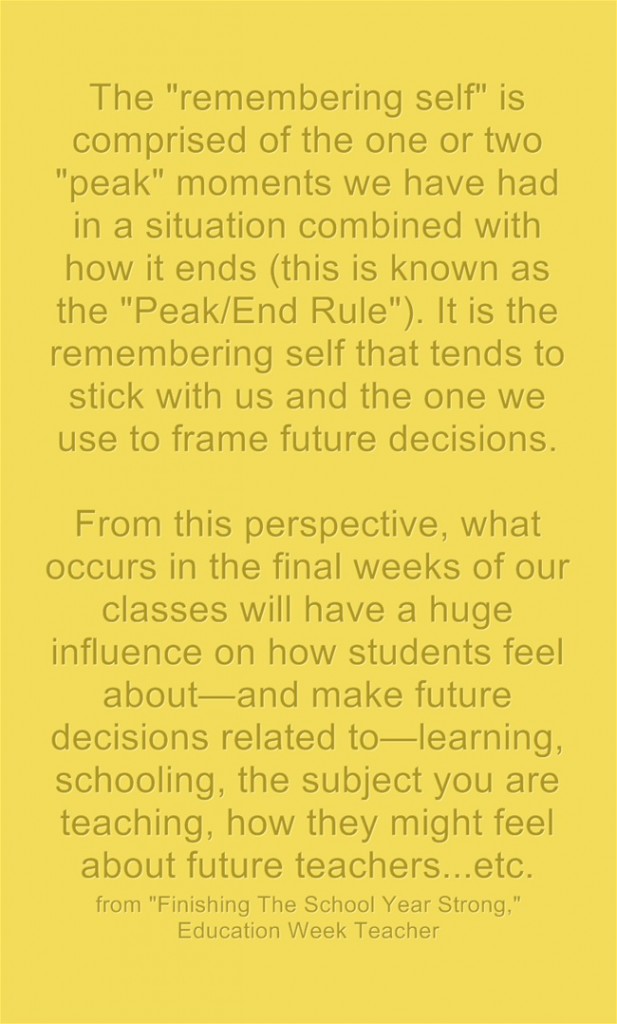 Okay, so that's for dealing with these last several weeks of school.
Is there anything we can do to set-up our students for continuing their academic success in July and August? When there were funds for summer school, at least sixty percent of our 2,000 students would enroll for those classes — not because of having bad grades, but because they wanted to come.
Those days are long-gone — our District hasn't had money for summer school for at least the last six years.
I've previously posted about how I set-up free virtual classrooms at a variety of sites for my Beginning and Intermediate English Language Learners to use during summers and, typically, at least half of them study fairly consistently. I do the same for my mainstream English students, and about a quarter of them tend to use the sites. I make arrangements with their following year's teacher (who is often me 🙂 ) to give them extra credit for their summer work, but that is clearly a very minor part of their motivation.
Here are those previous posts on my summer work:
How I'm Helping My Students Try To Avoid The "Summer Slide"
Part Two Of "How I'm Helping My Students Try To Avoid The "Summer Slide""
Since I published those posts, a ton of new additional sites have become available that let teachers set-up virtual classrooms for free. I'll be adding several of these new tools to my list, but haven't yet gotten around to determining which ones. You can see them all at The Best Sites That Students Can Use Independently And Let Teachers Check On Progress.
And you can see all sorts of research on the summer slide at The Best Resources On The "Summer Slide."
What do you do to help your students try to avoid the "summer slide"?