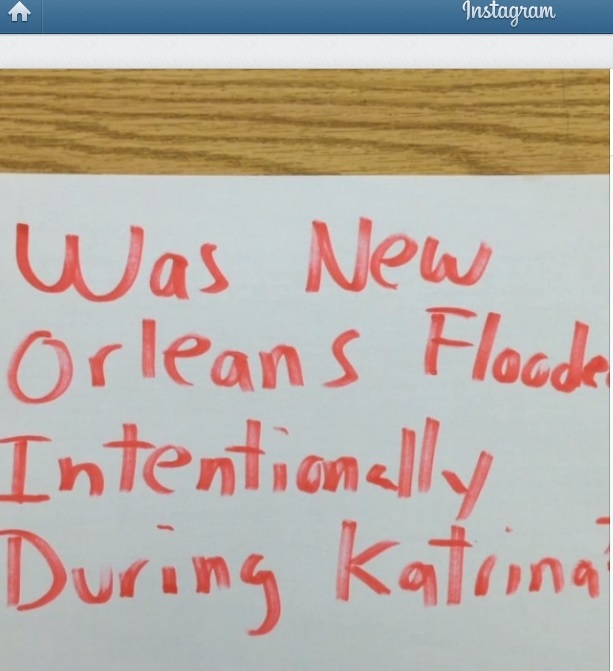 I've previously posted about some elements in my upcoming finals (see My Best Posts On Writing Instruction and scroll down near the bottom).
Another element I'm trying out this year is having students in all my classes create Instagrams (see other ways I've used Instagram and Vine in my classes at The Best Resources For Learning To Use The Video Apps "Vine" & Instagram). They'll all be somewhat different:
* My ninth-grade English students will identify questions (following some lessons on Bloom's Taxonomy) they still have about the units we've studied this year and find the answers to them.
* Intermediate English students will be choosing questions related to the English language.
* My Geography class for English Language Learners will be identifying questions they have about the United States, since we're finishing up the year studying our country.
* My IB Theory of Knowledge students will identify the TOK topics they were most interested in and illustrate them in the video.
You can download the instructions I'm giving to my ninth-grade students here, and I'll also share them in this post. In addition, I've embedded an example I created for them.
Any feedback on how I can make these better activities are welcome!
Here are the instructions:
Instagram Video Project Instructions
Ninth-Grade English
You will be creating three Instagram videos highlighting questions about any of the units we  have studied this year  (Natural Disasters, New Orleans, Mandela, Jamaica, Everest) that you still have on your mind. You may also include questions about any of the life skill lessons we learned (grit, learning and the brain, goal-setting, etc.). You will need to provide the answers to them after spending time researching in the library.
One of your questions may be related to the lower two levels of Bloom's Taxonomy, and the other two need to be connected to the higher levels.  Your questions must be approved by Mr. Ferlazzo.
The video must:
First, show the question and say it, and show your name (first name only).
Other portions of the video must include drawings, at least one sound effect, the answer to your question, and an image of at least one of your sources.
You can also include puppets, music, your own acting, images from elsewhere and other narration.
Everything in your video must be appropriate for a classroom.
Remember, you only have fifteen seconds, but you can fit a lot into that time.
Practice and time it.
NOTE: Shortly after this post was published, I added "You may also include questions about any of the life skill lessons we learned (grit, learning and the brain, goal-setting, etc.)." to the above instructions. However, I did not add it to the downloadable student hand-out that I had already uploaded.
And here's the teacher example I created in about five minutes: