The so-called "reading wars" on how best to teach literacy are back in the news with the recent announcement that "balanced literacy" is back on the approved list for New York City schools to use.
I'm generally a supporter of balanced literacy, though have always included phonics in my ELL instruction.
Here are some more useful resources on the topic. Let me know what else I should add to the list:
New York Schools Chief Advocates More 'Balanced Literacy' is from The New York Times.
The Reading Wars Again (or Still) is by Marc Tucker at Ed Week.
How Lucy Calkins, literacy guru and Fariña ally, is fighting to define Common Core teaching is from Chalkbeat.
Balanced Literacy Is One Effective Approach is by Lucy Calkins and is one of several columns on the topic published by The New York Times as part of their "Room For Debate" series.
Here's a Prezi that might be worth a look.
A Return to 'Balanced Literacy'? is from Education Week.
In Defense Of Balanced Literacy is from KinderConfidential.
Hard Words:Why aren't kids being taught to read? is from American Public Media.
The straw man in the new round of the reading wars is from The Washington Post.
Just how polarized are we about reading instruction? is by Dan Willingham.
I've been asked by several colleagues about the recent @nytimes piece about how we are teaching reading wrong. The author has no credibility as a researcher or educator, but @skrashen does. His response:https://t.co/WbNEvTTeQ4

— Donalyn Miller Vote on November 6th! (@donalynbooks) October 30, 2018
Phonics vs. Balanced Literacy: A Classroom Comparison is from Ed Week.
What is #BalancedLiteracy? I invite you to watch this short video with my co-authors @NancyFrey & @NancyAkhavan that explains our definition of Balanced Literacy. And join us to reclaim the term Balanced Literacy! https://t.co/mEbOsHrZrr#AskFisherFrey @CorwinPress

— Douglas Fisher (@DFISHERSDSU) October 28, 2019
Lucy Calkins, Creator of Reading Workshop, Responds to 'Phonics-Centric People' is from Ed Week. And you can read her full response here.
Is any one program going to work for ALL students? https://t.co/WBRoTqisjC

— Larry Ferlazzo (@Larryferlazzo) January 17, 2020
THREE THOUGHTFUL REFLECTIONS ON THE "READING WARS"
Research Matters / Cracking the Reading Code is from ASCD's Educational Leadership.
An Old and Contested Solution to Boost Reading Scores: Phonics by Dana Goldstein at The NY Times seems to me to be one of the better pieces in "mainstream" media about the "Reading Wars."
Three Important Things the "Reading Wars" (Tend to) Ignore is by Shawna Coppola.
The Hechinger Report has published two good articles about the "reading wars": What parents need to know about the research on how kids learn to read and Four things you need to know about the new reading wars.
In Defense of Balanced Literacy is from The Teachers College Reading and Writing Project.
Lucy Calkins Says Balanced Literacy Needs 'Rebalancing' is from Ed Week.
Is there really a 'science of reading' that tells us exactly how to teach kids to read? is from The Washington Post.
Every single teacher must read this. https://t.co/Ie21lEuVQ5

— Orly Klapholz (@OrlyKlapholz) April 30, 2021
The Science of Reading Should Make Room for Skepticism (Just Not for Ignorance) is from Ed Week.
Reading Remedies is from The Hechinger Report.
Navigating the Reading Wars With English Learners is from TESOL
The 'Science of Reading' and English-Language Learners: What the Research Says is from Ed Week.
What the 'Science of Reading' Should Look Like for English-Learners. It's Not Settled is from Ed Week.
In the Fight Over How to Teach Reading, This Guru Makes a Major Retreat is from The NY Times.
Taking stock of the science of reading: A conversation with Amanda Goodwin is from Phi Delta Kappan.
I've embedded an important quote from it below: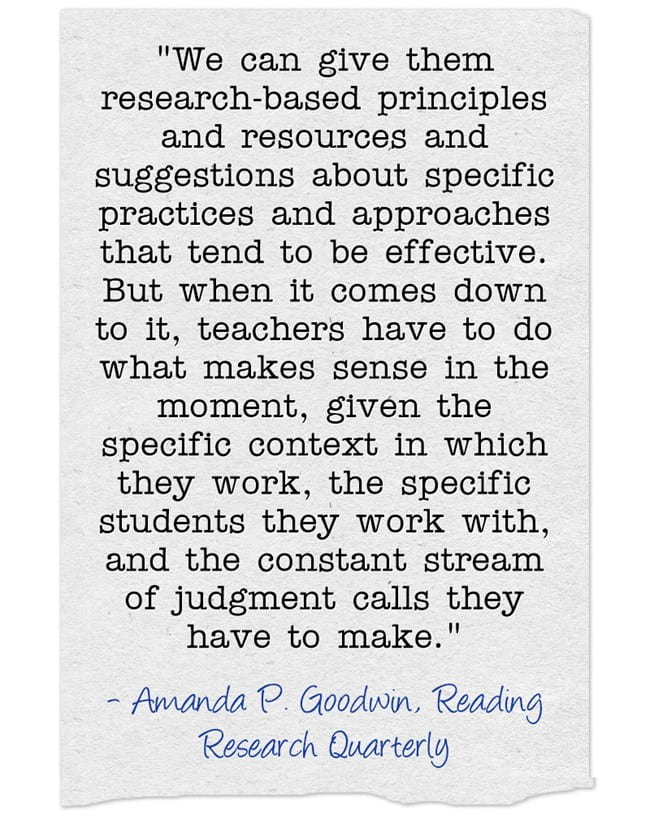 Here is the blog post I promised. It talks about the recent NY Times article criticizing the work of Lucy Calkins. It looks at ALL the research as it defends the use of Balanced Literacy practices. https://t.co/jrVS09a8BY pic.twitter.com/Gqrn46EU3s

— Dr. Sam Bommarito (@DoctorSam7) May 28, 2022
Scoop: Conservative curriculum laws have education publishers in knots. Publication of Lucy Calkins' new, more phonics-based program is halted amid protests and debate over how and whether to accommodate anti-CRT and anti-LGBTQ laws: https://t.co/4BcW9FvYxS

— Dana Goldstein (@DanaGoldstein) July 21, 2022
When the 'Science of Reading' Goes Too Far is from Ed Week.
So I'll probably get yelled at for this, but here is my visual attempt to articulate some sources of disconnect between multilingual literacy and the science of reading. pic.twitter.com/9e9HBkZLbU

— Patrick Proctor (@cpatrickproctor) September 20, 2022
Reconciling Science Of Reading & Multilingual Student Instruction is from Education Impact Exchange.
I don't entirely buy sky is falling rhetoric about lit instruction,blame on balanced literacy & whole lang. Nevertheless,despite missing need 4 class sizes red & other needed changes,& despite Kristof's record of not understanding Ed issues, this is decent piece on 'reading wars' https://t.co/GNfJzBd98R

— Larry Ferlazzo (@Larryferlazzo) February 11, 2023
Great piece by @madeline_will and @s_e_schwartz about opposition to legislation regarding reading instruction and it got me thinking about a fairly wild take I've formed in the last few days. https://t.co/Eb4YhRBHT4

— Jennifer Binis (@JennBinis) March 30, 2023
There is not currently (or historically) a pedagogical crisis specific to literacy. Rather, what we see is an ongoing crisis of equity that cuts across all domains of  children's opportunities to learn. https://t.co/YETwx32cTn@plthomasEdD @ReadByExample

— Jen&Hannah are going to the World Literacy Summit (@trustingreaders) April 11, 2023
How one school gets English learners to read by third grade is from Ed Source.
Q&A: What research says on teaching English learners to read is from Ed Source.
— Jana Echevarria, PhD (@Jechev) April 23, 2023
FORGING AN UNDERSTANDING OF READING INSTRUCTION FOR MULTILINGUAL STUDENTS IN THE TIME OF THE SOR is from TESOL.
Research must guide how we teach English learners to read is from Ed Source.
"Phonics should not become the dominant component in a reading program, neither in the amount of time devoted to it nor in the significance attached." https://t.co/hQfkiwUPfE

— Barbara Gottschalk (@barbgottschalk1) May 24, 2023
Clarifying the Science of Reading is from Language Magazine.
On the Reading Wars: Rejecting the False Binary: https://t.co/rjCzQdcmhz

— Rick Wormeli (@rickwormeli2) June 24, 2023
I have appreciated, & learned from, respectful conversations sharing diff perspectives about reading instruction. A tweet like this does not contribute 2 that kind of dialogue.
A"pile-on" focused on an educator is what I see from right-wing trolls & not respected journalists.

— Larry Ferlazzo (@Larryferlazzo) June 27, 2023
What People Are Getting Wrong About the Science of Reading is from Ed Week.
Recommended: Questions to Ask When Navigating SoR Discourse, Shawna Coppola https://t.co/P7DW0TujXg via @plthomasEdD

— Paul Thomas (@plthomasEdD) July 31, 2023
The new "science of reading" movement, explained is from Vox.
Untangling the Debate Over Reading Instruction is from Cult of Pedagogy.
The science that's missing from science of reading laws is from Chalkbeat.
The social science of reading isn't so clear is from Slow and Boring.
This is interesting: Lucy Calkins has dissolved the Teachers College Reading and Writing Project. In its place, she has created The Mossflower Reading and Writing Project, which may be substantially different or may be just be the same as TCRWP without the name's baggage. Calkins has also created a separate site called Rebalancing Literacy, which provides "Resources for Educators Who Want to Put Aside the Fake Reading Wars and Focus on Helping Kids."
Reading Reform on the Ground: How SoR Policy is Showing Up in Schools is from The Shanker Institute.
If you missed @nenagerman's and my webinar this week, be sure to check out this resource I created last year about navigating dominant #SoR discourse as well as Lorena's fantastic book & other resources we referenced (links below)! https://t.co/aidlqTWr2y

— Shawna Coppola, M.Ed., Reading (@ShawnaCoppola) September 27, 2023
Advocates for English learners and the 'science of reading' sign on to joint statement is from Ed Source.
With Moms for Liberty Endorsement, 'Science of Reading' Faces More Political Controversy https://t.co/3Fq3l2waIQ

— Larry Ferlazzo (@Larryferlazzo) October 10, 2023
Who could have predicted that perhaps completely changing a reading curriculum 2 months before school began might not have been the best move? ———Months into NYC's reading curriculum mandate, teachers want more support – Chalkbeat https://t.co/FRx8wGNDHQ

— Larry Ferlazzo (@Larryferlazzo) November 27, 2023
unsettling the science of reading: who is being sold a story? is by Nick Covington.
Again, please send me more suggestions of resources to add to this list….