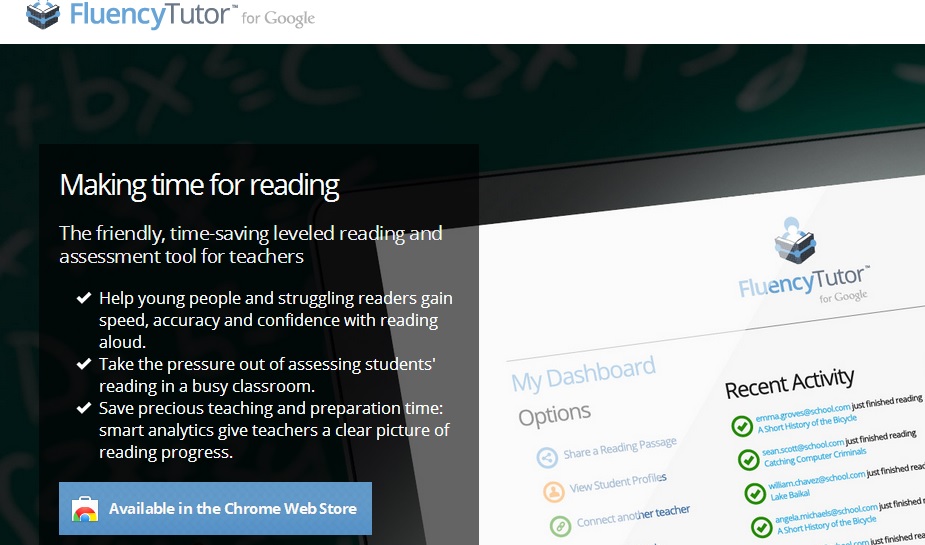 Richard Byrne posted yesterday about an intriguing new site that would be useful for emerging readers and English Language Learners called FluencyTutor For Google.
It's a web app only usable with a Chrome browser that provides a large selection of leveled reading passages that students can read, record, and store on Google Drive. Teachers can then listen at their convenience and correct and note students' reading fluency. The reading passages provide quite a few supportive features that make them particularly accessible to English Language Learners.
Most of the features are free, but teachers have to pay $99 per year for some "dashboard" services like tracking student progress.
If I was teaching an online class of motivated adult English Language Learners, I could see FluencyTutor's whole package as an excellent tool.
However, I definitely wouldn't recommend a classroom teacher using it as a way to track a readers' progress. I have the same concerns about using it for that as I have about Literably, a web tool in the same vein — having students read to us is as much about building the relationship (if not more so) than getting the data.
On the other hand, though, a site like FluencyTutor could be a super tool for students to practice on their own and compare their reading progress during a school year. It's less about them tracking exactly how many words they read each minute and more about them seeing how their reading prosody — expressiveness, smoothness — improves. Just having the free features should be enough for accomplishing that goal.
Here's a video explaining how it works — keep in the mind that some of the features it talks about the end are the ones you have to pay for: