Thanks to Lori Jablonski and Tom Hoffman (I've embedded Lori's tweets below), I learned about a report from the Carnegie Corporation that includes charts created by big-time consultants McKinsey & Company.
First, the chart: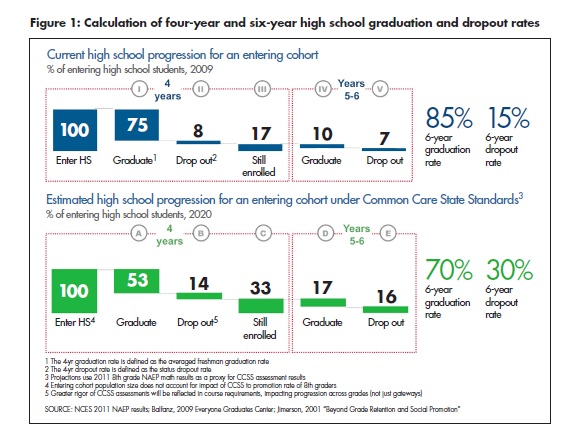 So, based on my quick reading of the Carnegie report, titled Opportunity by Design: New High School Models for Student Success, unless we create small schools and do blended learning, the drop-out rate will double over the next few years.
I'm no fan of the Common Core, though I have also recognized its inevitability in most states, including here in California (see A Collection Of My "Best" Lists On The Common Core).
But I am surprised that this chart has not received wider circulation to inform the debate.
Here are Lori's tweets:
Tom Hoffman finds this by McKinsey Company predicting plummeting grad rates with C.Core implementation + http://t.co/rlNXUiZegx

— Lori Jablonski (@Lori_Jablonski) August 1, 2014
Common Core "architect" David Coleman used to consult for McKinsey…however, more interesting is where Hoffman apparently found this graph+

— Lori Jablonski (@Lori_Jablonski) August 1, 2014
McKinsey graph is key exhibit in remarkable paper by Carnegie Foundation that claims moral imperative of CCore — despite looming disaster +

— Lori Jablonski (@Lori_Jablonski) August 1, 2014
…disaster that can be headed off only by complete ed redesign: small, selective schools; more public-private stuff; on-line learning…+

— Lori Jablonski (@Lori_Jablonski) August 1, 2014