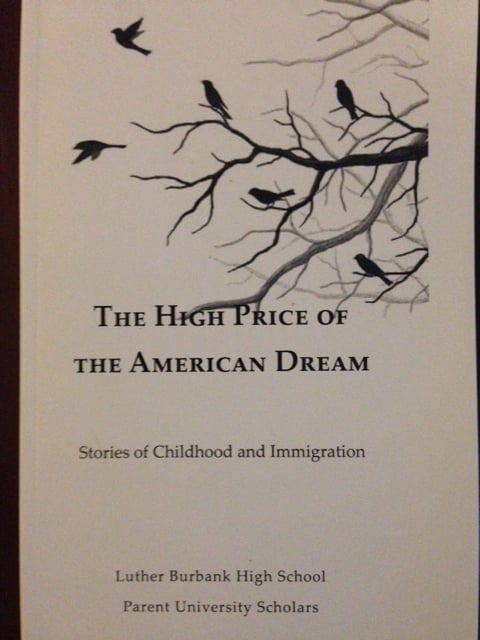 My extraordinarily talented teacher colleague at our high school, Dana Dusbiber, along with the extraordinarily talented bilingual aide Alma Avalos, teach a class of adult English Language Learners once-a-week at our school in the evening.
With support from the University of California at Davis, their students have published a "must-read" book that I'm sure will be a model for ESL classes around the country and the world.
And the University has made it available free! You can download an eBook version here.
The stories in it are so moving and so well-written. You couldn't ask for more engaging, and better-written, models for student-writing.
Here's information about the process Dana used in the book itself, but here's a short introduction she wrote. Dana has been an urban educator for 25 years and a National Writing Project teacher consultant for 20 years, including working in ELL leadership for NWP:
The adult learners and I met once a week during this past school year. This was our third year together, so there was a familiarity and comfort already established amongst the core group of students. I believe that this was a crucial element which allowed the students to both trust me and know beforehand something about the process we use to read and write in class. We were fortunate to have a UC Davis Adult Literacy Grant which paid for materials and for the cost of the book publication (see more about the grant at the end of the manuscript).
We started back in September of 2013 with narratives about childhood. We brainstormed topics and discussed elements of autobiography. We used scaffolding materials designed for an "autobiographical incident" essay to talk about the important pieces we would include in our drafts. From there, I gave weekly mini-lessons on organization, development, adding detail and topics related to our drafting process. Alma Avalos and I worked alongside students during class time to read and provide feedback on their drafts. Some students wrote in Spanish early in the process.
The students decided that they wanted to write holiday reflections and coming-to-America stories for the book. I was excited that they wanted to include writing that reflected a broader range of their life experience and that they had the confidence to risk doing so.
We will write again together next year, and will again publish our writing. We ended our year together in June with some ideas and goals for next years' stories. The stories will again show the risks that the students are taking as they reach higher to write their lives. I am honored to work with them.
I am thinking now, in the quiet time of these late summer days, about some of the structures I will use next year in the adult class. I will bring in more design elements of Writer's Workshop and provide more time for the students to free-write and brainstorm draft ideas. I will teach vocabulary through focused topic study (which the students also initiate) and will continue to teach grammar and language structure in the context of student needs as they arise in class.
Thanks for sharing it with us, Dana!