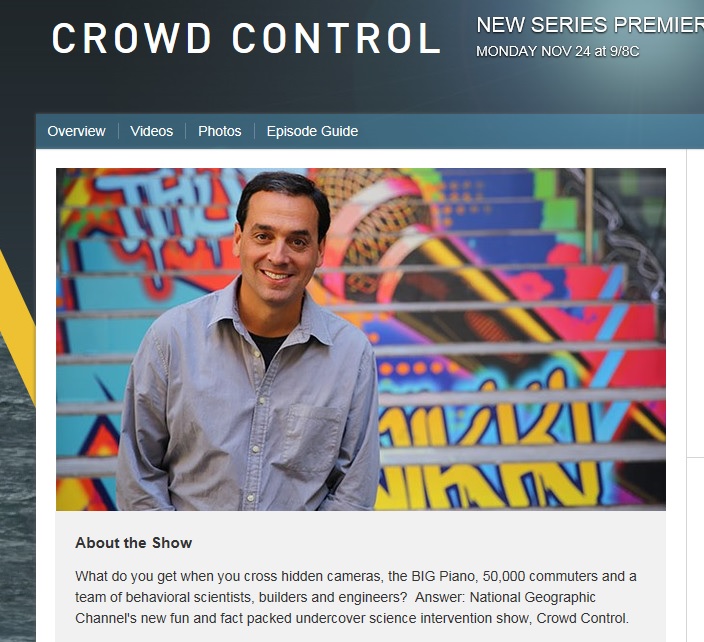 Daniel Pink, whom I've written about a lot, is hosting a television series that begins in late November on the National Geographic Channel.
It's called "Crowd Control."
Here's how he describes it in his newsletter (which you can subscribe to here):
"Crowd Control" is unlike any other program on TV. We take on problems — from significant ones like airline safety to less significant ones like double-dipping guacamole. Then, using principles of behavioral science, along with some cool design and technology, we go out into the world and try to solve them. In all, we've done more than 40 experiments across America — some of which have worked spectacularly, others of which, uh, have not. 
For example, in our first 12 episodes, we've:
reconfigured a stretch of Route 66 in New Mexico so that the road plays a song when people drive the speed limit; 
created a high-tech photo booth to scare sun-loving Jersey shore vacationers into using sun screen;
cleaned up Bourbon Street with a giant trivia game;
designed a robotic dog to make a New York airport's baggage claim more tolerable; 
and, yes, much, much more.
In some ways, it sounds reminiscent of Fun Theory videos, which I've previously described and shared. But I'm sure Dan will be providing his own unique perspectives.
Here are a couple of clips: