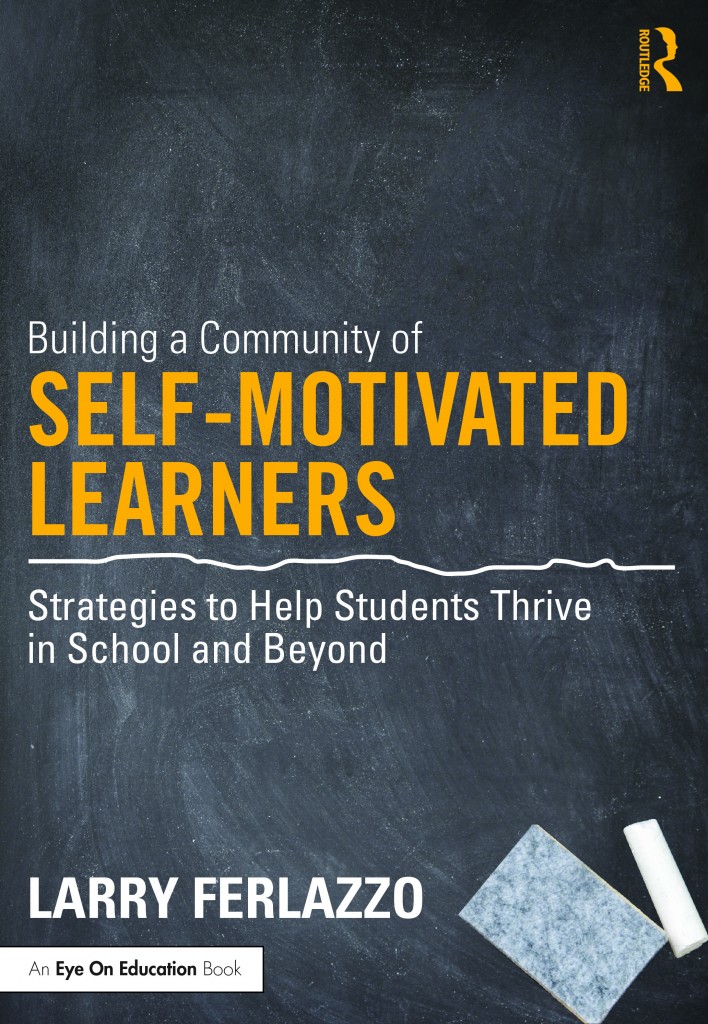 The third book in my series on student motivation will be published in early March.
Here is some advance praise:
Rick Wormeli, Author of Fair Isn't Always Equal:
"Truly one of the smartest guys in the room, author and teacher Larry Ferlazzo channels state of the art teaching into one book, compiling the best resources and thinking on student perseverance, particularly in middle and high school. It's all here: deliberate practice, humor, transfer of learning, flow, autonomy, classroom management, competence, self-determination, feedback, and much more. Want to know the first step to both teaching smarter and motivating students? Move Building a Community of Self-Motivated Learners to the top of the reading stack."
Daniel H. Pink, author of Drive and A Whole New Mind:
"Building a Community of Self-Motivated Learners is another volume of the warm yet practical teaching advice we expect from Larry Ferlazzo. Ferlazzo answers the most pressing concerns teachers have about managing the classroom and reaching the disenchanted or at-risk student—and provides more strategies, lesson plans, and resources than you could use in a year of teaching!"
Mai Xi Lee, Director of Social Emotional Learning, Sacramento City Unified School District, CA:
"Having strong intrinsic motivation is the key to persevering and succeeding in school, college, career, and life. In Building a Community of Self-Motivated Learners, Larry Ferlazzo offers some practical lessons and strategies on how to teach and foster intrinsic motivation for student success. A must-read for teachers as they work to support their students develop strong social emotional learning skills."

Lara Hoekstra, high school teacher, CA:
"I've used the ideas and lessons in Larry Ferlazzo's last two student motivation books very successfully in my own classroom, and the ones he talks about in this volume have had the same positive impact."
My publisher, Routledge, is now offering a twenty percent discount on pre-orders for that volume, and offering the same deal on my first two books, Helping Students Motivate Themselves and Self-Driven Learning, until December 31st.
You can read about the discount here, or just use the discount code IRK95 at their website.
You can also get free resources from all my six books here, including downloading all student hand-outs from my previous two student motivation books.