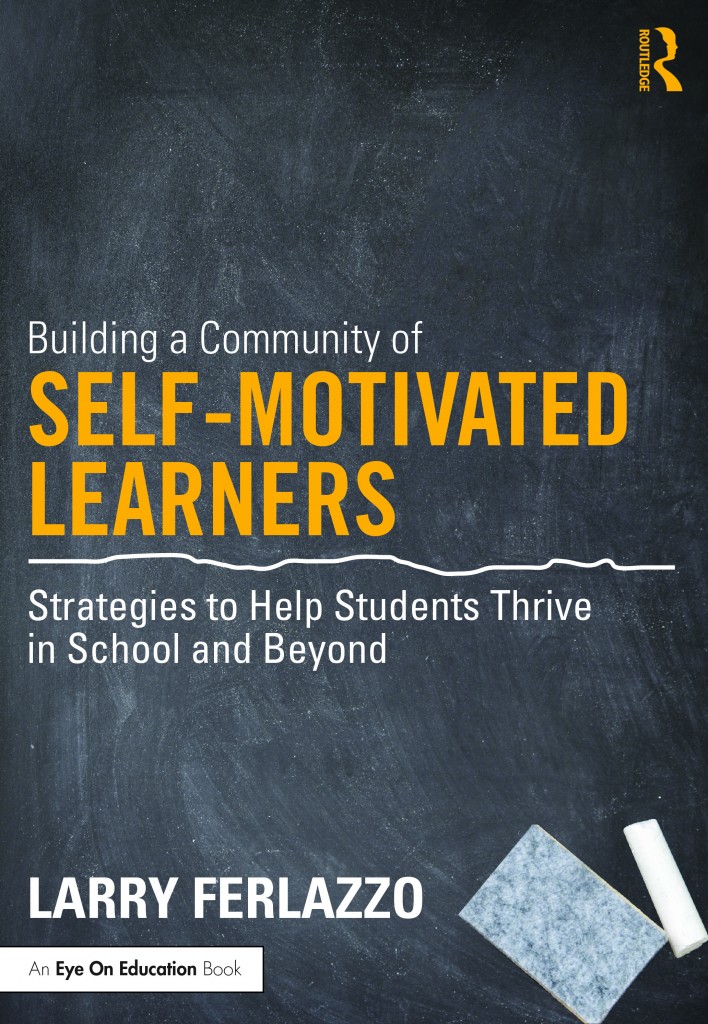 My next book, the third in my student motivation "trilogy," will be published in a month. You can pre-order it at the publisher's site (Routledge) or on Amazon.
Here's the Table of Contents:
Chapter 1. I Still Want to Know: How Do You Motivate Students?
Chapter 2. Still Want to Know: How Can You Best Handle Classroom Management?
Chapter 3. Still Want to Know: How Can You Get Students More Interested in Reading And Writing?
Chapter 4. How Can You Get Students to Transfer Their Knowledge and Skills From
One Class to Other Classes and Outside-of-School Situations?
Chapter 5. How Can You Help Students Want To Live A Physically Healthy Lifestyle?
Chapter 6. How Can You Help Students Get Into a State of "Flow"?
I've just completed preparing lots of excerpts for various publications and, starting in mid-March, you'll be able to read them at The Washington Post, Edutopia, Middleweb, The Guardian, MindShift and Education Week. There will be an excerpt from each chapter.
I'll do a Twitter chat during the second week of March and be sharing book snippets and engaging with educators. I'll also be doing an Ed Week chat.
If you're interested, you can listen to a fifteen minute interview I did with School Leadership Briefing about the book.
All of the many student hand-outs will be available on the Routledge site for free download, whether you purchase the book or not.
Here is some advance praise:
Rick Wormeli, Author of Fair Isn't Always Equal:
"Truly one of the smartest guys in the room, author and teacher Larry Ferlazzo channels state of the art teaching into one book, compiling the best resources and thinking on student perseverance, particularly in middle and high school. It's all here: deliberate practice, humor, transfer of learning, flow, autonomy, classroom management, competence, self-determination, feedback, and much more. Want to know the first step to both teaching smarter and motivating students? Move Building a Community of Self-Motivated Learners to the top of the reading stack."
Daniel H. Pink, author of Drive and A Whole New Mind:
"Building a Community of Self-Motivated Learners is another volume of the warm yet practical teaching advice we expect from Larry Ferlazzo. Ferlazzo answers the most pressing concerns teachers have about managing the classroom and reaching the disenchanted or at-risk student—and provides more strategies, lesson plans, and resources than you could use in a year of teaching!"
Mai Xi Lee, Director of Social Emotional Learning, Sacramento City Unified School District, CA:
"Having strong intrinsic motivation is the key to persevering and succeeding in school, college, career, and life. In Building a Community of Self-Motivated Learners, Larry Ferlazzo offers some practical lessons and strategies on how to teach and foster intrinsic motivation for student success. A must-read for teachers as they work to support their students develop strong social emotional learning skills."

Lara Hoekstra, high school teacher, CA:
"I've used the ideas and lessons in Larry Ferlazzo's last two student motivation books very successfully in my own classroom, and the ones he talks about in this volume have had the same positive impact."