Yes, yes, direct instruction has its place in the classroom. Though, as I've discussed many times (The Best Posts Questioning If Direct Instruction Is "Clearly Superior"; The Best Resources About Inductive Learning & Teaching; The Best Research Demonstrating That Lectures Are Not The Best Instructional Strategy ), it must be kept in a limited "place."
Yet another study has reinforced this finding, and it's taken an usual perspective. The researchers/writers of Improvements from a Flipped Classroom May Simply Be the Fruits of Active Learning compared classes that were using "active learning" via a "flipped classroom" with classes that were using active learning techniques in a school classroom and found that both were equally as effective.
They concluded it was the constructivist methodology that was the key to effective learning, not the tech.
Here's an excerpt: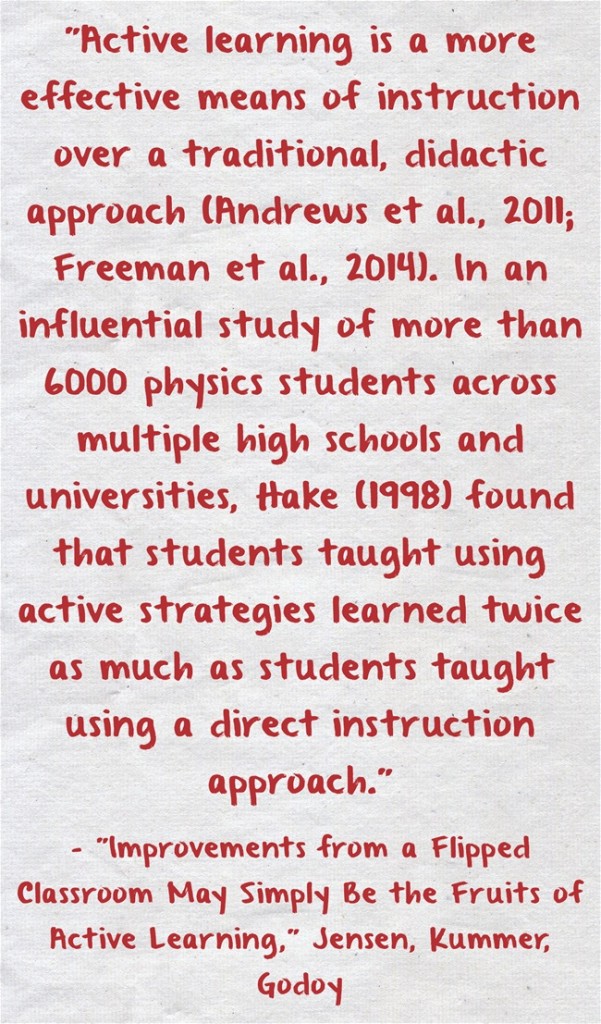 Thanks to The Journal for the tip. I'm adding this post to some of the previously-mentioned lists, as well as to The Best Posts On The "Flipped Classroom" Idea.