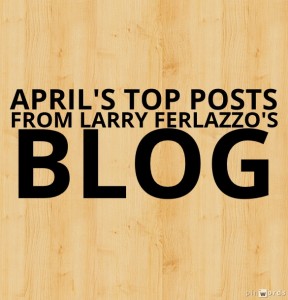 I regularly highlight my picks for the most useful posts for each month — not including "The Best…" lists. I also use some of them in a more extensive monthly newsletter I send-out. You can see older Best Posts of the Month at Websites Of The Month (more recent lists can be found here).
You can also see my all-time favorites here.
Here are some of the posts I personally think are the best, and most helpful, ones I've written during this past month (not in any order of preference):
All Student Hand-Outs From My New Student Motivation Book Now Online For Free
Video: Helping Students Motivate Themselves
You Can Read The Entire Ed Week Chat We Did On Classroom Management
All The Latest Excerpts From My New Book On Student Motivation
Quote Of The Day: "Real-world learning is messy"
The Question-Asking Exercises I Did With My Students Last Week (Hand-Outs Included)
Excellent & Practical List Of Question-Asking Strategies
"Ways To Teach Common Core Math To ELLs"
This Is The Easiest Way I've Found To Upload Multiple TOK (Or Any Student) Presentation Videos
Khan Develops Decent Lesson On Growth Mindset But, Come On, Can't They Create An Engaging Video?
"Reading Teacher" Is A Good Site For Very Beginners
Very Interesting Online "Game" For Teachers, Principals & Parents
"Ways To Build 'Authentic Engagement' & Not 'Strategic Compliance'"
Brainwaves Video Anthology Is A Great Collection Of Short Videos Of & For Educators
Two "Must Use" Resources From The UK On Education Research
"Strategies For Encouraging Student Engagement"
Web 2.0 Tools For Beginning English Language Learners – "My Storybook"
Managing Student Cellphone Use In Class
Here's How We're Using "WhatsApp" For Language-Learning
The Difference Between "Evidence-Based" & "Evidence-Informed" Education
Infographic On The Importance Of Knowing A Second Language
Statistic Of The Day: Study Finds Students Tutoring Classmates Helps Everybody
Important Video & Article On Double-Standard Of Making "government beneficiaries prove themselves worthy"
Quote Of The Day: "Asking Advice Makes a Good Impression" & Its Connection To The Classroom
"Ways To 'Shrink The Change' Of Tech & CCSS In Your Classroom"
"Photographer Writer Illustrator" Would Be Unique Way To Use Photos With ELLs
Good News, Bad News & Good News On Website Annotation Tools
My New British Council Post Is On ELL Error Correction
Here's The Evaluation Form I Created For TOK Oral Presentations
Quote Of The Day: Fascinating & Disturbing NY Times Article About Charter School
Here's The End-of-Year Goal-Setting Activity I've Done With English Language Learners – Including Worksheet & Video
Statistic Of The Day: Funding Gap Between Rich & Poor Schools Grows
My New Student Motivation Book Is Now In-Stock At Amazon – Reviews Appreciated!
Quote Of The Day: The Importance Of Displaying Student Work
Video: "April Fools Video Prank in Math Class"
A Good Reading Lesson Doesn't 'Put Standards Before Students'
I Like "ThinkCERCA" For ELL Reading Practice In Free Virtual Classrooms
People Might Be Interested In This Interview I Did About My New Student Motivation Book
"Ideas for E.L.L.s | Teaching and Learning About Work and Careers" Is My Latest NY Times Post – Here Are Extra Resources!
"Learning By Doing – Part Two"
Second Quote Of The Day: Competition vs. Collaboration
Create A 3D Gallery With Another Great Feature From "ClassTools"
Statistic Of The Day: "The Hidden Costs Of Teacher Turnover"
Check Out 6400 Languages With This Interactive Map
Wonderful Video (& How To Use It In Class): "Confessions Of An Idiom"