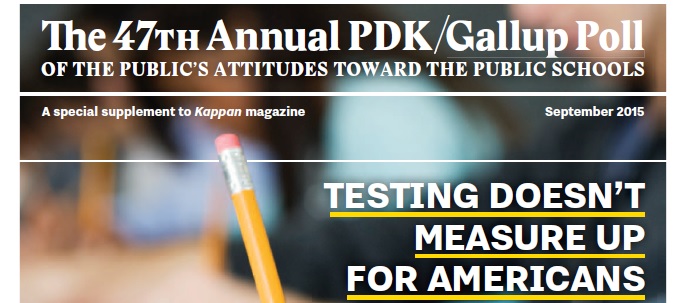 Every year for the past 47 years, Phi Delta Kappa and Gallup have done a Poll On Education issues (you can see my posts from previous years here). This year's poll results were just released, though I haven't had time to thoroughly review them yet.
You can read all the results at their site.
I'll be adding commentaries from others, but here are a few for now:
Poll: Most Americans oppose key tenets of modern school reform is from The Washington Post.
U.S. schools are too focused on standardized tests, poll says is also from The Washington Post.
AFT Responds to PDK-Gallup Poll appears in Diane Ravitch's blog.
What Does the 2015 PDK/Gallup Poll Tell About Teacher Leadership? is by Barnett Berry.
Gallup: Many Americans oppose linking teacher evaluations to kids' test performance is from The Associated Press.
Here's what happens when you ask parents multiple-choice questions is from The L.A. Times.
Two Polls Span Two Poles On Testing is from NPR.
Very Interesting: Poll Finds That Students' Feeling Engaged & Hopeful Are Top Indicators Of Successful School
What Do Americans Really Think About Education Policy? is from The Atlantic.