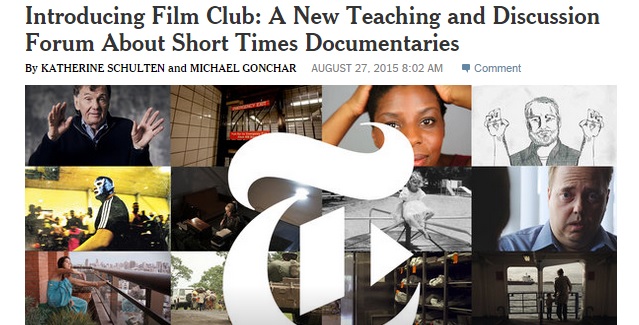 The New York Times Learning Network is beginning a cool online student discussion series for students this school year. They'll be doing it twice-each-month, and will be focusing on the short (well-under fifteen minute) "Op-Docs" The New York Times creates for their site.
You can read all about it here.
Most of the videos are probably not that accessible to English Language Learners (unfortunately, The Times still doesn't provide closed-captioning to their videos), but I've been able to use a few of them.
But I think this activity could be a big hit in mainstream classes. Many students are not big fans of documentaries. However, between combining the short length of these with the opportunity of writing reactions for an authentic audience, this could turn out to be a popular activity for teachers across the country and beyond.
This list, The Best Resources On Close Reading Paintings, Photos & Videos, might also be helpful in thinking about how to use the new series.
By the way, speaking a upcoming NY Times Learning Network activities, don't forget that I'll be writing weekly interactive exercises, along with writing prompts, for English Language Learners this year on their site! See Weekly Student Interactives For ELLs Are Coming To The N.Y. Times Learning Network for more information.