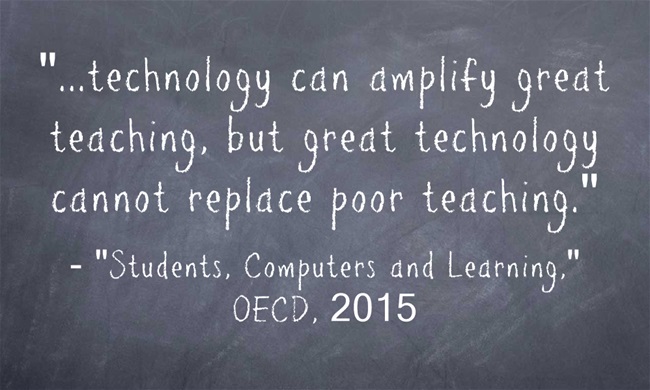 The media is awash today in headlines about a new report finding that, as the BBC headline says, Computers 'do not improve' pupil results.
I don't think the report really holds any surprises — District's getting seduced by shiny new toys without input from teachers and without adequate accompanying professional development appears to be the rule rather than the exception here in the U.S (see A Very Beginning List Of The Best Articles On The iPad Debacle In Los Angeles Schools) and I'd be surprised if it was any different in most other countries.
Until school leaders (including people in the U.S. Department of Education) get serious about teacher collaboration and professional development (see The Best Resources On Professional Development For Teachers — Help Me Find More), we certainly won't see any changes in these kind of research findings.
You can read more about the new report at:
Why access to computers won't automatically boost children's grades is from The Conversation.
The surprising thing about schools with lots of technology is from The LA Times.
Video: Too much technology 'could lower school results' is from the BBC.
The problem with one of the biggest changes happening at schools today is from The Washington Post.
You might also be interested in:
The Best Advice On Using Education Technology
The Best Research Available On The Use Of Technology In Schools
The Best Posts & Articles Highlighting Why We Need To Be Very Careful Around Ed Tech
The Best Sources For Ideas On How To Use Technology With English Language Learners
The Best Places To Find Research On Technology & Language Teaching/Learning
The Best Resources For Learning About Schools Providing Home Computers & Internet Access To Students