I regularly talk with students about the concept of "deliberate practice" – see The Best Resources For Learning About The 10,000 Hour Rule & Deliberate Practice.
Here are some new resources I'll be using in the classroom:
First, the San Francisco Chronicle today published a wonderful article about Stephen Curry headlined Warriors' Stephen Curry has a plan to improve on MVP season. The whole piece is usable in the classroom. Here's an excerpt: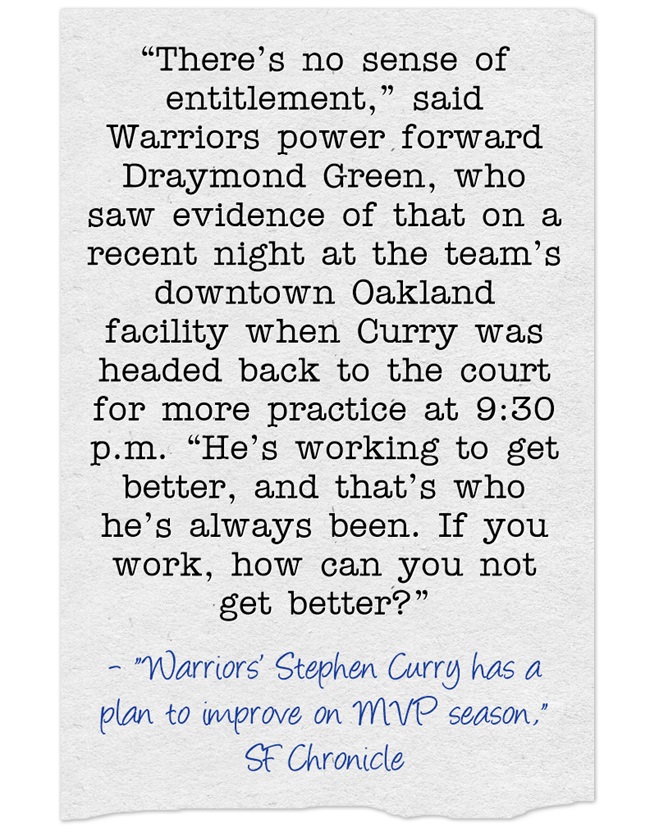 You might also be interested in one of my previous posts about Curry, "Control Your Destiny": Positive Self-Talk, Students & Stephen Curry.
Here's an interesting tweet about Mozart's creative process:
Mozart's mythical creative process vs. his actual creative process. pic.twitter.com/8Zll4bzp62

— Varun Singh (@VarunJuice) September 30, 2015
Speaking of Mozart, check out Lessons on Success and Deliberate Practice from Mozart, Picasso, and Kobe Bryant by James Clear.
Finally, on a related not, read this story from the Associated Press, Serena Williams says US Open match was a win, not a loss.