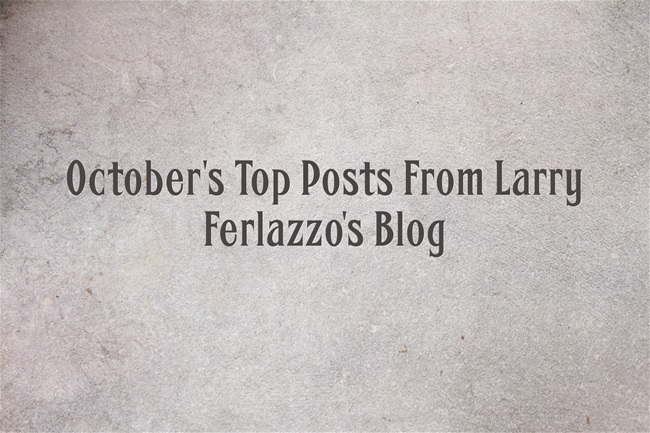 I regularly highlight my picks for the most useful posts for each month — not including "The Best…" lists. I also use some of them in a more extensive monthly newsletter I send-out. You can see older Best Posts of the Month at Websites Of The Month (more recent lists can be found here).
You can also see my all-time favorites here.
Here are some of the posts I personally think are the best, and most helpful, ones I've written during this past month (not in any order of preference):
"Metacognition, Learning Strategies And Student Autonomy" Is My New British Council Post
Oral Reading In The Mainstream & ELL Classroom
My Latest NY Times Student Interactive For ELLs: Extreme Weather
This Is A Great Article On The Benefits Of Reading Books & Here Is How I'm Going To Use It
"Teach English Language Learners By Meeting Them 'Where They Are'"
Using Examples Of The World's Oldest Music In History Class
Is There A Law Saying Every Government Report On Ed Has To Be Written In A Way That Nobody Wants To Read It?
"The Science Of Learning" Is A Must-Read (& An Accessible One) For Teachers
My Latest NY Times Interactive For ELLs Is On Immigration & The Presidential Election
"Students Must 'Reflect On What They Are Learning'"
ELL World History Video Project: The Epic Of Gilgamesh
Statistic Of The Day: Being Bilingual Pays Off In The Workplace
This Is A Really Useful Article On Giving Student Feedback
Video & Student Hand-Out For A Fairly Creative ELL Geography Project
Newseum Unveils New Education Site
Online Learning Game Site Quizalize Adds New Feature I Like A LOT
Quote Of The Day: I Love What This Nobel Prize-Winner Says Students Should Be Taught At School
PBS Unveils New Useful Teacher Tools
"Dreamdo Schools" Is A Platform To Share Project-Based Learning Projects Internationally
He Did It! Gov. Brown Eliminates High School Exit Exam Retroactively!
"How Can I Better A Better Teacher For You?"
New Study Finds Interesting Twist: Repeating Words Helps, & Repeating Them To Someone Is Better
Excellent Examples Of Deliberate Practice To Use With Students
'It's Time To Change The Conversation About Grit'
Video: ELL Geography Students Using Academic Language To Describe Climate In Their Home Countries
Zing! Lets Students Read & Annotate Tons Of Books For Free
New Survey On High School Drop-Outs Is Depressing, If Accurate
Mindset Scholars Network Website Is Key New Resource For Social Emotional Learning
Here's The Cover Of Our Upcoming Book On ELLs & The Common Core
"ReadWorks.org" Looks Like A Good Source Of Free Reading Passages For Social Studies
Here's The Form I'm Giving To Most Students Who Want Me To Write A Letter Of Recommendation
Quote Of The Day: "Effort Is Not The Only Thing" – Carol Dweck On A Growth Mindset
Google Rolls-Out The Coolest Way – Ever – For Students To Take Virtual Field Trip
TED-Ed Lessons By Grade-Level Might Be Useful
Mindfulness Can Mean More Than Meditation – Can't It?