U.S. Attorney General has spoken out against anti-Muslim bullying in schools. You can see the video clip here on C-SPAN, and here's an excerpt: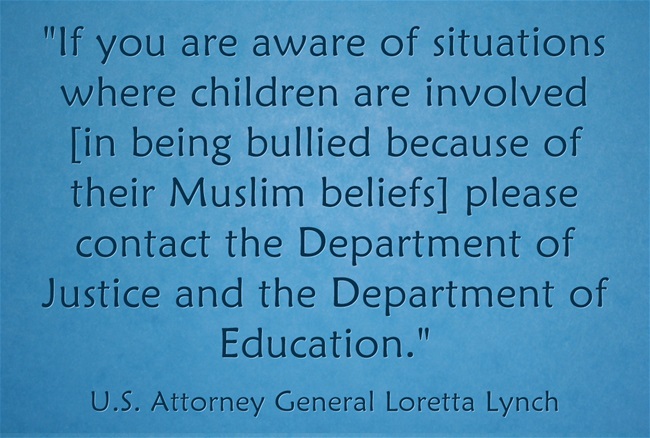 This has been a concern of mine, and I sent out a tweet yesterday about it:
Spoke with each Muslim student in my classes today & asked them to tell me immediately if they or their families r harassed in any way.

— Larry Ferlazzo (@Larryferlazzo) December 9, 2015
It was nice to hear that all the students said neither they or their families had experienced any negativity about their faith. In fact, they all scoffed at the idea they would experience anything like that at our very multicultural school. Nevertheless, they were also clearly very appreciative of the support.
You might also want to read these recent articles:
This Is What It's Like to Be a Muslim Schoolkid in America Right Now is from Mother Jones.
What Donald Trump Should Know About American Muslims is from NBC News.
I'm adding this post to A Collection Of Useful Posts, Articles & Videos On Race & Racism.