Edutopia has published an excerpt from our new book, The ELL Teacher's Toolbox.
Check it out Activating Prior Knowledge With English Language Learners.
All teachers have a least heard about the importance of helping students connect their prior, or background, knowledge to new information and concepts — it's a very effective learning/teaching strategy.
Here is a collection of new and prior articles and posts that can help teachers (and students) understand why it's important and consider various instructional strategies to do it effectively in the classroom:
What you already know is the key to learning new things is a new article in the Guardian, and the piece that prompted this "Best" list.
Does Background Knowledge Matter to Reading Comprehension? by Russ Walsh.
We all know that students learn more effectively if they can connect new information to prior knowledge. How the brain builds on prior knowledge is a report on a new study that saw how different parts of the brain actually do it.
You Don't Say! Researchers Find That It's Easier To Learn Something New If You Can Connect It To Something Familiar
More Evidence Reinforcing The Importance Of Connecting To Student Prior Knowledge
Stop The Presses! Study Finds Student Prior Knowledge Is Important & Best Explored Through "Flipped Flipped Classroom" (not a typo)
Background Knowledge: A Key to Close Reading with ELLs is from Colorin Colorado
The Background Building Controversy and The Common Core State Standards
Prior Knowledge: Can We Really Level the Playing Field? is by Timothy Shanahan.
Prior Knowledge Part 2 is by Timothy Shanahan.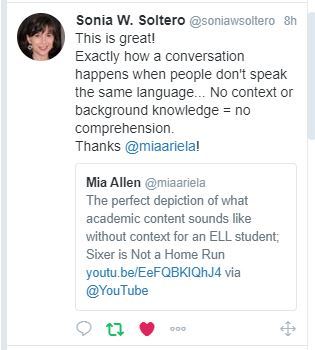 When Readers Struggle: Background Knowledge is from Russ on Reading.
8 Strategies to Quickly Assess Prior Knowledge is by Barbara Blackburn, and appeared in Middleweb.
How can we leverage students' funds of knowledge? #edchat #educhat #teachertraining #teachergoals #KidsDeserveIt pic.twitter.com/KFYC0dP4vi

— 🌍 v a l e n t i n a g o n z a l e z (@ValentinaESL) January 16, 2018
The importance of prior knowledge: pic.twitter.com/Y4GqNd94wn

— Kelly Gallagher (@KellyGToGo) February 13, 2018
Here are some interesting thoughts on the KWL chart from Crawling Out Of The Classroom.
New Study Finds Having Students Make Predictions Enhances Learning
This #communicative activity prepares the class for #reading a text and encourages them to #collaborate together.
📘 You can find more suggestions for pre-, during and post reading activities here:https://t.co/g7se05ynDy#21stcenturylearning #TESOL #ELT #TEFL #teachingenglish pic.twitter.com/e841Ew64sG

— TeachingEnglish (@TeachingEnglish) December 3, 2018
RESEARCHERS FIND THAT BACKGROUND KNOWLEDGE IMPORTANT FOR READING COMPREHENSION. IN OTHER NEWS, THE SUN ALWAYS RISES IN THE EAST
Research Zeroes In on a Barrier to Reading (Plus, Tips for Teachers) appeared in Edutopia.
Using RAN Charts to Reimagine Nonfiction Learning appeared in Medium.
I was today's years old when I learned about adding an extra "W" to our KWL chart 😲
The extra "W" asks students to think about WHY they want to learn what they indicated about the topic.
"This helps improve students' metacognitive skills…adding higher order thinking. @SDLBACK pic.twitter.com/72yLUTJH30

— Emily Fɾαɳƈιʂ 💫 (@emilyfranESL) January 31, 2020
'Teaching That Activates & Leverages Background Knowledge Is an Equity Issue' is the headline of my latest Education Week Teacher column.
New Study Finds That Additional Social Studies Instruction Leads To Better Reading Comprehension
Building Background Knowledge is from Reading Rockets.
Intriguing Study Suggests Unique (At Least, To Me) Background Knowledge Strategy
⭐️Background knowledge⭐️ is🔑 to comprehension. When supporting #ELs, don't forget about the💪of activating & building🧠through vocab instruction, rich experiences, & content materials. @irina_mcgrath & I💜these resources. #ell2point0 #ESL #JCPSESL

Copy➡️https://t.co/1JhdUZYdZV pic.twitter.com/Lj9W3SJahX

— Michelle Makus Shory (@michelleshory) March 2, 2021
New data on the Matthew effect: prior knowledge about a topic make it easier to acquire new knowledge on that topic ($) https://t.co/UrIm3cP3g2 pic.twitter.com/wzH0qXQTM9

— Daniel Willingham (@DTWillingham) March 26, 2021
STEM and ELT: How to Build Background and Prior Knowledge in STEM is from TESOL.
Determining How Much Background Knowledge to Provide for ELLs is from Colorin Colorado.
STUDY SUGGESTS THAT READERS NEED TO HAVE 59% OF BACKGROUND KNOWLEDGE IN ORDER TO UNDERSTAND TEXT
The science that's missing from science of reading laws is from Chalkbeat.