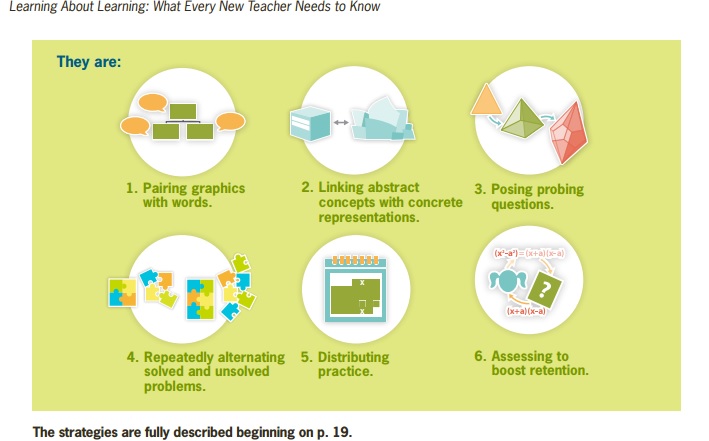 Learning About Learning: What Every New Teacher Needs to Know is a brand-new report from The National Council On Teacher Quality, and the latest of several briefs released by various organizations summarizing what they think are essential instructional strategies.
The NCTQ report summarizes research that they say suggest the six strategies featured in the graphic at the top of this post should be at the center of teaching and in the training of teachers, and basically says that most of the textbooks used in teaching training programs stink because they don't talk about the six of them.
I think the six strategies that highlight are great and certainly use them all to various degrees in my teaching practice. And I'm happy to have this report as back-up to support me using them. But, you know, there's a lot more to teaching than these six strategies, and I don't think the report's authors do themselves any service by having a holier than thou attitude (based on a twelve-year-old meta analysis). There's certainly plenty of well-respected research that support other instructional strategies, and you can read about many of them here.
ADDENDUM:
You might want to read NCTQ: Terrible Teacher Prep and Headline Research by Peter Greene. I received a surprising (to me, at least) amount of criticism for this post about the study. Check out Peter's post sharing a much more detailed analysis of its flaws.
Also, see Review of Learning about Learning: What Every New Teacher Needs to Know from NEPC.