There have recently been a number of reports suggesting that research has identified the key qualities and methods behind effective teaching.
Though I'm wary of making an iron-clad list, and I'm certainly wary about defining the word "effective" (see New Study Suggests That Teacher Observations Should Focus More On Teacher Inputs, Less On Student Outcomes), I still thought it would be useful to make a compilation of links to the ones I think are most useful.
Feel free to make additional suggestions:
"The Science Of Learning" Is A Must-Read (& An Accessible One) For Teachers
Instead Of Reading The APA's "Top 20 Principles from Psychology for Teaching," Check Out These Analyses Instead
"Learning About Learning" Provides Very Good Narrow Summaries Of Research & Over-The-Top Recommendations
Do's & Don'ts For Teaching English Language Learners
Tom Sherrington shares his own list, along with links to other reports I haven't already mentioned.
I'll end with this excerpt from What Makes A Great Teacher? by Ellie Herman:
You've Heard Of "Deeper Learning"? How About "Deeper Teaching"?
"What Makes Great Teaching" Seems Like An Excellent Report – With One Exception
What is Worth Reading for Teachers Interested in Research? is a great collection put together by Robert Coe.
Dylan Wiliam: The nine things every teacher should know is from TES.
20 Observable Characteristics Of Effective Teaching is from Teach Thought.
Top 10 Evidence Based Teaching Strategies is from the Australian Society for Evidence Based Teaching (formerly Pinnacle).
How To Ensure Students Are Actively Engaged and Not Just Compliant is from MindShift.
Hattie's Index Of Teaching & Learning Strategies: 39 Effect Sizes In Ascending Order https://t.co/LzRf41Hg20 pic.twitter.com/T4Y80lAKfU

— TeachThought (@TeachThought) July 9, 2016
This article, on Barak Ronsenshine's 'Principles of Instruction', is still my favourite must-read for teachers: https://t.co/eH6n5oxCjc

— Alex Quigley (@HuntingEnglish) September 25, 2016
Download your PDF, printer ink-lite version, of Rosenshine's Principles of Instruction here: https://t.co/EBLRixT4hc pic.twitter.com/LJymUXiMzd

— oliver caviglioli (@olivercavigliol) September 14, 2017
What makes expert teachers? is by Harry Fletcher-Wood.
The Best Articles, Posts & Videos On John Hattie's Research
Exploring Barak Rosenshine's seminal Principles of Instruction: Why it is THE must-read for all teachers. is from TeacherHead.
GUEST POST: WHAT DOES TOM BRADY HAVE IN COMMON WITH A GREAT TEACHER?
A Significant Error in Policy Thinking is by Larry Cuban.
THIS IS LIKELY TO BE ONE OF THE MOST IMPORTANT PIECES OF TEACHING ADVICE YOU WILL READ THIS SUMMER
Great Teaching Toolkit offers recommendations to teachers based on research.
Check out this paper: its lead author is Linda Darling Hammond, and the title of the paper is Implications for educational practice of the science of learning and development.
I THINK THIS QUOTE DESCRIBES THE ESSENCE OF EFFECTIVE COMMUNITY ORGANIZING AND EFFECTIVE TEACHING
Need an accurate and succinct infographic for evidence-based teaching practices? Thank you, IES ! https://t.co/7um8ZFPcJ4 pic.twitter.com/tusCKapOL8

— Pam Kastner (@liv2learn) March 13, 2021
Twenty-Eight Educators Share Their Best Teaching Advice is a series appearing in my Education Week column.
A list of lists is from Evidence Based EFL.
The Research on Life-Changing Teaching is from Edutopia.
Characterizing Effective Teaching is a new – and very lengthy -report from Simon Burgess and others at the University of Bristol in the UK.
He was kind enough to summarize their key findings in some tweets:
Differences between maths and English:

For maths: more time on individual practice is good

For English: more time on group interaction is good.

The graph shows considerable room for change.
(4/n)

— Simon Burgess (@profsimonb) May 24, 2022
Unfortunately, I couldn't find a similar English graph in the actual report, but he did send the link to me:
Hi, both graphs – and more – in here: https://t.co/104Tk03nhN

— Simon Burgess (@profsimonb) May 28, 2022
"Open discussion among student and teacher" and "Students are working in groups" are the two checkmarked activities in that English graph.
COVID derailed learning for 1.6 billion students. Here's how schools can help them catch up is an article in Nature that shares an interesting visual design of recommendations from the Education Endowment Foundation. You can see the Foundation's original design here.
Taking stock of the science of reading: A conversation with Amanda Goodwin is from Phi Delta Kappan.
I've embedded an important quote from it below. I'm also adding this to The Best Resources For Learning About Balanced Literacy & The "Reading Wars" and to The Best Resources For Understanding How To Interpret Education Research: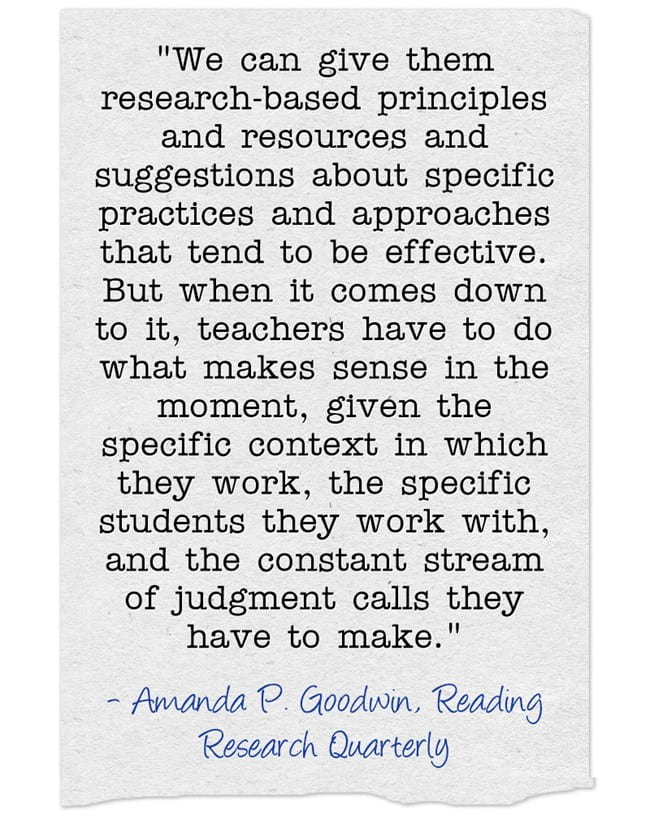 STUDY FINDS THAT "HANDS-ON" MATH & PROACTIVE "ROUTINES & PROCEDURES" INCREASE TEST SCORES AND STUDENT ENGAGEMENT
A Research-Backed Toolkit of What Works—and Doesn't Work—in Education is from Edutopia.
I had a mentor teacher like this. When I cried, she wiped my tears and showed me a better way. When I was wrong, she checked me with love. Forever grateful for her guidance. #mentorship https://t.co/RQ4YT9VVj0

— Dr. Tracy Edwards (@tracyrenee70) April 7, 2023
Lots of people have opinions about the best way to teach. New research indicates that the real answer depends on the subject. @hechingerreport @jillbarshayhttps://t.co/7aDvRiDdYI

— MindShift (@MindShiftKQED) June 19, 2023