As regular readers of this blog now, there is an on-going debate about balancing Social Emotional Learning interventions with ensuring that these practices don't act as a replacement for needed economic, social and political policy changes (see The Best Resources Showing Social Emotional Learning Isn't Enough and, in particular, my Washington Post piece, The Manipulation of Social Emotional Learning, to learn more about this discussion).
David Yeager is a professor and who may be more aware of this question than just about any other researcher out there, and I have an enormous amount of respect for his work (see his contribution to my Ed Week column, Applying a Growth Mindset in the Classroom).
He is the co-author of an important recent study about supporting students coming from challenging backgrounds who are entering college. I wrote about it at Hopeful Study On Academic Success, But I Have A Question. You might want to take a moment to review that post.
Simply put, David and his co-authors' study found that students benefited from reading about the problems that previous students experienced entering college and how they overcame them. It built off an earlier study whose conclusions I had used in my own classroom. That earlier study included helping students see the role of economic class in the challenges they might be facing, and I used that same element to incorporate a broader discussion with my students of the role of race and class in society.
That aspect seemed to me to be missing in this new study, so I posed this question to him:
Was there any mention and discussion of those class issues with students in this study as there was in the previous one? If not, why not?
David graciously took the time and responded to my question (I make a few observations afterwards):
David Yeager is an Assistant Professor of Developmental Psychology at the University of Texas at Austin and co-chair of the Mindset Scholars Network(@MindsetScholars). Prior to beginning his career as a researcher, he was a middle school teacher in Tulsa, Oklahoma:
Dear Larry,
Thank you for your June 1st blog post that highlighted a research paper that I co-authored with Stanford professor Greg Walton and several other researchers titled, Teaching a Lay Theory Before College Narrows Achievement Gaps at Scale, published in the Proceedings of the National Academy of Sciences (PNAS). The Mindset Scholars Network also published a blog post and a brief summarizing the research.
My co-authors and I appreciate the conversation. We share your view that the work might prove useful to colleges around the country, particularly as they work to remove barriers that keep too many low-income and first-generation college students from graduating.
In your post, you asked whether the interventions in our paper discuss how students' experiences might differ based on social class background. The answer is yes and no. Most of the interventions we were replicating in this paper were not designed to do this. They are designed to help students see commonalities in the challenges that arise in the transition to college—that it's normal to struggle to earn good grades and make friends, and that these difficulties do not signal an overall lack of belonging or potential to succeed. One reason this is important especially for students from groups that are disadvantaged in college is because that disadvantage can make these challenges seem ambiguous.  They can seem like "Something only people like me experience" and a sign that "Maybe I can't cut it in college."
Nevertheless, one intervention we tested was newly developed for Experiment 3. It represented the college community as a place where students can build interdependent ties while sustaining ties with friends and family back home, something that we predicted might help first-generation college students in particular by creating a stronger sense of cultural 'fit' (see Stephens et al., 2012). This intervention sought to encourage students to see their background as an asset.  If you look at the online supplement for the PNAS paper, you see that the cultural fit condition actually did the best compared to control—although the finding is not statistically significant and would need to be replicated. Below I discuss how we are thinking about this result and the potential for future interventions.
Why were the PNAS studies designed this way? We began the studies that were just published in PNAS back in 2011. At the time, the field of mindset intervention research was in its infancy. There were three published studies with fewer than 35 students per study who had received growth mindset interventions. Similarly, the field of belonging intervention research consisted of one trial, published in 2011, with fewer than 50 students receiving the intervention.
Against that backdrop, I was asked by four urban charter school networks to create interventions for all of their outgoing seniors in the hopes of increasing their college persistence. The early data for this is "Study 1" in the recent PNAS paper (another paper will report the four-year outcomes for all of the charters who participated in the second cohort).
Around the same time my collaborator, Greg Walton, was approached by a highly selective college asking him to implement the social belonging intervention published in 2011 with the school's entire incoming class (Study 3).  Soon after I was approached by a large public university that also wanted to implement a belonging intervention with its incoming freshman class to see if it would help increase retention and, eventually, graduation rates (Study 2).
These requests represented a significant increase in scale from the earlier research, but the effects were not a guarantee given the state of the evidence. Consequently, we had a simple goal for the three studies featured in the PNAS article: finding out whether these growth mindset and belonging interventions could be replicated successfully in other settings, and when delivered as preparation, prior to students' entrance in college. To put it another way, our primary goal was not to develop novel treatments, but to adapt existing interventions so that they would have the best chance to succeed at scale. A secondary goal in Study 3 was to test a novel approach.
Although the social belonging and growth mindset interventions were designed to help people cope with difficulties that are common to all—like having a hard first calculus class, or having trouble making friends—group-relevant experiences—like racism, sexism, or discrimination based on social class—are also obviously important and critical to address. Since we began our studies (most notably in 2014) some research has been published that has sought to help students understand and succeed in light of group-specific experiences.
We think it's possible and even likely that next-generation interventions can innovate on how to help people cope with group-specific experiences, and how to reduce the incidence of such experiences. We hope this will lead to even better outcomes than we reported in PNAS. Now that we've shown that past studies based on small samples can replicate when delivered in a way that can reach large samples, we are hopeful that more colleges and researchers will engage in experimentation.
One thing we're cautious about, though, is the mindset of entering college first year students. We don't know enough empirically about what it's like to be told during the summer that your college sees you as different, or that your group membership might cause others to discriminate against you, and how to deliver those messages in a way that encourages students to see their differences as assets rather than liabilities. College partners are understandably cautious about this, too, because we are working at the scale of an entire entering class over multiple years. They and we want to avoid harm. Being risk averse is one thing that comes from working with "universal" interventions—that is, interventions given to a whole group of students.
We and other scholars in the field are working hard on questions of how to help students use their differences as strengths while balancing the desire to do no harm. Stay tuned for more projects coming out of the College Transition Collaborative (CTC), which is focused on improving college students' sense of belonging and encouraging institutions to change their practices and policies in ways that convey to all students that they are valued, respected, and can excel.
Thank you again for your question and for covering our work with such thoughtfulness and nuance. I'd be happy to answer any follow-up questions you have.
Best,
David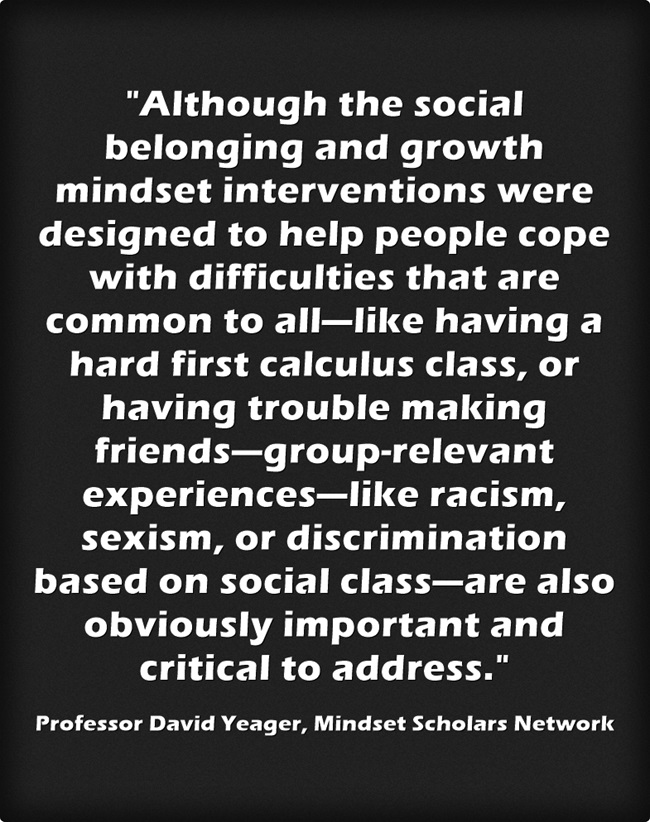 My observations: Thanks to David for taking the time to respond so thoughtfully.  It sounds like he and his colleagues are working hard to balance lots of challenges, and I'm looking forward to hearing the results of his future work!