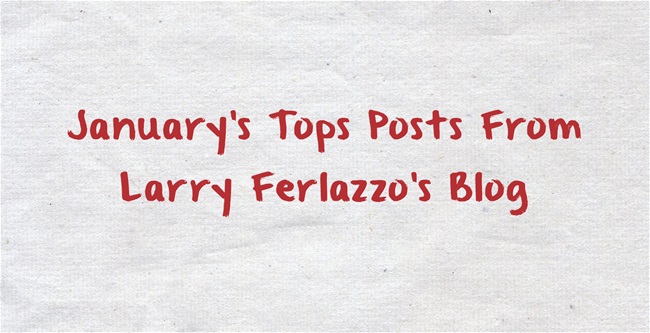 I regularly highlight my picks for the most useful posts for each month — not including "The Best…" lists. I also use some of them in a more extensive monthly newsletter I send-out. You can see older Best Posts of the Month at Websites Of The Month (more recent lists can be found here).
You can also see my all-time favorites here. I've also been doing "A Look Back" series in anticipation of this blog's tenth anniversary in February.
Here are some of the posts I personally think are the best, and most helpful, ones I've written during this past month (not in any order of preference). There are a lot of them this month:
My Latest NY Times Post For ELLs Is On Teaching About "Fake News"
"SuperTeacherTools" Is An Excellent Site For ELL Beginners To Create & Play Games
Another Excellent Issue of ASCD Educational Leadership – This One is On Writing Instruction
Trump's Executive Order Today May Create Fear In Immigrant Communities (& Their Schools)
"Write About" Is Another Great Tool For ELLs
A Look Back: "Two New Useful Resources On Teaching Writing – And An Old One"
"Bloom's Taxonomy According to The Big Bang Theory"
Video: "Adobe Spark" Is Excellent Tool For ELLs
A Look Back: "Here's A Narrated Version Of My Slide Deck On SEL & The Common Core"
"Students 'Take Ownership of Their Learning' Through Goal-Setting"
"ESL Video" Improvements Turn Good Site Into Great One
A Look Back: "New Study Says Teacher-Student Relationship In Fifth Grade Sets Stage For Future Behavior"
What Does "Direct Instruction" Really Mean?
Play-Doh & IB Theory Of Knowledge: Student Hand-Out & Videos
A Look Back: "What My Students Say About Teachers Mispronouncing Their Names"
"Little Bird Tales" Is An Excellent Web 2.0 Tool For Beginning English Language Learners
Our School Is Not "Flush With Cash" & Our Students Are Not "Deprived Of All Knowledge"
A Look Back: Best Resources On Culturally Responsive Teaching
Using Learning Taxonomies In The Classroom Is Topic Of My New BAM! Radio Show
"Author Interview: 'Visible Learning for Mathematics'"
Betsy DeVos Confirmation Hearing Indicates It's Going To Be A Very Long Four Years For Schools
Free Resources From All My Books
A Look Back: "Study Reviews 25 Years Of Research Into What Helps Students Graduate – Here's What They Found"
I Can't Imagine Why Anybody Teaching Shakespeare Would NOT Use "Shakespeare's World"
A Look Back: "I Did A Presentation Today On The Concept Attainment Instructional Strategy – Here Are My Materials"
A Look Back: "I Did My Best Job Teaching A "Growth Mindset" Today – Here's The Lesson Plan"
A Look Back: "Here's How My Students Taught Their Classmates A Social Studies Unit – Handouts Included"
"Local Lingual" Lets You Click On Map To Hear Languages Spoken There
Here Is A List (With Links) Of All My Regular Weekly Features
"Challenging Moments in Teaching"
Here Are Two Activities I'll Be Doing With My ELL Students The Day We Come Back From Break
A Look Back: "How to Cultivate Student Agency in English Language Learners"
My Latest BAM! Radio Show Is On Performance Assessment
All Teachers Could Benefit From Watching New PBS NewsHour Segment On Motivation
New & Important Report On Deliberate Practice & Teacher Prep
Exemplar Slideshows For Our "Ways Of Knowing" Project
"Learning From Difficult Teaching Moments"
How My Fall Semester University Students Evaluated Me
"'Visible Learning for Literacy': An Interview With Doug Fisher & Nancy Frey"
Here's What I'm Doing In 2017 & What You Can Look Forward To Reading About Here
A Look Back: "The Fifteen Tech Tools & Non-Tech Resources I Use Most Often With My Students"
Three Good "Bloom's Taxonomy According To…" Videos Using Movie Scenes
A Look Back: "Deliberate Practice & Red Herrings"