Though a good case can be made that – in the Trump Administration big picture – Betsy DeVos could be one of the least of our worries, it is nevertheless very bad news for schools, our students, their families and us teachers.
Here are a few new additions I'm making to The Best Resources For Learning About Our New U.S. Secretary of Education about what happened today: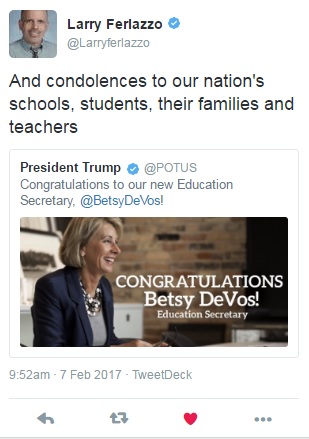 Education Secretary Betsy DeVos Has Already Affected Public Education is from The Atlantic.
Reaction To DeVos Vote Is Swift, And Divided is from NPR.
The Betsy DeVos Confirmation Debacle is from The New Yorker.
How DeVos Plans 2 Change Depart. Of Ed https://t.co/iZjGz61axV via @theonion "Relax unrealistically strict standards for secretary of ed"

— Larry Ferlazzo (@Larryferlazzo) February 8, 2017
Betsy DeVos can change education in America without doing a thing is from Vox.
Betsy DeVos Confirmed as Education Secretary; Pence Breaks Tie is from The New York Times.
Today's daily cartoon by @t_b_toro. Swipe through more cartoons with the New Yorker Today app: https://t.co/vlKzCTLey6 pic.twitter.com/9MxtfLq0rN

— The New Yorker (@NewYorker) February 7, 2017