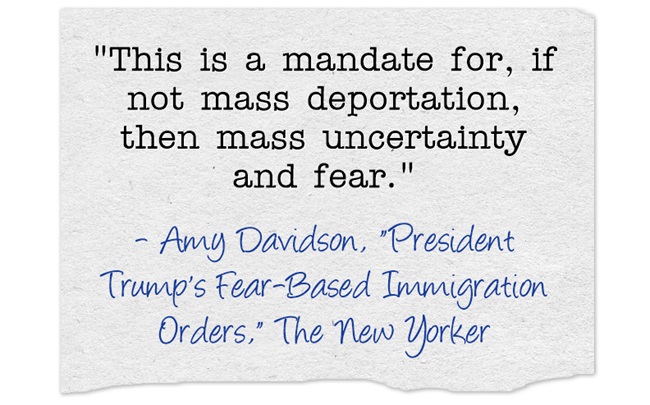 I have an already-lengthy Best Resources For Learning About President Trump's Executive Orders On Immigration & Refugees, but the policies announced today are worthy of their own "Best" list.
One of my previous posts, Immigration Fears Appear To Become Reality, contains several links to legal advice for teachers, students, and their families about how to respond to ICE raids. These new policies will certainly increase the levels of fear and stress among many of our students. As The New Yorker article, in particular, points out, another effect is likely to be undocumented parents not accessing services they and/or their children are entitled to out of fear.
Here are useful articles to learn about today's announcement:
The government just put out the blueprint for President Trump's immigration crackdown from Vox is probably the most complete article out there.
New Trump Deportation Rules Allow Far More Expulsions is from The New York Times, and has a link to a Spanish-language version.
Trump administration issues new immigration enforcement policies, says goal is not 'mass deportations' is from The Washington Post.
Millions targeted for possible deportation under Trump rules is from The Washington Post.
President Trump's Fear-Based Immigration Orders appeared in The New Yorker.
Also, today, Politico reports on a related important story – The Trump administration is going to court to eliminate the right to a hearing before deportation of unaccompanied minors.
How will immigration crackdown impact schools? Chicago Public Schools order 2 principals gives heartbreaking glimpse https://t.co/RexQuq0IFX pic.twitter.com/mP8tURsbWE

— Jennifer Berkshire (@BisforBerkshire) February 22, 2017
Could Trump Really Deport Millions of Unauthorized Immigrants? is a NY Times interactive.
President Trump Decides To Not Deport "Dreamers"
Immigrant kids can't be detained without their day in court, 9th Circuit rules is from The Sacramento Bee.
Trump Administration Targets Parents in New Immigration Crackdown is from The New York Times.
Trump Administration's Immigration Crack-Down And Its Impact On Our Students
Immigration crackdown taking heavy toll on California students is from Ed Source.