I've invited my longtime colleague and friend Mai Xi Lee to write this guest post. Mai Xi will also be guest-hosting a series at my Education Week Teacher column later this year on the connection of race and equity to Social Emotional Learning. I'm adding this post to The Best Social Emotional Learning (SEL) Resources.
Mai Xi Lee is the Director for Social Emotional Learning in Sacramento City Unified School District, a CASEL CDI district implementing systemic SEL. Ms. Lee has been serving urban and marginalized communities for over 20 years as an educator and advocate. Prior to her current role, Ms. Lee served as a high school administrator, counselor, and elementary teacher. Ms. Lee believes strongly in the intersection and interdependency of SEL and Equity, and sees both as complementary approaches to developing individual and systemic growth.
Through research (See CASEL ), we know that social emotional learning (SEL) improves students' academic achievement and prosocial behaviors. Additionally, intentional practice and explicit teaching/learning of SEL can lead to a more positive classroom climate and culture. All things being equal, SEL integrated into a school structure can be a game changer for teachers and students.
The reality, however, is that not all learning environments are equal.  Not all teachers share the same attitudes, beliefs, and practices about all of their students.  Most importantly, not all students experience school and life the same way. Our students and families come from a vast spectrum of life and cultural experiences, and some have experienced more trauma than many adults teaching them will ever fathom. Specifically, our current wave of refugee students will need a specific response from our schools that will require more than culturally responsive practices and SEL.  In addition to creating a safe and inclusive space to learn, we must create a space for our refugee students to tell their stories and process the experienced trauma that can impede their social, emotional, and academic growth.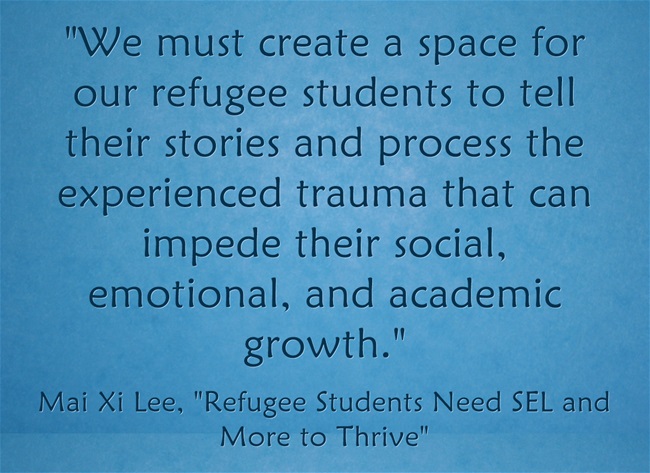 According to the International Rescue Committee and the UNHCR, of the millions of displaced people around the world, half are children. It goes without saying that many of these children will find their way into our classrooms where we'll work hard to welcome and include them into our school environments as quickly as possible.
Our well-intended inclusive approach may have unintended consequences that we may not fully see or understand for years to come. In our haste to normalize life and  provide a safe space for learning, which in of themselves are important and necessary, will we neglect to address the imminent trauma that continues to haunt their minds and hearts?  Are our systems set up to support and nurture their social, emotional, as well as their academic growth?  Are we set up to offer language support from staff who speak their language, understand their culture, and may be best able to process their perilous journey to refuge? Are we positioned as a system to embrace their struggles and strengths, and allow them to teach us about resiliency, hope, and community? How do we provide refugee children the much needed space to share their stories and to confront the trauma that may impede learning and growth?
As a refugee, I understand the shock of walking into an American classroom directly from a refugee camp.  It's a surreal, out-of-body experience that still feels like a dream. It's been 37 years since I stepped into that second grade American class and I can still recall the fear, the discomfort of displacement, the pain of being foreign, and trying to make sense of dichotomy of my two parallel  lives. While the teacher was kind and welcoming, I felt utterly alone and scared.  
Having not been apart from my family or community for any length of time during our life in Laos and throughout our time in the Thai refugee camps, I was suddenly thrust into a room full of strangers who neither looked nor talked like me, and expected to follow a set of classroom protocols that I couldn't read nor comprehend.  I was "buddied" up with a "friend" each day and led around from classroom to recess to the cafeteria, and to my bus stop for two weeks, until the novelty wore off and my "friends" started to disappear.
Even when I was "pulled out" with other refugees for English as a Second Language (ESL) lessons, we weren't given any opportunities to commiserate on our shared experiences. We were never offered a space to process our shared trauma nor given access to adults who could empathize with our journey.  Instead, we were quickly assimilated into an American schooling experience that suppressed our refugee identities/experiences, and encouraged to quickly acculturate so we could become more "American" in order to fit in faster. In the process, we learned to shut down our emotions, put on a grateful happy face, and embrace our newly-offered American identities. While this suppression of our refugee identity worked well for some, it became impossible to bear for others.  Without the space to process our quickly evolving cultural identities, and with no guidance from people who had experienced our journey, many of my peers turned to gangs, dropped out of school, or developed debilitating mental health challenges that made learning difficult.
The needs I experienced as a refugee in 1980 still apply to our current wave of refugee students today.  While SEL nurtures positive relationships, inclusivity, connectivity, and a sense of belonging for our students,  we need systems in place to address the mental health trauma that can lead to learning inequities for refugee children.  School systems will need collaborate with local social service organizations to design a system of support that includes regular mental health support at school and community meeting places for families to process their journey and transition into American life. The equity gap can and will be tremendous for refugee students if they aren't given the proper space to process, share, and heal from the chronic stress of fleeing violence and persecution.   In order for our refugee students to thrive, they'll need the extra social supports from peers and adults who can empathize with their journey, and a school community that values their strengths, honors their stories,  and allows for the space to move beyond those narratives.