I posted "Everyone Is A Teacher" Is A New Engagement Strategy I'm Using & It Seems To Be Working earlier this week, and it was – rightfully, I think 🙂 – a very popular post.
In it, I discussed how I was trying to build a classroom culture in my Beginner ELL class where everyone would feel they had a responsibility to be a teacher. It's early, but has gone very well, and some of my colleagues have already begun to replicate it in their classes.
On Friday, I tried a next step to the strategy. I created a simple form listing the actions the class had determined they could do as "teachers" and had them glue it in their notebook. You can download it here.
I explained that each Friday, they would grade themselves on how they had done in that area during the previous week, but that I would not look at it. I would ask that they would share their grades with a partner of their choice and also identify one – just one – area they wanted to improve on in the coming week. I would ask that they share that goal with the entire class.
Students approached it eagerly. Then one student came up to me and said she wanted to show me her grades. They were accurate, and also not very good. I publicly praised her for her honesty and then everybody wanted to show me their grades. Everyone, and I mean everyone, was brutally honest with themselves. Here are a couple of examples: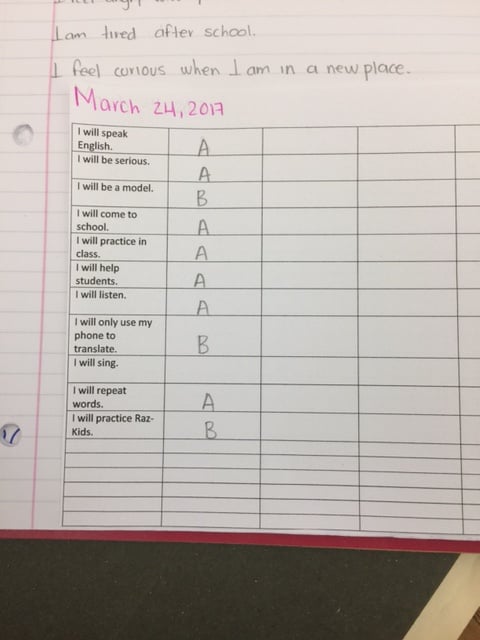 Students liked sharing with a partner, and then everybody picked an area for improvement. And just about every student picked the area that I would have chosen for them!
I have tried tons of different goal-setting strategies over the years (see Best Posts On Students Setting Goals) with varying levels of success and failure.
This one might end up being one of the more successful ones.