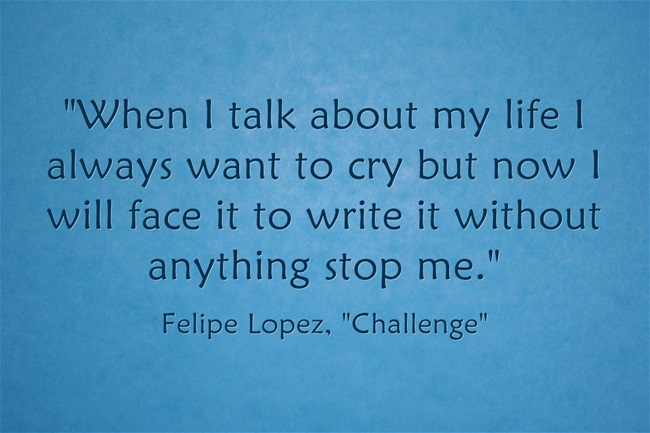 Felipe Lopez is an exceptional student at our school, Luther Burbank High School.
Here is a short essay he wrote earlier this school year. He has give me permission to publish it here:
CHALLENGE
Everyone has a big, small, good and bad challenge in their life like when people lose a job, death of someone in a family, student who does not pass the grade or change of school and people who move to other city or country. Now I am going to talk about my challenges, to talk about my life experience and my family experience is a big challenge to me because when I talk about my life I always want to cry but now I will face it to write it without anything stop me, my whole life has been a big challenge for me since when I was born until today.
My father died four months before I was born, this has been the biggest challenge in my life because I have never felt the love of a father and I never met my dad, when my father died my mother has no money because they just return from Mexico by the war from the 80's in Guatemala, my mother took charge about us, when I was born and I grew up I suffered discrimination with my family but we faced it, every time when I went in the town I always called guerrilla or Indian but that make me stronger because I spoke two languages, when I was sixteen years old I decided to come here in this country leaving my mother, my brothers and my friends to study here but I did not know what challenge it was waiting for me, it was a big challenge to me because I could not speak English, anywhere I want to the stores I could not ask the price of things that I wanted to buy and I faced it with a big courage and I entered in the school but it was difficult to me in the first month, I learned English little by little, now I speak it a little than before because I faced my challenges although my challenges were hard.
I am now waiting for new challenges as graduate me from high school and go to college, I am saying again everyone has own challenges in their life, we have different challenges and different experiences if we face our challenges with courage we always pass the test and never lose.