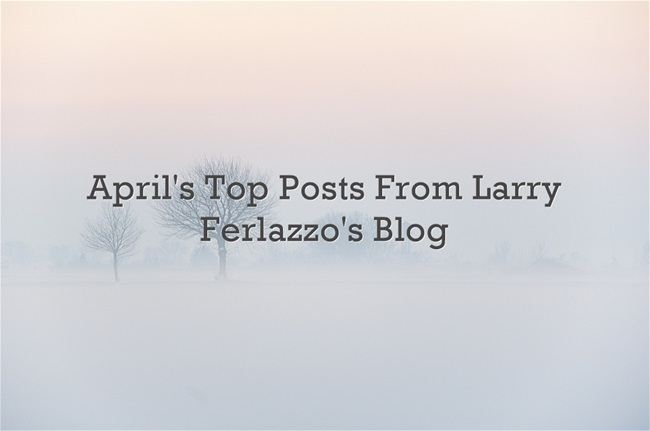 I regularly highlight my picks for the most useful posts for each month — not including "The Best…" lists. I also use some of them in a more extensive monthly newsletter I send-out. You can see older Best Posts of the Month at Websites Of The Month (more recent lists can be found here).
You can also see my all-time favorites here. I've also been doing "A Look Back" series in anticipation of this blog's tenth anniversary in February.
Here are some of the posts I personally think are the best, and most helpful, ones I've written during this past month (not in any order of preference). There are a lot of them this month:
Here's A Plan For An Oral Skills Class Next Year – Please Help Make It Better!
Amazing Bruce Springsteen Video On The Importance Of Practice
Learning As An Act Of Rebellion
"Teaching ELLs to Write Academic Essays"
Guest Post: What ELLs Taught Our School In A Week-Long Empathy Project
Video: I Think My Student's TOK Oral Presentation Is Pretty Good – Do You Agree?
Check Out "The Global Jukebox" For Folk Music From Around The World
New Animated Video I've Done With Ed Week: "What Is 'Transfer of Learning' and How Does It Help Students?"
"'It Won't Be Easy': An Interview Tom Rademacher"
"LibQuotes" Looks Like A Good Place To Find Quotations – With Their Original Sources!
There Was A 1088% Increase In Public School ESL Teachers Between 1987 & 2012
"End the Year With Moments 'Students Will Remember'"
Important NY Times Column On Importance Of African-American Teachers
Guest Post From Lorin W. Anderson, Co-Author Of The Revised Bloom's Taxonomy
"Quiznetic" Lets Teachers Create – & Students Play – Online Racing Games For Learning
"Author Interview: 'Teach Like Finland'"
Google's Brand New "AutoDraw" Is Likely To Become A Favorite Place For Those Of Us Who Are Artistically-Challenged
Guest Post From One Of Our ELL Students: "Challenge"
"Legends Of Learning" Is New Game-Based Site That Lets Teachers Create Free (For Awhile) Virtual Classrooms
"To Extend the School Year/Day or not: That is the Question"
Another Study Highlights Importance Of Teacher Diversity
Apple's New Video-Editing App "Clips" Is Much More….
Strategies To Pre-Empt The Summer Slide
"Unpaywall" Is New Tool For Accessing Research Papers For Free
"Author Interview: 'The Perfect Assessment System'"
Does Competition Have Any Useful Role In Schools?
"Community Schools 'Transform the Lives of Children & Families'"
Online English Language-Learning Resources For Students Not Literate In Their Home Language
Ten-Minute Podcast: Vicki Davis Interviews Me About Classroom Management
New Report Connecting SEL To Standards Should Be On "Must-Read" List For Most Educators
"New Education Ideas Must not be 'Just for the Sake of Change'"
"Loopy" Lets You Create Interactive Simulations That Look Cool But I Don't Really Understand Them
iSLCollective Appears To Be A Jackpot For ELL Student Hand-Outs & Interactive Videos
"Author Interview: 'Growing Critically Conscious Teachers'"