Editor's Note: I've shared a lot about "personalized learning" (see The Best Resources For Understanding "Personalized Learning"), and invited Dr. Lynell Powell to share about the exciting work she is doing in her district.
Dr. Lynell Powell is a professional learning specialist with Virginia Beach City Public Schools focused on the implementation of personalized learning. She is also passionate about bringing joy to schools. You can visit her website.
One of the greatest challenges to any change initiative is teacher buy-in. Beyond an initial excitement about the possibilities, a true commitment to the process is needed to sustain change. With this in mind, when Virginia Beach City Public Schools (VBCPS) set out on a course to create personalized learning opportunities for students, we used an approach that tapped into the knowledge, expertise and creativity of teachers.  Over 100 teachers and specialists applied to serve as Design Fellows and were empowered with helping the division to create examples of what personalized learning looks like in the classroom. This leading and learning opportunity placed teachers at the forefront of making personalized learning a reality.
Personalized Learning by Design
We used design thinking to tackle the work because it represented an adaptive challenge that would require the teachers to adopt a mindset that embraced ambiguity, empathy, action and a willingness to share what they were learning as they were trying new things.  I can remember during our initial meeting, many of the design fellows were expecting a model to implement. Our response: You are here to create that model. This was exciting, but a bit daunting at the same time. Although these teacher leaders were up for the challenge, they had some assumptions about personalized learning, questioned how it would fit into a system of rigorous standards and pacing, and struggled with some of their own professional and classroom dilemmas. This made them the ideal group to lead the shift because they represented the voice of those who would be responsible for doing the work.
Design Fellows work to make personalized learning visible in Virginia Beach City Public Schools.
Design thinking allowed this group to enter the work in a manner that was personal and reflective. It also reinforced the power of risk-taking, gathering feedback and sharing what was learned. Janice Bennett, third- grade teacher, shared that she felt encouraged during this process to "strive for progress and not perfection."  The design fellows also learned first-hand the significance of the learning that occurs in the process as well as major implications for their classroom practice. High school Spanish teacher Shawnda Hinton shared, "Working as a Design Fellow has given me a new outlook on my instructional practices. I have begun to reimagine the role of the student in the teaching process. As a result, I am learning to release some of my control and allow students to take responsibility for their learning."
As one of the facilitators of the work, my primary role was to support the design fellows in capturing their learning and moving their work forward. It became clear early on in the process that teachers were more willing to nurture and cultivate a change effort when they had ownership in it and levels of choice in how to proceed. The design fellows took great pride in the fact that their work was not only transforming their classrooms, but shaping an entire division's understanding of personalized learning. They were change agents.  
Making Personalized Learning Visible
As a result of the design process that the teachers engaged in we were able to identify essential components of personalized learning and to surface critical questions for determining what constitutes personalized learning.  The design fellows have worked to show the actionable strategies aligned to each of the essential components in a variety of ways and are creating ripples in their schools and throughout the division. Those critical questions are proving to be particularly helpful in identifying approaches or learning structures that are truly personalized.
Essential Components of Personalized Learning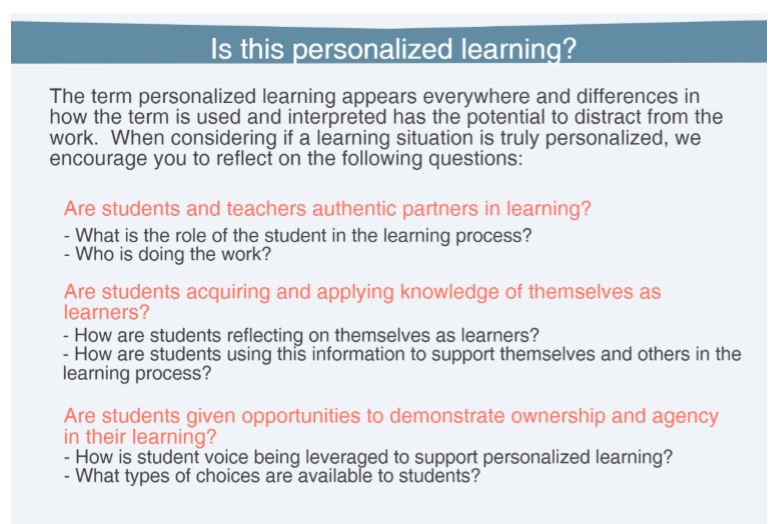 A Critical View of Personalized Learning
Supporting, Celebrating and Sharing the Work
The Design Fellows' work has been regularly highlighted through the use of social media (Twitter #vbplearn), blogs (blogs.vbschools/pgi), classroom tours and a Design Fellow showcase. We have begun to offer professional learning opportunities, some which are facilitated by design fellows, and created a website (www.weebly.vbplearn) in order to provide resources to teachers. But even more powerful is watching teachers grow and challenge themselves to do what they know will yield positive results for student learning. As eighth- grade social studies teacher Anthony Nobles put it, "It's how I always wanted to teach."
Additional Resources:
Teachers Tackle Personalized Learning in VBCPS Classrooms
Personalized Learning: A Critical View
Design Fellows Exemplify the Shift in the Role of the Learner
Educator Competencies for Personalized Teaching
Design Fellows in Action: Student Journaling Using Google Classroom