(This post was formerly titled "Fidget Spinner Wisdom." I've been adding to it since it originally appeared, and decided to turn it into a "Best" list)
Complaints by teachers on social media about "fidget spinners" have recently skyrocketed.
It hasn't yet hit our high school in full force – I've only seen two students out of my 130 with ones. When – and if – they become ubiquitous, I might feel differently, but for now it seems to me that the best advice for us teachers would be to "chill out."
Or, as teacher Doug Robertson has just written: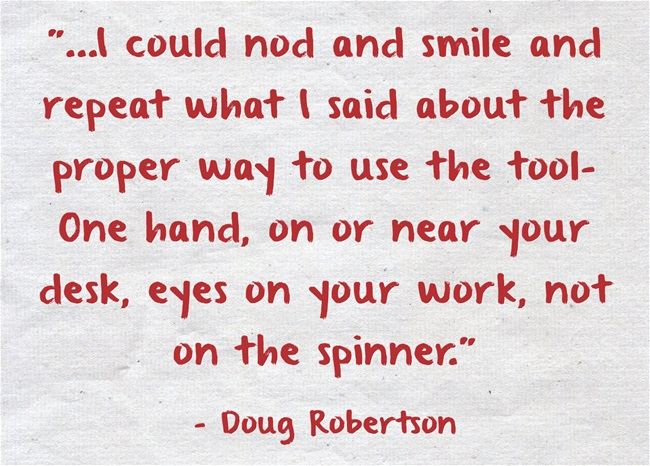 In addition to reading his full post, The Worst Thing About Fidget Spinners, I'd encourage you to check out The ASIDE blog's post, Schools, Please Don't Ban The Fidget Spinner – 9 Reasons Why This Is The Best Possible Fad.
Let me know if you disagree…
For more background on the fad, read Vox's Fidget spinners, the latest distraction craze, explained and/or Live Science's Fidget Spinners: What They Are, How They Work and Why the Controversy.
ADDENDUM: Those Darn Spinners are Going to be the End of Me!!! by Matt McCullough
@Larryferlazzo 100% agree! I have a fidget box I fill with tools for students It's part of class culture to use them productively https://t.co/Y7ZEDqJy3a

— Carissa Peck (@eslcarissa) May 4, 2017
The Maths department has these fidget spinners available: pic.twitter.com/2y4jiMPPt3

— Walney School Maths (@WalneySch_Maths) May 5, 2017
Fidget Spinners: Good Or Bad For Kids' Concentration? is from NPR.
@WalneySch_Maths @ddmeyer I've created a significant mathematical learning experience centered around fidget spinners. Worth your time. https://t.co/WrAhDIiWq2

— Harry O'Malley (@harrytomalley) May 9, 2017
See how an elem school embraces FIDGET SPINNERS! Ss are designing them, learning sc, collecting data! https://t.co/MCSSi55KZX #STEAM #STEM pic.twitter.com/vowcsCKzHg

— Jennifer Hogan (@Jennifer_Hogan) May 10, 2017
@geogebra #spinnermath #mtbos Type ANY function, the fidget spinner obeys. https://t.co/SW6vRIKe38 pic.twitter.com/OYGIT9BhmW

— Harry O'Malley (@harrytomalley) May 9, 2017
Another link to the above tweeted resource.
Are Fidget Spinners The Problem Or Is It Our Mindset?: https://t.co/gTYVFQSsd1 via @patrickmlarkin #bcedchat #think35

— Chris Wejr (@ChrisWejr) May 13, 2017
@ddmeyer @burgessdave @burgess_shelley @airwolf3d @MathDenisNJ oh you just calm yourself down. I put one together here, and another handout goes with it for the econ side.https://t.co/0hgOChU7Cb

— John Stevens (@Jstevens009) April 26, 2017
Here It Is! Fidget Spinners Lesson Collection:20+ Lessons in Math, STEM, ELA, World Lang+ https://t.co/9qjP8YYxjR #MakeItReal #tlap pic.twitter.com/85uti0qHwD

— Denis Sheeran (@MathDenisNJ) May 16, 2017
Fidget Spinners CAN be a fantastic teaching resource! is from Ed Tech For Beginners.
My fidget spinner perimeter problem. Hope you like it. Answer Later. Please rt. #GCSEmaths #mathschat #mathstopics pic.twitter.com/HcikjPSz6s

— Brian's Maths Topics (@maths_topics) May 28, 2017
Let Ss use fidget spinners to determine how to "show what they know" in @Seesaw! https://t.co/Z2Ey9FqzmG #MakeItReal #seesawchat #edumoves pic.twitter.com/QWBRVaEKYK

— Julie Jacobs (@EHSMrsJ) May 24, 2017