One of my popular – and most useful – "Best" lists is The Best Scaffolded Writing Frames For Students.  It's certainly one that I consult regularly.
I'm adding two new writing frames to that list.
Mary Osteen, one of my many talented colleagues, shared this one today at an English Department meeting.  She calls it "AREE!" with an explanation point so she can sound like a pirate 🙂
It stands for Assertion, Reason, Evidence, Explanation:
I think it's a helpful frame.
However, what I believe really makes it stand out from some of the other frames on that "Best" list is this sheet that she's developed to teach the frame: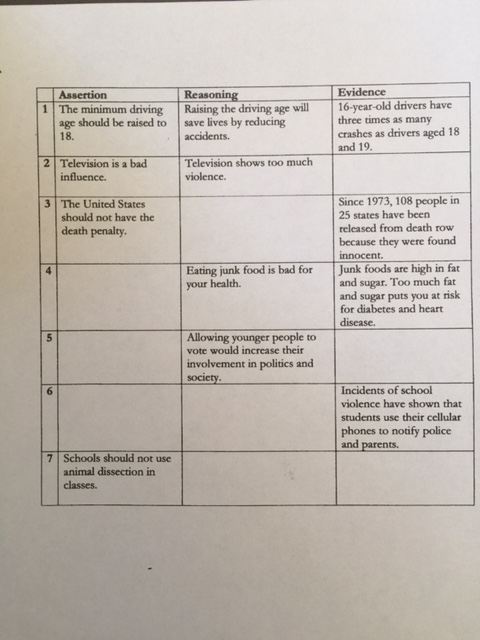 She has students fill in the blank squares as a way to scaffold learning the writing frame progression.  For International Baccalaureate Theory of Knowledge teachers, this kind of form will look familiar because that's how IB encourages us to teach the concept of Knowledge Questions.
You can download both of the documents pictured in this post here (Mary has given me permission to share). By the way, I've recently given up the use of my regular document scanner and instead use an amazing iPhone app called Genius Scan, which works great!
The second writing frame I'd like to share I learned about in the form of a tweet:
Using WHAT-HOW-WHY rather than PEE has been life-changing! Thanks to teachers on here for sharing. So useful for prompting deeper thought. pic.twitter.com/pvpSorNGHo

— Erin Miller (@Miss_E_Miller) April 2, 2017